Interest Housing @ Carleton
Avery explains her experience applying for interest houses on campus
Avery explains her experience applying for interest houses on campus
---
I want to live in a community with people… The dorms just aren't it.
I knew this was true from even before I came to Carleton. I spent time on my year off living in shared housing, where people of all walks of life cohabited. The feeling of being in an intentional community with people is beyond comforting and powerful to me and that's why I decided to apply to interest houses here on campus.
What is an interest house?
There are lots of people like me around campus who are excited about living in a community with people who share something similar to you. This may be something you enjoy doing, like cooking or spending time outdoors (check out Culinary House or CANOE), or it could be a lived experience (check out the Cultural Houses at Carleton, including Freedom House and Asia House)… Or anything in between. There are 13 interest houses on campus and each one has its own unique flavor.
Applying to Live
The process of getting into an interesting house is straightforward. Instead of drawing into a house, you apply! Anyone can do this going into their second year or later. I submitted applications to live in Farm & Parr Houses and the Wellstone House of Organizing and Activism. Each house had its own unique application, asking questions about your ability to live in a community, your interests, and anything specific to that house. For example, Farm had us submit something fun along with our application and I chose to write a postcard to my future housemates! I will put a picture of it here: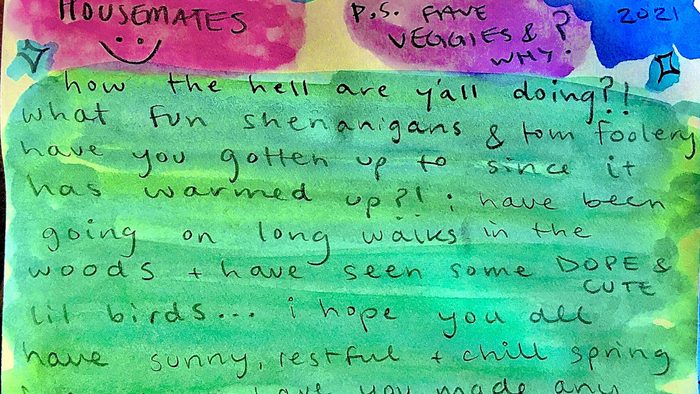 Living in WHOA!
I am excited to say that I will be living in WHOA. After a couple of weeks of waiting, both Farm and WHOA got back to me. I decided to live in a triple with some organizing homies in WHOA, which is very exciting. I am looking forward to being in an intentional community with people who have shared passions for rabble rousing and so on…
---
After taking a gap year and exploring the world outside of the classroom, Avery is ready to start her freshman year at Carleton! You can find her out in the Arb trying to identify plant species or in the Library reading about abolitionist education theory and working-class movements of the 20th and 21st centuries. Her passions and interests align most with American Studies, Education Studies, and History. Meet the other bloggers.