I Made a Thing
And you know what? I'm proud of it. So I'm sharing it.
And you know what? I'm proud of it. So I'm sharing it.
---
So, before fall term, I missed Carleton. That's been established. I love the campus, I love the people on it, I love the general experience of Being Where I Go To School.
I also had some time on my hands over this past extended Spring Break, so guess what I did? I made a thing. And I'm actually pretty proud of it.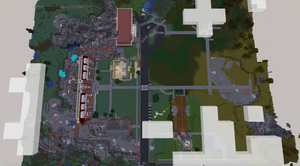 Over Spring Break, Larry (the friend I stayed with) helped me get back into Minecraft. He introduced me to shared creative worlds, which I had a lot of fun with. I've often found myself reconstructing places from my real life, because I miss it, or I'm curious how realistic I can get it, or I want to flex the spatial reasoning / memory / visualization part of my brain, or something else. This time, I had the urge to rebuild what I missed most: Carleton campus.
But I did not and do not have the Minecraft skills for such an undertaking. My brief idea of enlisting Larry's help quickly grew into a bigger and better idea: a public server where all Carls, wherever they may be, can virtually come together and find some community in rebuilding the home we've temporarily lost.
I didn't expect much to come of it, but people seemed to really like the idea. That's what tickles me so much about this: I decided, for once, to put one of my silly little whims out there, and it really caught on! To date, I'm pretty sure my post to Overheard at Carleton regarding the server is my most-liked yet: 195 and counting! And the server even made it onto an official Carleton video!! I'm famous!!!
So yeah. Here are the results – what exists of campus so far (note: this is far from complete; it's been a student-directed, pretty unstructured project because I have zero Minecraft server / large-scale building knowledge outside what I taught myself as soon as I had the idea).
First up, beautiful Skinner Memorial Chapel. Whoever whipped this up is insanely talented.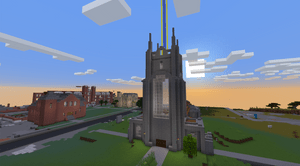 And here's another angle because it's just so pretty.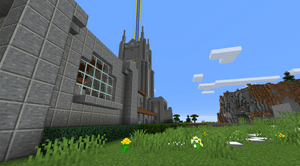 And one more special shot.
Let's go inside!
Moving to the side, here's Scoville! This is where I work!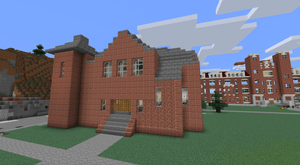 Next to Scoville you'll find the beginnings of Burton Hall, my sophomore year dorm.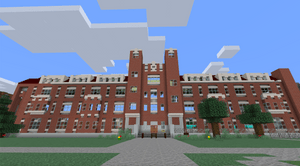 Next to Burton you'll find an in-progress Willis, the oldest building on (real-life) campus.
And next to Willis you'll find a mostly completed Sayles-Hill Campus Center! For people who don't know, this is one of Carleton's campus hubs.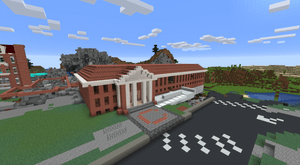 Here it is inside!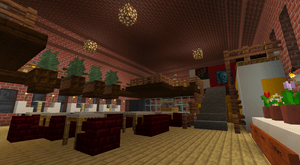 Here's the bookstore!
And the emergency exit people forget they're not supposed to use every once in a while!
It also even has some Friday Flowers, one of my favorite campus traditions…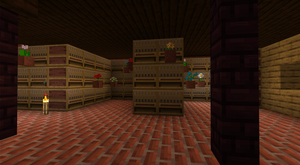 …and the lost and found.
Head outside and you'll find the Bald Spot, one of the most beautiful parts of campus.
We even has some little hidden campus treasures, like Schiller…
So yeah! That's what exists so far. Not much of campus at all, but I'm so impressed with what is there, and it's genuinely so cool to be able to intuitively navigate a Minecraft map from real-life memory. It's not the real thing, but it helped me feel close while I was away.
One more thing: I thought it'd be kinda cool if admissions could use this server as a supplement to virtual "campus tours" for prospective students while everything stays remote. I guess this doesn't make total sense in an official capacity, because it's a very incomplete and not entirely accurate representation of campus. But! If anyone reading this would like to check it out, email me and I'll send you the IP address. 🙂
---
When he made this Minecraft campus, Lucas was sheltering in place for the remainder of his sophomore year. He fought his pandemic anxiety with a passion for all things nerdy and a talent for overthinking and awkwardness (and self-deprecation). He hails from Pasadena, California, and hopes everyone is okay back there. He saw himself majoring in Physics, while hoping to explore Cinema and Media Studies, Chemistry, Economics, Mathematics, Statistics, Computer Science, and pretty much every other department at Carleton as well. He misses everyone and sends his love. Meet the other bloggers!