Hot Chocolate: Dining Hall Highlight & Winter Essential
Read about a staple of Kai's winters at Carleton.
Read about a staple of Kai's winters at Carleton.
---
A Winter Term Essential
Minnesota winters can be intimidating. As someone who grew up in the slightly warmer college town of Charlottesville, Virginia, I can attest that I was worried about living in the cold. Especially this winter though, I've learned to embrace and enjoy all that winter has to offer here at Carleton. One of the biggest perks: the hot chocolate that I consume during my luxuriously long meal times.
Finding Hot Chocolate On Campus: Burton Hall
One of the best discoveries I've made is the hot chocolate machine at the Burton Dining Hall (one of two we have on campus). While the machine also serves a few other caffeinated drinks, my friends and I frequent it to fill up our dining hall mugs with the high quality hot chocolate. The hot chocolate paired with tasty dining hall desserts is a high-class experience. Sometimes, we can even top off our hot chocolates with marshmallows from the ice cream sundae bar or whipped cream from the pancake/waffle bar.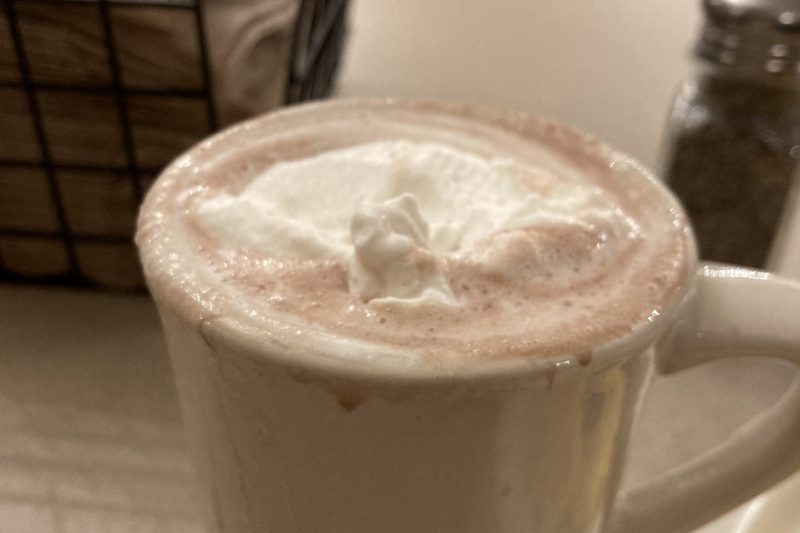 Sayles-Hill Cafe
Burton Dining Hall isn't the only place on campus to get your hot chocolate fix. Snag a donut and hot chocolate from the Sayles-Hill Cafe using your dining dollars included on your meal plan for a perfect midday pick-me-up. It is particularly satisfying after a day on the ice playing broomball or skating. Especially in busy times, being able to savor a nice cup of hot chocolate has proved to be a highlight of my days.
---
Kai is a sophomore from Charlottesville, VA, who probably spends too much time enjoying meals (and desserts) with friends in the dining halls. He is a prospective double major in Political Science and Psychology, potential Public Policy Minor as well. He loves volunteering for Project Friendship, playing piano at the Weitz, hanging out at Sayles, taking walks around the Lakes or in the Arb, and pitching/playing infield for the baseball team. Meet the other bloggers!