Hi Again, Carleton!
Eve is back on campus after a summer in New York City and a fall term abroad in Hong Kong.
Eve is back on campus after a summer in New York City and a fall term abroad in Hong Kong.
---
Hi again, Carleton! It's been a while, but it's good to see your beautiful campus again.
Last fall, I spent the trimester abroad at the Chinese University of Hong Kong. I took a major-related class and some fun electives I wouldn't have been able to take here: Economy, Culture, and Power (SOAN), PR Cases & Campaigns (we got to pitch a campaign to a Taiwanese skincare brand for our final project), and Xieyi Painting (an expressive form of traditional Chinese painting).
It was an exciting term: I enjoyed the lush campus (tropical plants and amazing sunsets/skylines up in the mountains), ate way too much street food, had the best dim sum, went blonde, did a couple of shoots, had a couple of adventures in Lan Kwai Fong, practiced Muay Thai to Cantopop, improved my shabby Cantonese skills, learned a few Cantonese phrases of my own, met amazing educators, became addicted to Vitasoy, was forced to choose Coke Zero over Diet Coke (I picked up a habit of drinking the latter in NY, but HK doesn't sell Diet Coke), and roomed with a local.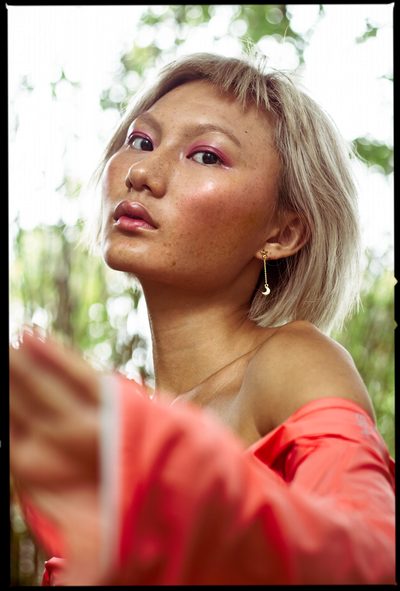 Self-portrait, CUHK
When I left Hong Kong, it was still in the 70s. It's still a little surreal to be back in Northfield after interning in NYC in the summer and being in bustling HK in the fall, but I'm so excited to catch up with all my favorite profs and friends. This term, I'm taking Metalsmithing: Casting, Anthropological Thought & Theory, and Introduction to Astronomy. To combat the winter blues, I'll keep sharing some photos from sunny Hong Kong and NY/HK shoots as the term progresses.
Have a great week, everyone. Signing off for now…
Eve
---
To the (initial) dismay of her parents, Eve is an aspiring fashion creative seeking to break the starving artist stereotype. When she isn't drinking coffee at Sayles, the Minnesotan gal can be found wandering the Weitz, browsing memes at the Libe, or reinventing old recipes at Dacie Moses. On campus, she is involved in Firebellies, Karl-Pop, CSA, and Carleton Art Society, among other cool student organizations. Meet the other bloggers!