Halloweekend and Other Spooky Stuff
In which Greta does lots of dancing and studying...
In which Greta does lots of dancing and studying...
---
Happy Halloween, everyone!
I hope your holiday is less hectic than mine is turning out to be, but just as fun 🙂
I kicked off my Halloweekend on Friday afternoon by going costume shopping with my friends Ava and Charlotte. Full disclosure: I didn't buy anything, so I guess I'll just dress as myself and call it Seventh Week Stress (the spookiest thing of all). Ava got a witch's hat, and black face paint as a back up, in case it's cold enough that she wants to bundle up as a werewolf. Then we came back to our floor, where we painted pumpkins and ate some delicious breakfast-for-dinner pancakes that our RAs were cooking up.
Dessert was 'smores at a first-year bonfire on the Hill of Three Oaks. (Shoutout to the Carleton Student Association for planning it, especially Erin, friend and CSA secretary and one of my most loyal blog readers!) The bonfire was warm and wonderful, and the sunset was colorful and glorious, and the night sky was starry and beautiful, and starting the weekend surrounded by my first-year class was just perfect.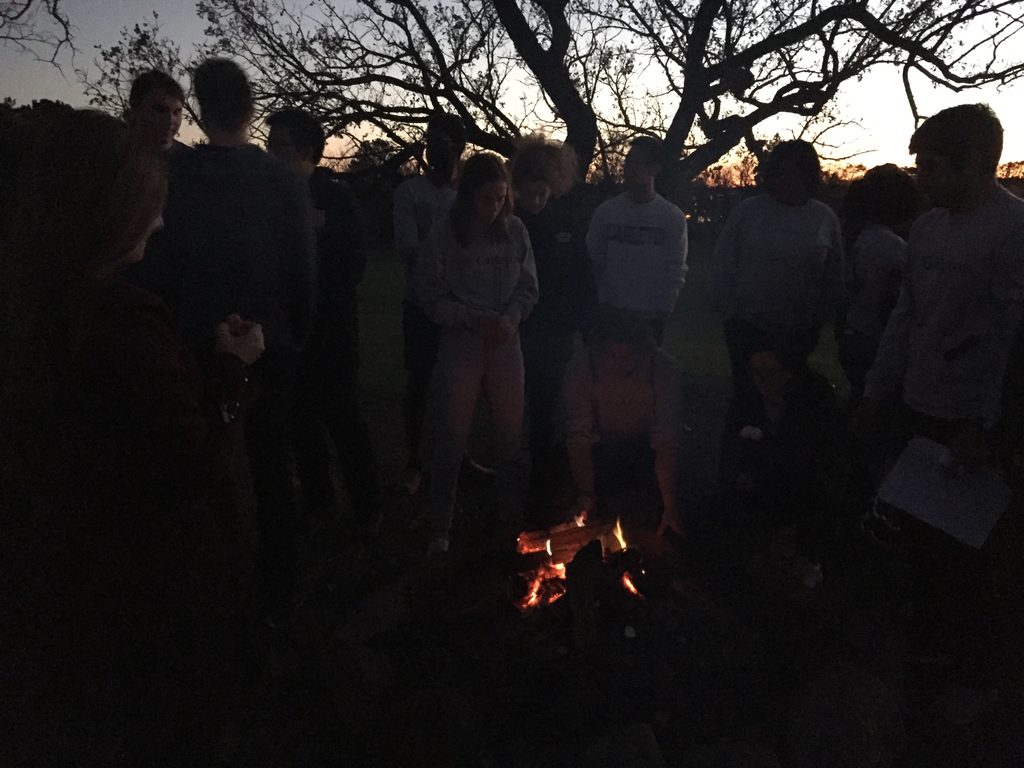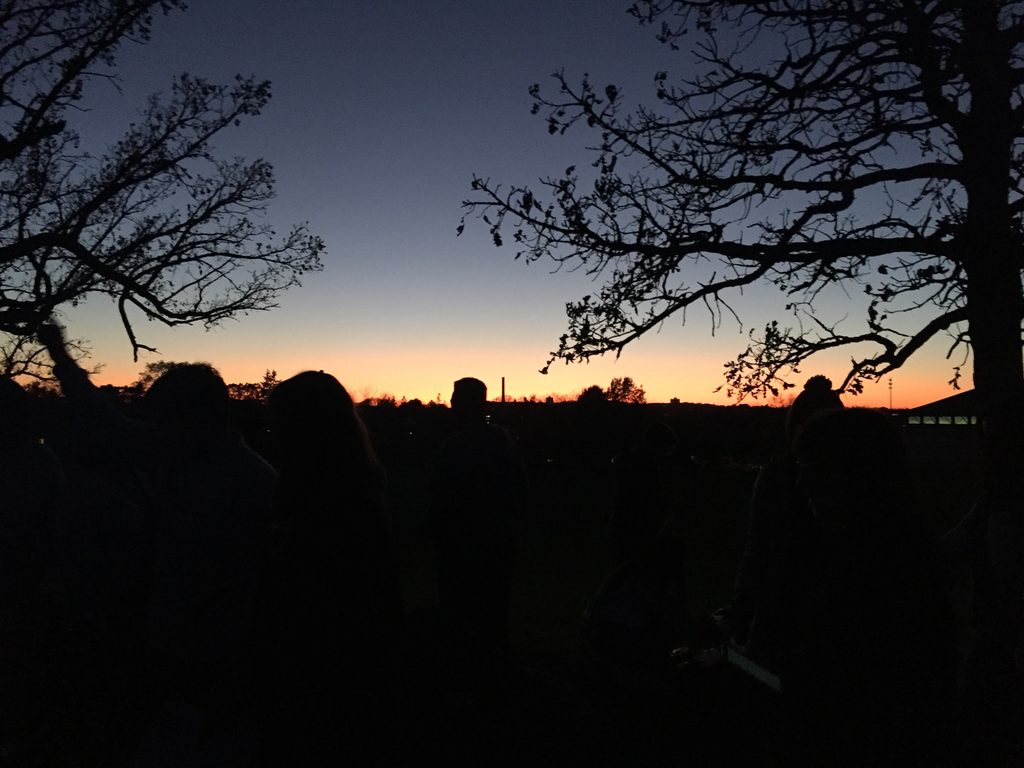 Next for the night came Synchrony, a student dance group filled with people who don't dance but make up for it in spirit. Watching my first ever Synchrony performance was lots of fun — maybe I'll join for future terms!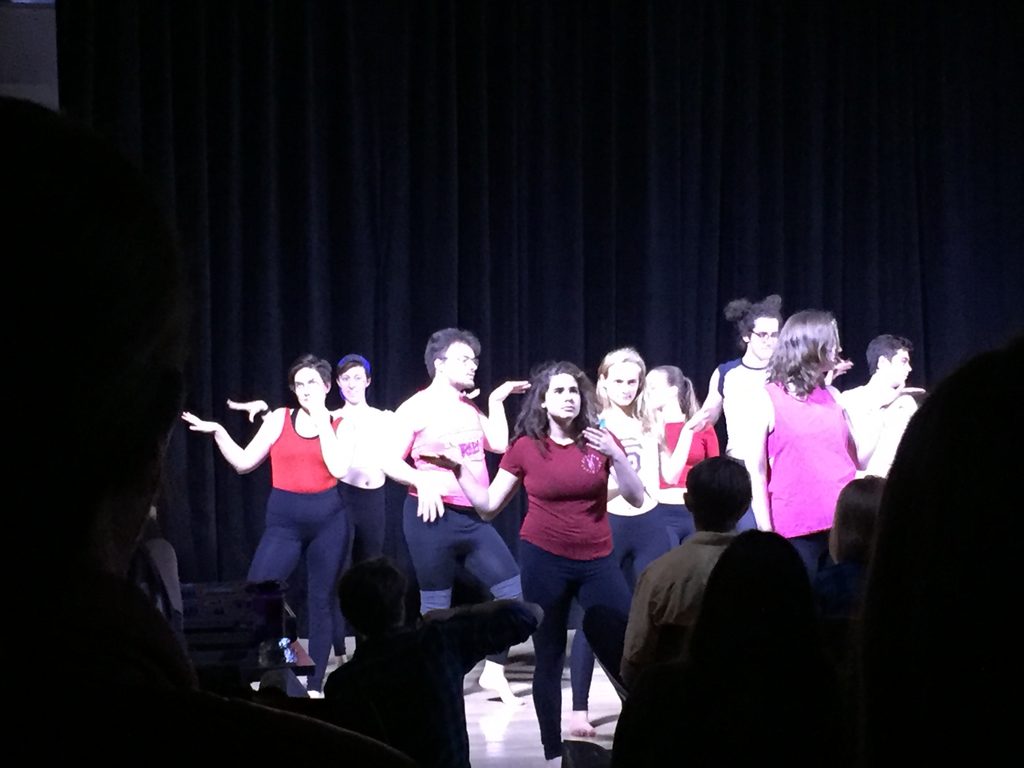 Later that night, my friends and I did our own dancing at the Cave, a student-run performance venue where my wonderful roommate Faith works! The Cave hosts all sorts of musicians and events; on Friday, it was a karaoke night led by another dance club, called Forte with Dae'. I've never done karaoke before, but Kelsie and Ava and I dragged each other onstage… and now I'm sad that I'd never done karaoke before! We stayed well past midnight, jamming out, singing "Fireflies" and "Dynamite," and even rapping "Satisfied" from Hamilton. Like I said, karaoke is my new favorite.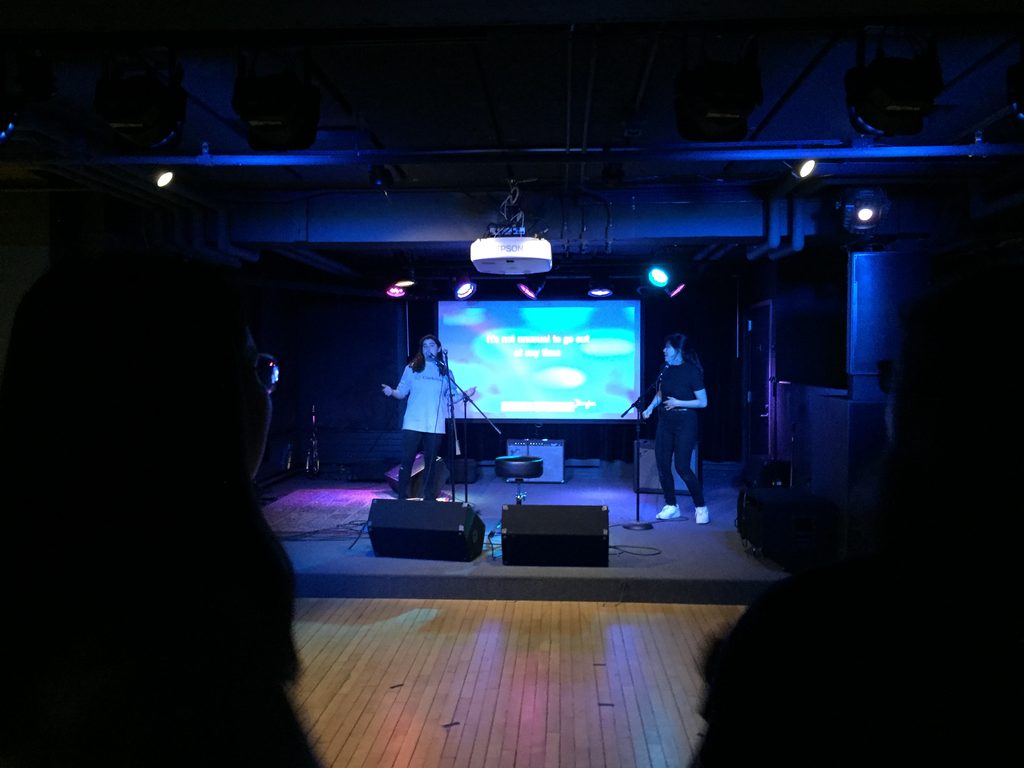 After such a fun Friday, I was a bit too danced out on Saturday night for Hauntcert, the big Halloween dance in Cowling. Besides, giant crowds aren't really my thing. My friends Lauren and Bryn and I checked it out briefly (and grabbed some free pizza!) but then decided to come back to my dorm and watch Netflix and chat instead. It's nice to be at a place where weekend fun can come in all forms.
More my speed was the final Halloween event of the weekend: trick or treating at Goodhue. That's right! On Sunday afternoon, my dorm opened up to kids from the neighborhood who came in costume for candy. So cute! We're the only dorm on campus who does it, so one could argue that we're the best dorm on campus…
But this is only one side of Halloweekend.
Between all the dancing has been lots of work: I'm realizing that this is the point in the term where classes pick up and don't back down. Fortunately, Carleton is a place where we all support each other and work through our stress together. The other good thing is that nothing I'm working on is boring.
For sociology, I wrote an essay over the weekend about women balancing work and family in the 1980s, and now I'm preparing for a presentation about interracial families. For English, I read A Raisin in the Sun (which might be my new favorite play), and now I'm writing an essay about Nathaniel Hawthorne's story "The Birth-Mark" and how it responds to cultural scripts about science in the 1800s.
Speaking of science, Sunday was my last all-day geology field trip. We went to Taylor's Falls, MN, a town on the St. Croix river across from Wisconsin. We got to see rocks formed by seafloor spreading and shaped into deep potholes by glacial melt. Then we went on a hike to find sandstone layered on top of this basalt — the same type of sandstone we saw near Northfield! Slowly, it's all coming together.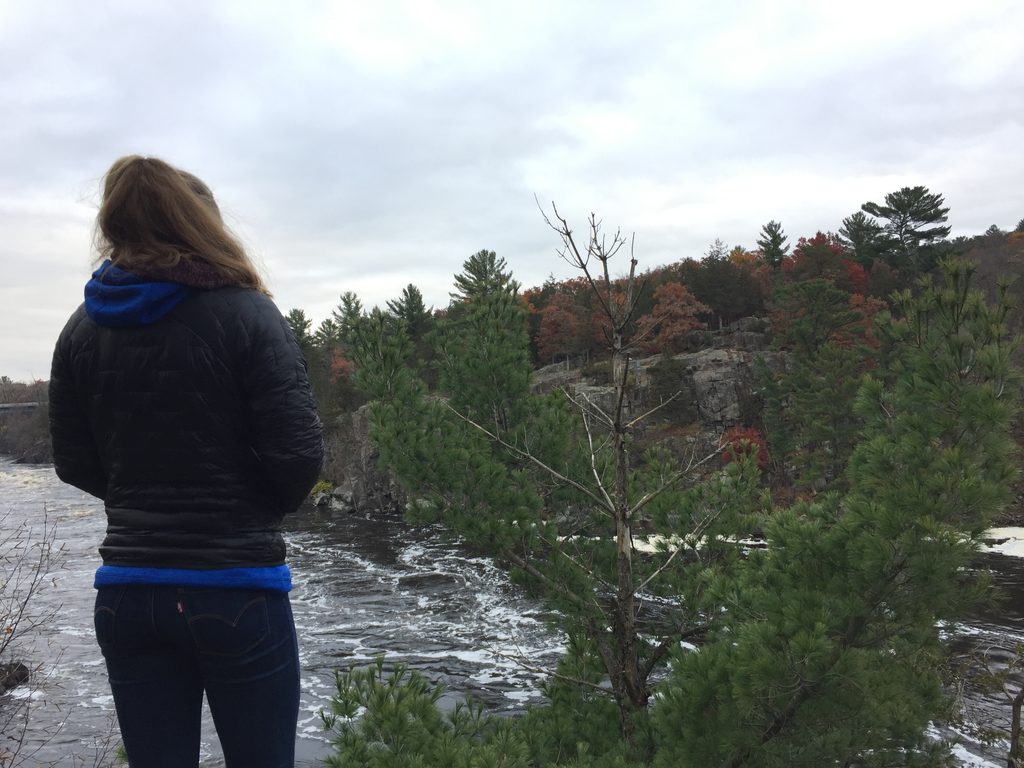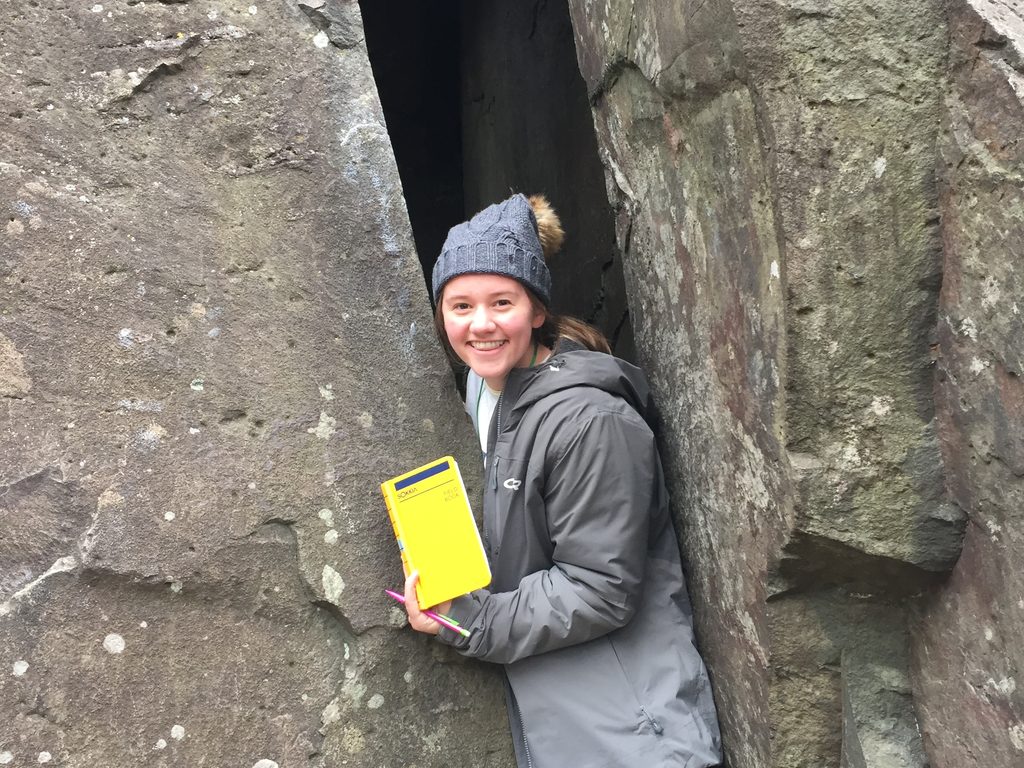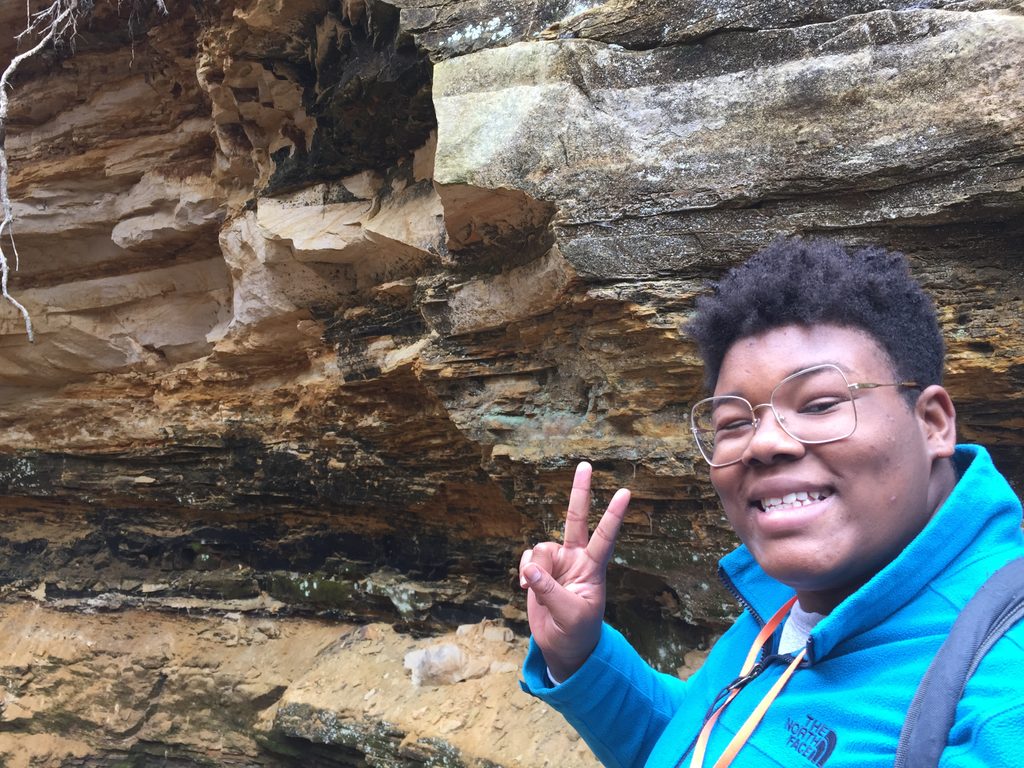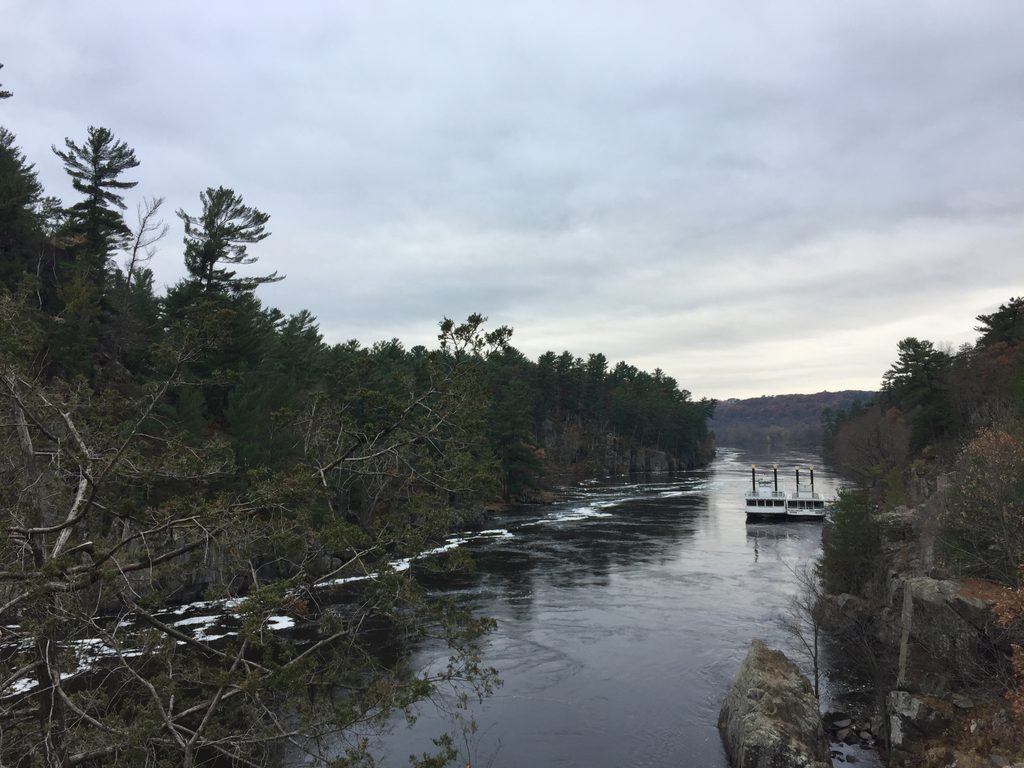 ---
Greta is a proud Vermonter who must have fallen hard for Carleton if she's choosing to spend the next four years without mountains to hike. Instead, you'll probably find her wandering the Arb with a book and a journal and a pen behind her ear, playing piano in Weitz, or telling another unsuspecting soul about her gap year. And eating dark chocolate. She wants to learn everything, but is particularly interested in Sociology/Anthropology, Environmental Studies, and, of course, Creative Writing.