Goggles: the Fish, the Myth, the Legend
 Kelly shares Carleton-related stories about her fishy friend, Goggles.
 Kelly shares Carleton-related stories about her fishy friend, Goggles.
---
After spending the winter term studying abroad in London, UK, and Sevilla, Spain, on the Carleton-led Sports and Globalization program, I was not prepared for the Minnesota weather and transitioning back to life on campus after a fun, warm term abroad. To boost my excitement for spring term, my mom and I ventured into downtown Northfield to grab lunch at Reunion.
While there, we came up with the brilliant idea of buying a fishy friend to make the transition back to campus easier. As an RA, I live in a single room. I was nervous for the quiet of my single after a bustling homestay in Spain. So, we headed to Aquatic Pets, the fish store in downtown Northfield. There, we picked out a beautiful red, male betta fish that I named Goggles. Goggles has been a great friend these past few months and is a crowd favorite among my friends and family.
The following is a non-exhaustive list of my favorite Goggles moments:
Exercise!
As an involved student and club athlete, I do not spend a ton of time in my room. I was worried that Goggles was not getting enough exercise and mental stimulation when I was away. To solve this, I gave Goggles a ping pong ball to play with. (I read that betta fish like to play with ping pong balls.) Goggles actually uses it! All Carls take PE courses, so Goggles must as well!
Connections to my major
As a Psychology major, I couldn't resist applying what I was learning in my Intervention Science seminar to my fish. In class, we spoke about many fascinating studies and techniques present in the real world. For instance, I learned that you are being influenced every day by people and organizations using psychology. Oftentimes, you don't even know it!
One such technique for this is classical conditioning. I attempted to classically condition Goggles by training him to swim to the top of his bowl when I said, "Goggles food!" This was to achieve the target behavior of him getting the food right when it hit the water to prevent the food from sinking into the rocks. Unfortunately, this did not work.
However, my professor, Mitchell, was very kind in humoring my discussion posts about classically conditioning Goggles. I also considered how having autonomy over keeping another thing alive positively influenced my mental health and well-being. (Unlike my classical conditioning attempt, this actually does work. See Langer & Rodin, 1976.) If you want to learn more about academics at Carleton, check out Andriana's blog on her favorite classes at Carleton. Or, read Bennet's blog on why you need a liberal arts education. 
On a date
I was going on a date last term, and the plan was to go on a nice arb (arboretum) walk. Unfortunately, it was raining pretty hard. I got stuck sitting on my floppy bean bag on my dorm room floor in wet socks, offering my date powdered hot chocolate in either a Hufflepuff mug or a Carleton STEM beaker from a presentation on Psychology research I did. Meanwhile, he awkwardly stood in the middle of the room dripping water and staring intently at my stuffed animals, probably thinking to himself what am I doing here?!? I'm a Ravenclaw. I'm not compatible with a stuffed animal-possessing Hufflepuff!
The situation may sound hopeless, but Superhero Goggles saved the day. Quickly pivoting, I said, "Look! I have a fish!" When he didn't immediately compliment Goggles's gorgeous scales and clearly superior intellect, I took the opportunity to inform him of all of Goggles's great qualities. Luckily, this broke the ice, and we had a lovely time drinking hot chocolate in our wet socks.
In addition to getting a pet fish to break the ice, Carleton works hard to encourage healthy dating habits. This is through consent training during New Student Week (NSW), our freshman orientation. It is also through programming by the Gender and Sexuality Center (GSC), the Sexual Misconduct and Prevention (SMPR) office, and the Office of Health Promotion (OHP). The Student Activities Office (SAO) further encourages healthy dating by hosting a fun event called Date Knight! This is where your friends set you up with a date and you do fun activities together. Check out Jevon's blog on his date knight experience!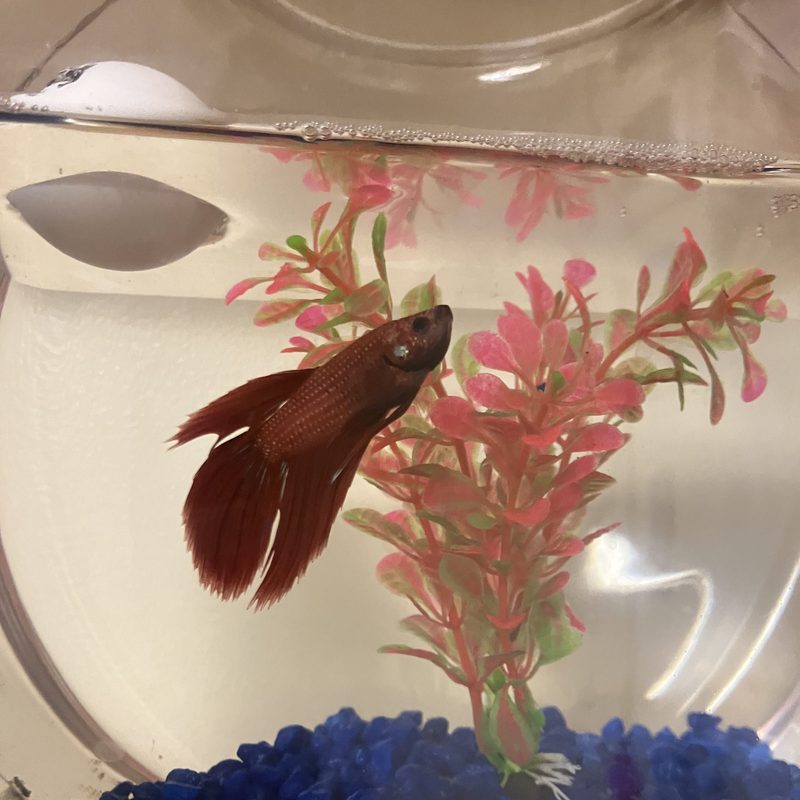 Friends
Between the end of the school year and when my summer job at Admissions started, I went back home to Illinois for a week. Luckily, my friend Ethan was still on campus, and he kindly agreed to watch Goggles. This is just one of many examples of Carls helping Carls. Ethan fed Goggles, played ping pong with him, and talked with him. I love how supportive my peers are here—instead of questioning my obsession with Goggles, he joined me in my craziness and sent me many updates on Goggles's well-being throughout the week! Here at Carleton we all have our own quirky interests, and I am thankful that I've found a community that engages with each other's quirks and supports each other in all aspects of life. 
---
Kelly (she/hers) is a rising Senior from Downers Grove, IL. She is a Psychology major with minors in Music and Cross-Cultural Studies. Kelly has explored her academic and personal interests at Carleton by participating in the Social and Personality Psychology Research Lab, playing the cello in the Carleton Orchestra, and studying abroad on the Carleton-run Sports and Globalization Program in London and Sevilla. Outside of the classroom, Kelly spends her time working as a Resident Assistant, playing rugby and soccer, volunteering with Project Friendship, and reading books. Meet the other Bloggers!