Geo, Here We Go!
In which Greta comes back changed from the Badlands and Black Hills of South Dakota.
In which Greta comes back changed from the Badlands and Black Hills of South Dakota.
---
I'm back!! Not only on this blog, but on campus, after a five-day-feels-like-forever geology field trip to South Dakota. So much has happened since I last wrote, including midterms and family weekend and decorating my room for Halloween, but right now, rocks are the only thing on my mind. And trust me, this field trip is more than enough for one blog post.
Day 1
I arrived at Anderson at 7:30 AM on Saturday to load the vans, grab a quick breakfast, and go. Midterm break geology field trips are open to anyone taking any geology class, so when I walked in that first morning, I only knew the five first-years out of the 20-something students on the trip. Loading up with a bunch of upperclassmen was nerve-racking, to say the least. But there's nothing better for getting to know new people than spending five days in four vans together. Driving in shifts were the four geology professors going–Cam (my prof), Clint, Bereket, and Dan–as well as the fifth-year intern, Aaron, and the department's technical director, Jonathon.
After a long day of driving west, we arrived at our first stop before sundown: the Badlands. I had never been there or anywhere like it before, and as we drove into the vast landscape of towering sandy mountains and plateaus, my eyes opened wider than they ever have. We set up camp (how amazing that I was going to be sleeping in the middle of all this?!?) and ran off for a hike/climb/EXPLORE!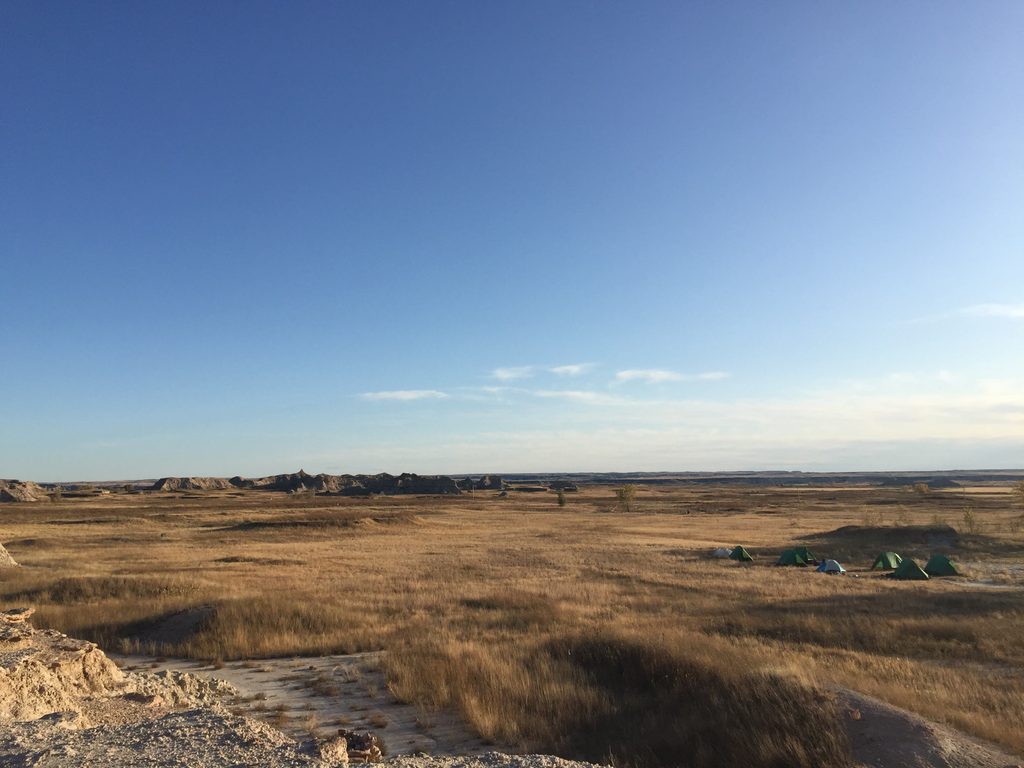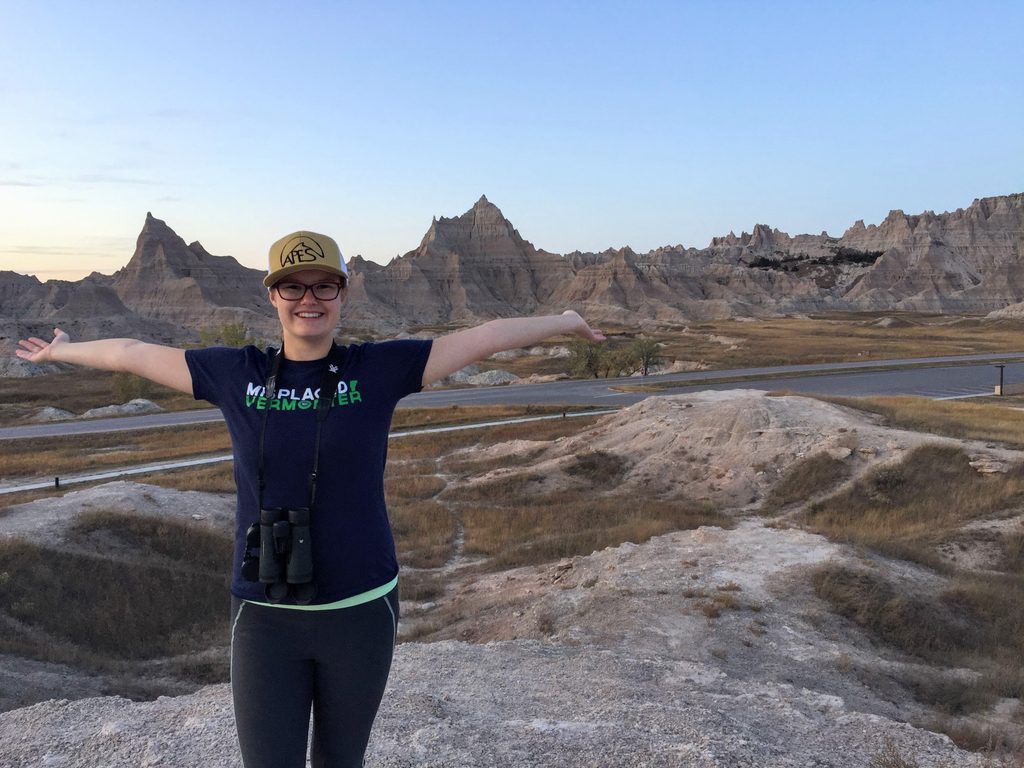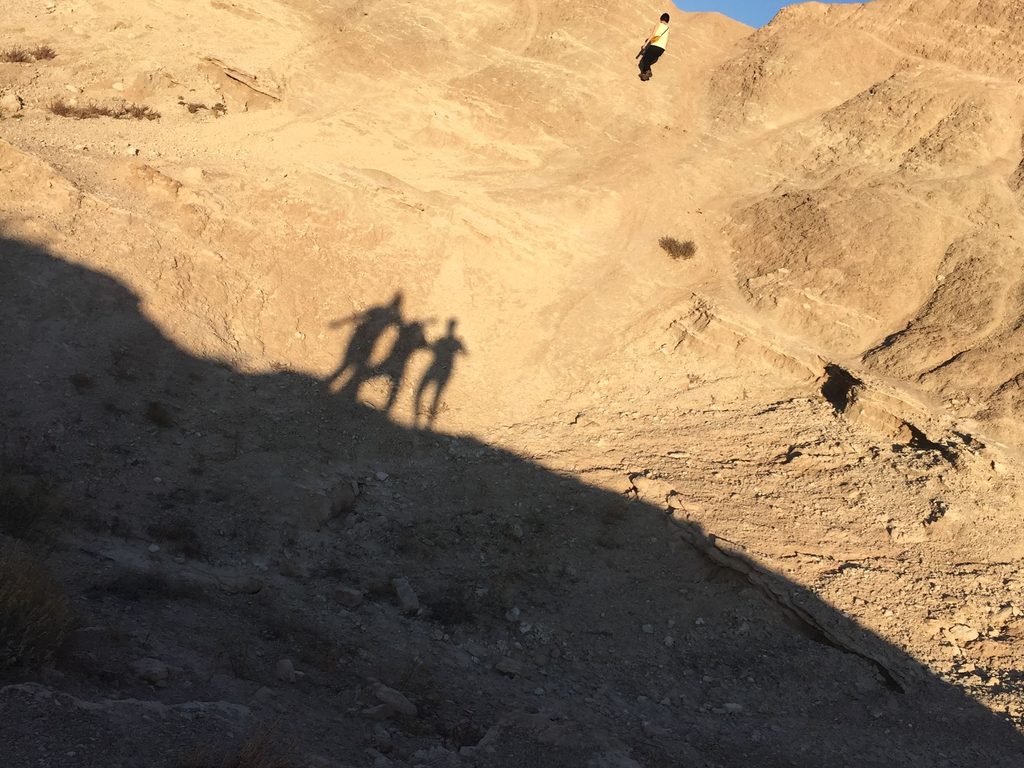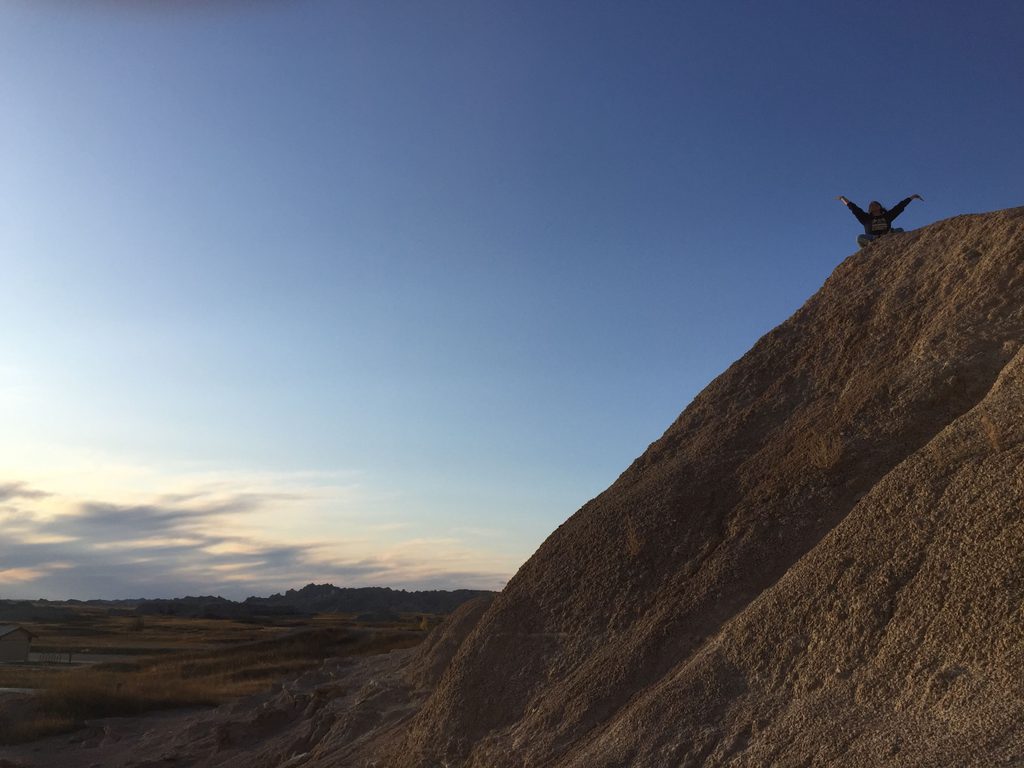 We settled down that night after a riveting game of cards and a round of staring up at the prairie stars. I layered up and huddled in my sleeping bag, sheltering myself from the wind whipping at the outside of my tent. I tried to sleep, but in my mind battled two equally powerful forces: exhaustion from the day, and excitement for what was to come.
Day 2

The next day kicked off the geology portion of this geology trip. We went out in the field first thing after breakfast and were instructed in a typical geology manner: look at these rocks and figure out what's going on here. Immediately, I was amazed at the junior and senior geo majors who could identify rock composition and point out features like weathering patterns and sedimentary dikes (don't worry, you don't have to know what that means). Between our sleuthing and some lecturing from the professors, we figured out a rough sketch of how the Badlands were formed. If the view had blown my mind, being able to figure out how it got there was another level entirely.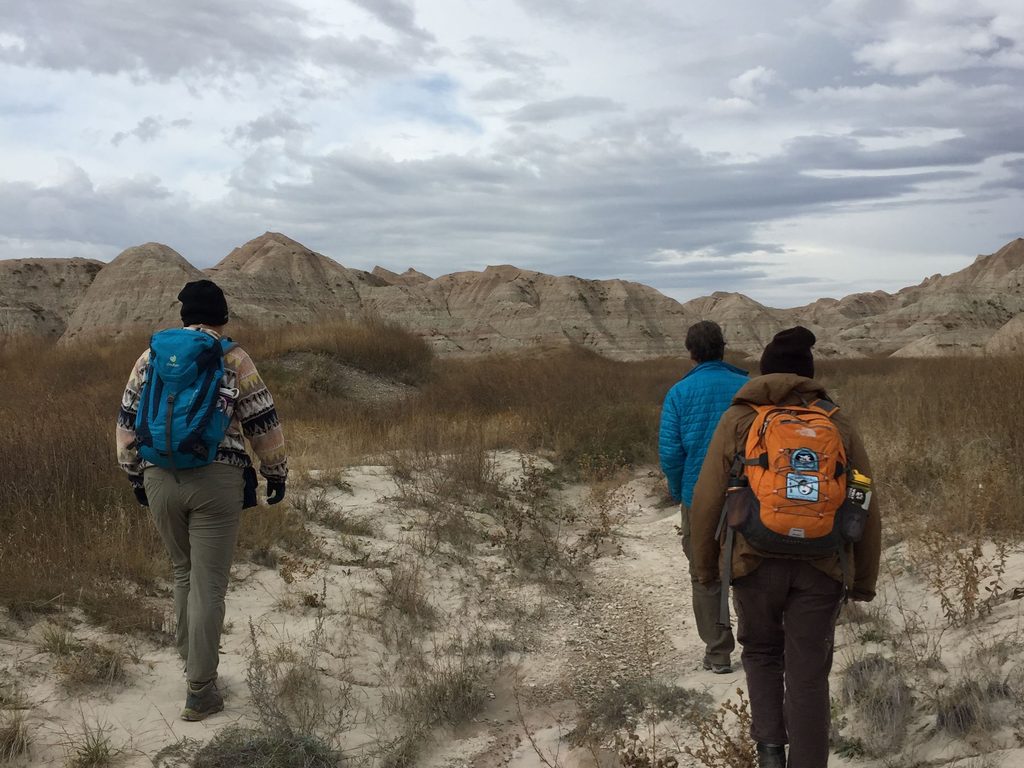 That afternoon, we made some stops to look for mudballs (apparently a technical term), find fossils, and watch prairie dogs and bison!!! We were driving along, talking about how much we would love to see them, when all of a sudden we spotted some black shapes in the distance. It am so glad I brought my binoculars. But soon, I didn't even need them! These bison were standing right outside our vans. This may be geology, but that doesn't mean we weren't fascinated by the extraordinary biology around us.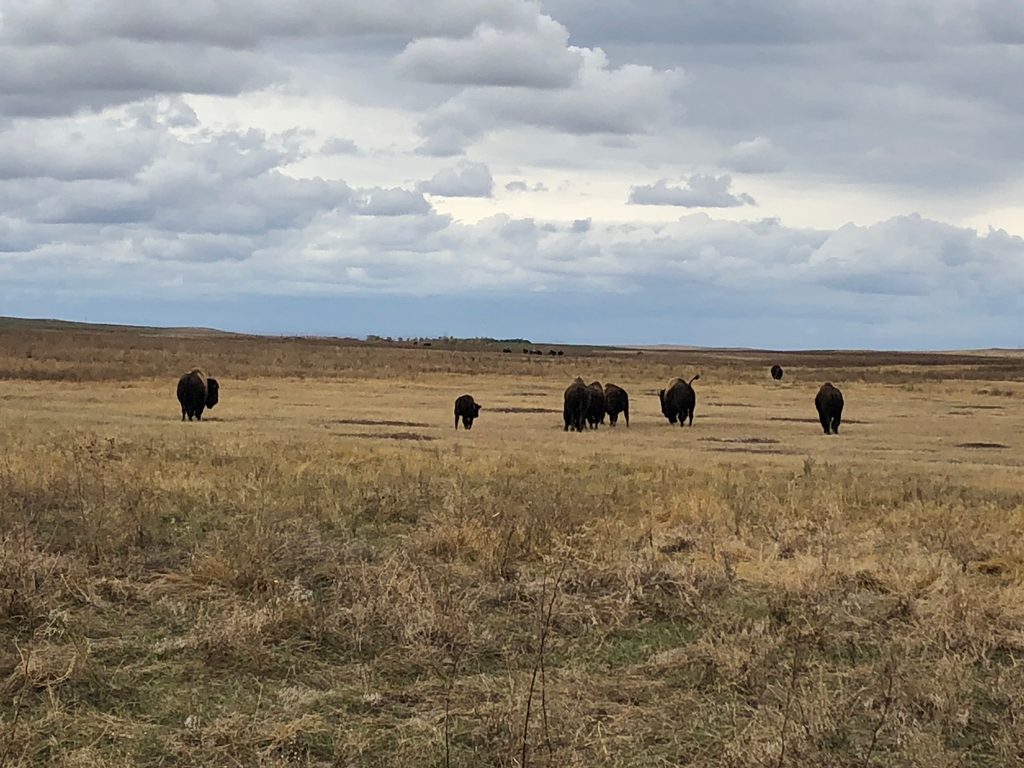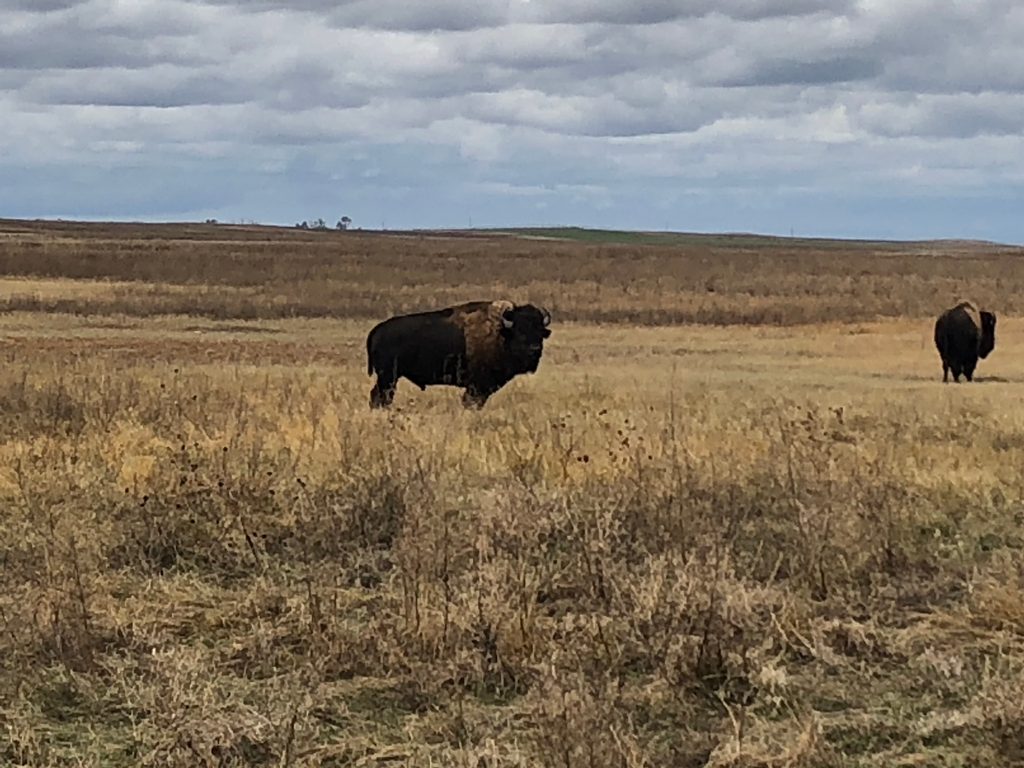 We drove on, and as quickly as we had entered the Badlands the day before, we left them behind. And then… it started to snow. We were supposed to make it to our next campsite in the Black Hills, but as the flurries turned into a full-blown blizzard, we instead stopped at a hotel in Rapid City. I can't say I wasn't excited to have a shower and a bed to sleep in, and we certainly took advantage of the warm and dry rooms for an evening game of geology-themed celebrity.
Day 3
Thankfully, the snowfall had subsided by the time we woke up the next morning. We made it to the Black Hills for a hike through the snowy pine forests, complete with plenty of snowball fights. I felt the closest to my home in the Green Mountains that I have since coming to Carleton. Along the way, we stopped at every outcrop of rocks to note the different formations and measure strike and dip, which told us the angle the rocks were leaning and clued us in to the mountain building event which formed the hills themselves.
I was learning so much so quickly: at the beginning of the day I had never even heard of strike and dip, but by the end, I understood how geologists could use compass measurements to track plate tectonics itself. I've never thought I could be this passionate about rocks, but I always have known how much I love learning something completely new.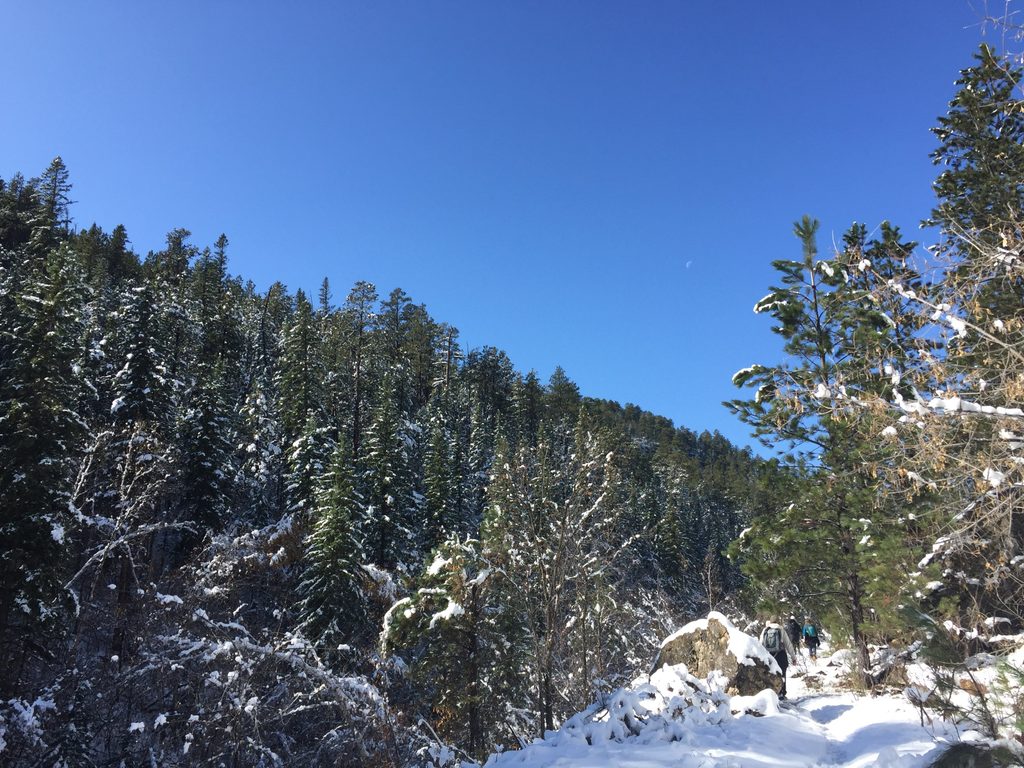 The hike took up most of the day, and it was worth it. But on the way to camp (for real this time), we stopped at one outcrop that even non-geologists are sure to know: Mt. Rushmore. We spent our time there eating Thomas Jefferson ice cream, drinking $3 unlimited hot chocolate, and discussing briefly the presidents' faces… but mostly the rocks they're carved into.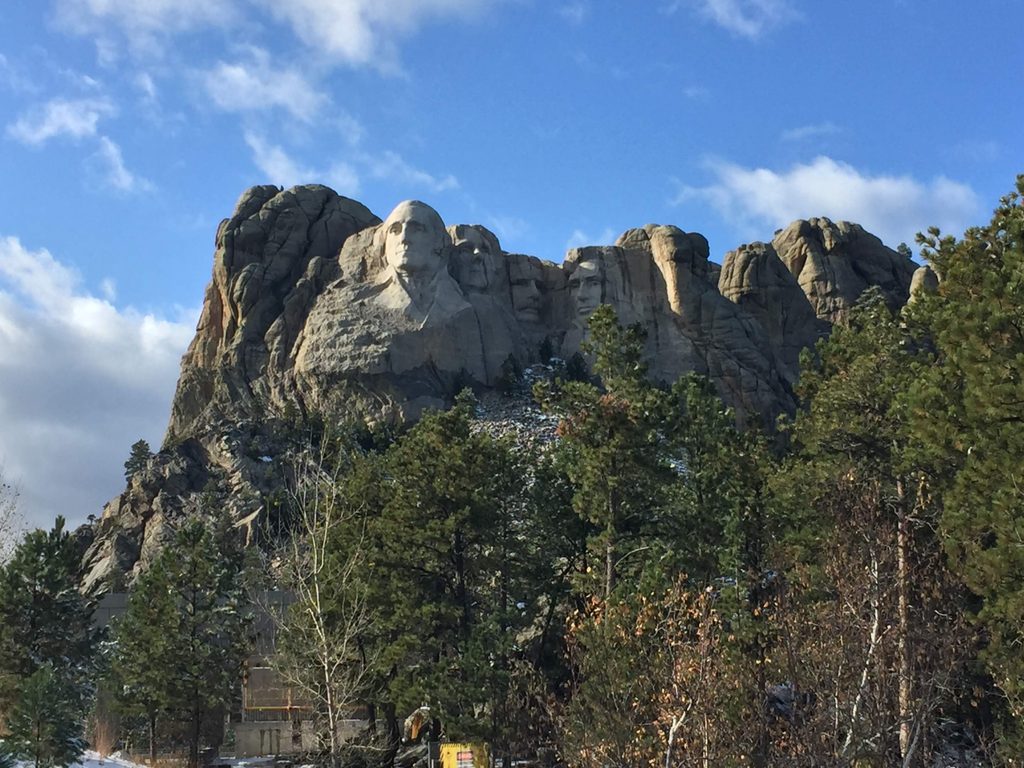 Day 4
Our last day in the Black Hills was spent doing what geologists love best: driving from rock to rock. Or maybe it's just what Cam loves best: after all, he was wearing his "swerves for outcrops" shirt.
The first one we stopped at looked like a giant fold, and we soon learned that in fact, it is. By identifying the different layers, we could tell that the bottom section had in fact been turned upside down! More mountain building clues.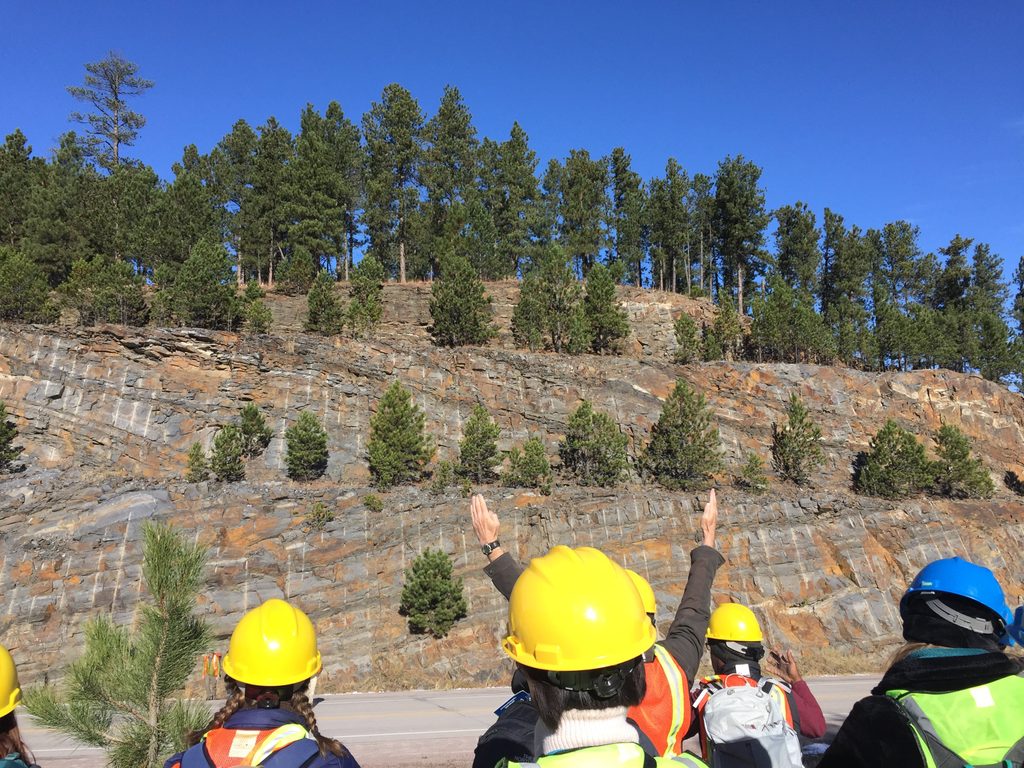 Next, we drove to Custer State Park, where we found the same kind of rocks as at Mt. Rushmore, called Harney Peak Granite. Here, they were huge, beautiful boulders surrounding a sky-blue lake, because apparently, every time I think nature can't get any more gorgeous, it decides to amaze me. We learned that these rocks were formed during the time of the dinosaurs, weathered underground, and brought to the surface during… you guessed it… the same mountain building event.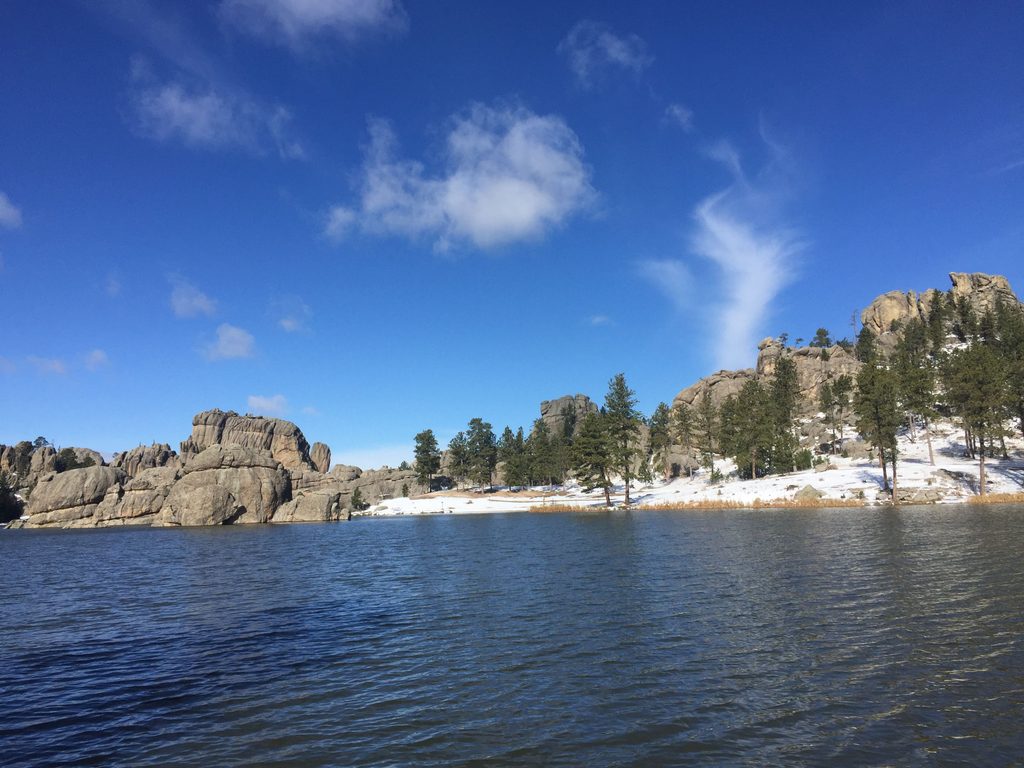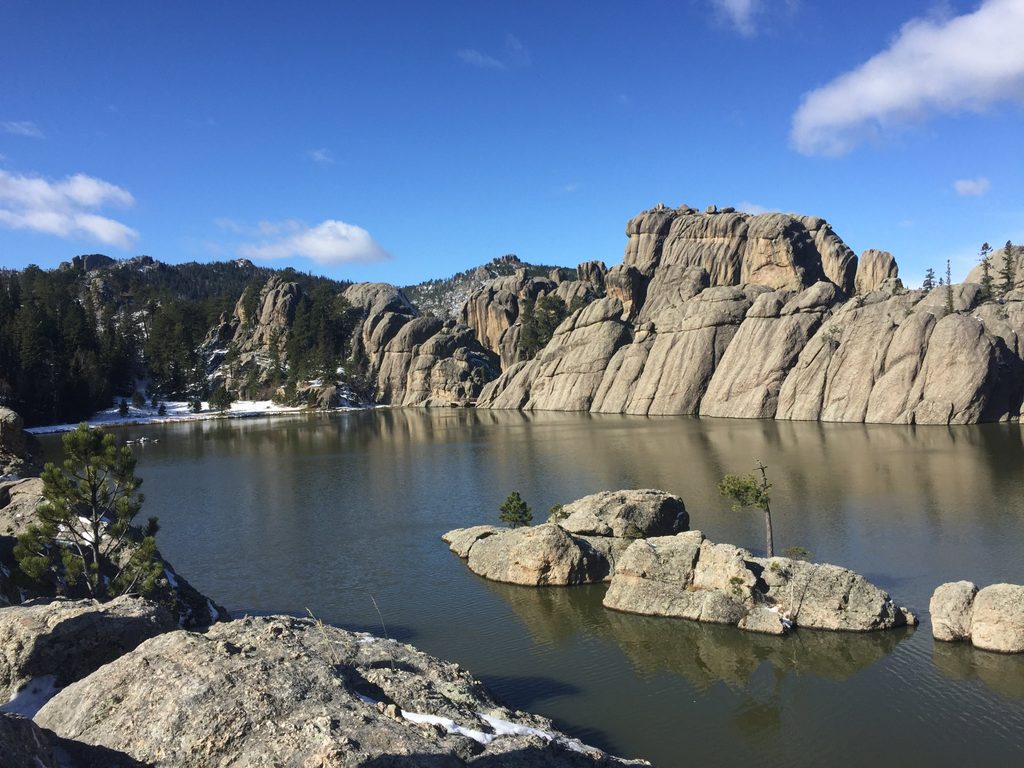 The last stop was almost like a bonus: an abandoned mine filled with shining minerals like muscovite, apatite, and lepidolite (look them up, they're worth it). We eagerly collected crystals to bring back to our dorm room rock collections. But the real draw for Bereket, a petrologist who studies minerals, was a giant plagioclase crystal in the side of the mine. This is him hugging it — and I couldn't even get the whole thing in the picture.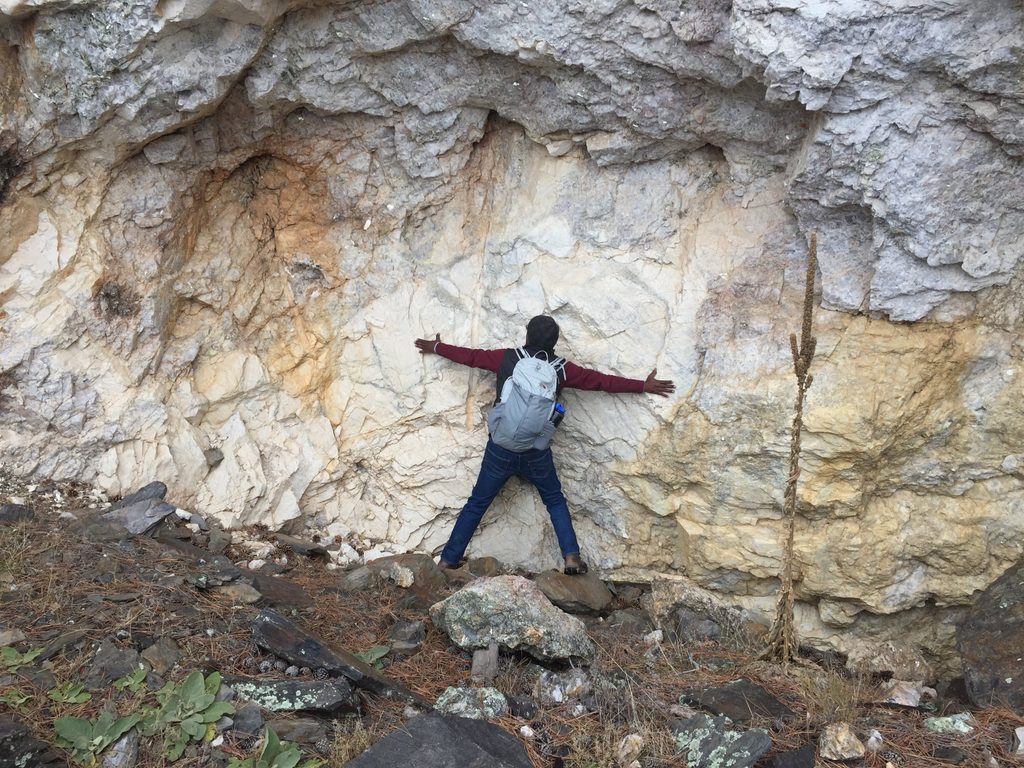 After this long day of swerving for outcrops, we went back to camp and summarized everything we learned in an after-dinner lecture. We talked about the time scale of all the rocks we saw, and put it together to form a timeline of plate convergence, ocean rise and fall, more plate convergence that formed the Black Hills, and weathering from this event that was carried east to form the Badlands. Once again, my mind was blown learning about how the world was formed.
Day 5
No outcrops yesterday, just a long drive back to Minnesota studying, listening to Harry Potter on audiobook, and blasting favorite geo department tunes. I was happy to find that pulling back onto campus felt like coming home, but at the same time, I knew as soon as I got out of the van how much I would miss the trip. I may be a writer at heart, but I feel just as at home in the field surrounded by scientists as in the library surrounded by books.
I've known this for a long time, but what's new is that now, when I think science, I think geology. I came into this course thinking it would be a cool intro to science at Carleton, and into this trip thinking that it would be fun to hike around and see new places. But almost against my will, I've fallen in love with the substance of the science itself. Not only that, but after this trip, I can't imagine a department more passionate, fun, and totally community based than geology. Nothing is set in stone (get it?), but I might just have to major.
---
Greta is a proud Vermonter who must have fallen hard for Carleton if she's choosing to spend the next four years without mountains to hike. Instead, you'll probably find her wandering the Arb with a book and a journal and a pen behind her ear, playing piano in Weitz, or telling another unsuspecting soul about her gap year. And eating dark chocolate. She wants to learn everything, but is particularly interested in Sociology/Anthropology, Environmental Studies, and, of course, Creative Writing.