Frequently Asked Questions
Andriana answers some common questions about college!
Andriana answers some common questions about college!
---
Hi everyone!
I hope you all have had a good week. Today, I thought I would answer some of the questions I had about college while going through the search process.
1. What is your favorite thing about Carleton?
Probably the academic environment. One thing that drew me to Carleton was its collaborative academic environment, as students help their peers succeed, rather than compete against them. I felt like this was really important when I was choosing a college; I really didn't want to be at a school with a cutthroat environment. Additionally, professors at Carleton work with students to give them the support they need. Although the academics are rigorous, students truly have the resources necessary to be successful.
Another thing that I really love about Carleton is our weekly convocations. Every Friday morning, Carleton invites guest speakers to give an hour-long talk about their area of expertise, and at the end, there's time for a brief Q&A section with the audience. Some of my favorite convocations featured Danielle Kurtzleben, Gaelynn Lea, and Don Zolidis.
2. What's it like living in Northfield?
One thing I struggled with when selecting a college was deciding between an urban and rural environment. I was afraid that being in a relatively small town would feel restrictive, especially since I knew I wouldn't have a car on campus. Luckily, the Twin Cities are nearby, so there's always the option to visit if you want a change of scenery.
Admittedly, students don't seem to go to the Twin Cities very often in my experience — I've only been a few times, and it's usually when my parents are in town. That's not because of a lack of opportunity, though; Carleton organizes trips, including to the Mall of America, and students can take the shuttle to and from the Twin Cities. I think students simply find other things to do, including campus events, homework (of course), and social gatherings.
Ultimately, I thought Northfield was an ideal location for a college; the small town environment strengthens the college community, in my opinion. In some of the urban schools I looked at, it was more common for students to move off campus earlier in their college careers, and because of this, it felt like the community wasn't as tight-knit.
3. How much free time do students have? What do they do with this time?
Before I started college, I was afraid that students spent all of their time working and didn't have much free time. While there is a lot of work, I make sure to give myself downtime. I think setting boundaries is a really important thing to do, regardless of where you go to school.
I do this in a few different ways. First, I make sure to get enough sleep each night (when I'm at school, at least). I also try to limit the amount of work I do on Friday nights and Saturdays, so that I have a break. This is just personal preference, but I think that when you start college, you should decide how much work you're willing to do and when, and adhere to the boundaries you set for yourself.
Students spend their downtime in many different ways. A lot of students are in clubs and organizations, and participate in meetings and events. There are also many campus activities, including SUMO films every weekend (free screenings of recently released movies). Personally, I like to spend my free time going for walks in (B)arb, watching movies, listening to music, and spending time with friends.
I hope this answered some questions for people trying to make a decision about college! If you have any additional questions, feel free to email me at taratsasa@carleton.edu. Good luck!
Andriana
P.S. I'm missing Carleton, so here is one of my (many) pictures of the Chapel: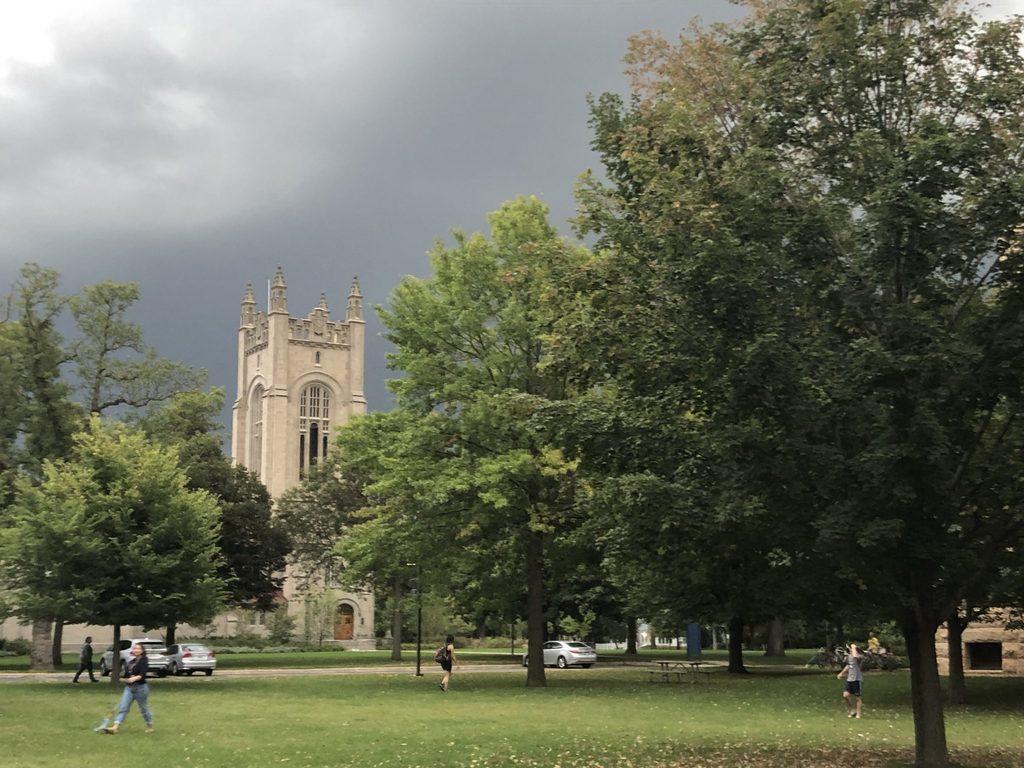 ---
Andriana is a native of Richmond, VA, and is looking forward to starting her freshman year at Carleton. She is especially excited to experience the Minnesotan Tundra first-hand and learn what the phrase "polar vortex" really means. When Andriana isn't busy staying warm, you can find her binge-reading, playing music, or watching a favorite movie or show for the umpteenth time. She is hoping to double major in International Relations and English, while also reminding herself to keep an open mind as she begins her college career. Meet the other bloggers!