Food! at Carleton
Kai breaks down the food scene at Carleton.
Kai breaks down the food scene at Carleton.
---
Food is undeniably an important part of campus life. Some of my best memories have come from the time I have spent in the dining halls and cafes across campus with my friends. Yet going into Carleton, I knew very little about what the dining halls would be like or how the meal plans would work. In this picture-laden post, I hope to demystify what food is like at Carleton!
So what's the food like?
Glad you asked. Everyone loves to complain about dining hall food at any school, but count me as a fan of Carleton food. I don't want to overhype it, but I am far from the only supporter; Carleton is ranked as high as number two in the country for best college dining hall (thanks, College Consensus). Now, this is a result of numerous factors beyond our satisfaction with how the food tastes.
In true Carleton fashion, we take a holistic and inclusive approach to food. As much of the food as possible is sourced from local and organic farms. We have extensive vegan and vegetarian options (which my numerous vegan and vegetarian teammates approve of). Moreover, sustainability is at the heart of the Carleton food experience: the Food Recovery Network donates surplus meals to address food insecurity in our local community, and reusable to-go containers/compostable disposable products are just two of these initiatives.
A bonus is that the dining hall food celebrates special occasions, whether it's a nice steak dinner for Midwinter Ball or partnering with cultural organizations to serve ethnic foods (yum!).
The Dining Halls and Cafes on Campus
Carleton has two dining halls on campus, which sparks one of the most hotly-contested debates here: which one is better, LDC or Burton? My answer is that both are quality options, and it honestly depends.
I prefer Burton's luxurious fruit bar for breakfasts and brunches (it also is periodically home to the fluffiest chocolate chip pancakes), but I generally lean towards LDC for lunch and dinner (can't miss the ice cream and toppings bar for Saturday Sundaes, which supplements the soft serve machine). Both dining halls are all-you-can-eat, and I end up spending a lot of time chilling in the dining halls and consuming plates of food.
Moreover, Carleton has three cafes on campus: Sayles (our beloved campus center and the topic of my recent post), Schulze (in Anderson Hall, our spanking new Integrated Science Complex), and the Weitz (in my favorite building). These cafes are made to fulfill your desires, from your caffeine fix to your between-class pastry to a sushi lunch.
But how exactly does this all fit in with our meal plan?
Meal Plans: The Basics
Your meal plan at Carleton is made up of two components: the number of meals you get per week (usually 15 or 20), and a set amount of "dining dollars" to use at the on-campus cafes. Each dining hall serves 20 meals a week, which is 3 meals a day Mon-Sat, then brunch (10:30 am – 1 pm), and dinner on Sundays. Therefore, all first-year students start off with the 20-meal plan. The 20-meal plan comes with $75 dining dollars per term to use at the various cafes. 
Meanwhile, the 15-meal plan allows for 15 meals a week (duh) and $300 dining dollars to spend per term. I am on the 15-meal plan because it gives me more flexibility; I am not skipping out on 5 meals, but rather using my additional dining dollars at the cafes for those meals.
It is handy for the days that the dining hall food doesn't seem so appetizing that I can skip out on using a meal swipe and instead grab my reliable California rolls or build-your-own-burgers/burritos at the Sayles Cafe. It also gives me a solid allowance for my other indulgences, whether it is the mango smoothies, almond croissants, Muscle Milks, or late-night chicken tenders.
Conclusion: Food >
Food is important. Luckily for me, Carleton does a good job of taking care of this aspect of my life. I didn't even cover some of the charming in-town options for food, but I'll just have to leave you with a picture of Mark enjoying his ice cream cone!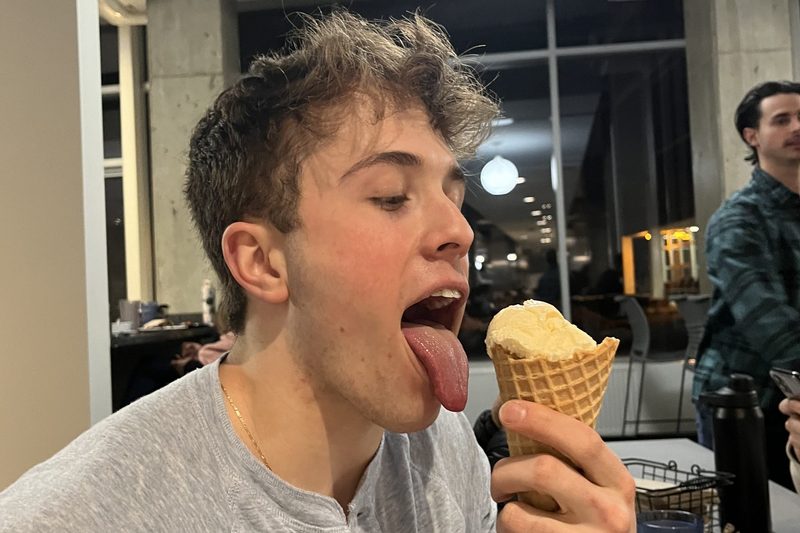 ---
Kai is a junior excited to be back at Carleton after studying abroad in Copenhagen, Denmark. He is a Political Science & Psychology major and prospective Public Policy Minor from Charlottesville, Virginia. He loves working in the Lutsky Social and Personality Research Lab, volunteering for Project Friendship, playing piano at the Weitz, hanging out at Sayles, taking walks around the Lakes or in the Arb, and pitching/playing infield for the baseball team.