First Week Back
Andriana talks about her first week of online classes!
Andriana talks about her first week of online classes!
---
Hi everyone!
I hope that you all are doing well and keeping healthy. The past weeks have been an adjustment, as everyone has had to make major lifestyle changes due to COVID-19. The Carleton community has been no exception. As a recap, here are a few of the steps that the College has taken in response to the pandemic:
We are switching to online classes through the end of the term
Students were given an extra week of spring break to help the College make the transition to online courses
The college has decided to adopt a mandatory pass/fail grading system for spring term
Additionally, Carleton's President Steven Poskanzer released a video message for the community last weekend. Professors have also circulated videos online, and faculty and staff have been keeping in touch with students for the past few weeks.
Online classes started on Monday, and so far, so good!
This term, I am taking Intro to Creative Writing, The 1930s: Social and Cultural Responses to the Great Depression, and Modern Indian Fiction. I am lucky because all of these classes were relatively easy to convert to an online format.
My courses are using Zoom and Google Hangouts to have virtual meetings during class time. We are also using online discussion forums to talk about the readings and critique students' writing. One of my courses is planning to have presentations, and another is taking advantage of small group discussions in addition to full class meetings.
Although this is only the first week of the term, my classes are already keeping me busy! In Modern Indian Fiction, we are currently reading a novel called Kamala by Krupabai Satthianadhan. Last class, we talked about imperialist history in India and the rise of the novel, and we have been discussing the roles of nature and religion in Kamala.
I have been reading F. Scott Fitzgerald stories for my class on the 1930s, my favorite of which has been "Emotional Bankruptcy." For tomorrow's class, we are watching a movie called The Public Enemy and having a virtual meeting through Zoom. In my Creative Writing class, we are writing our first free verse poems and critiquing others' work through an online discussion board.
Admittedly, transitioning to online courses has been an adjustment. My parents are also working from home and spend much of the day on conference calls, so we each have been trying to work in separate parts of the house. I usually work at my desk in my room, where WiFi is not always very reliable: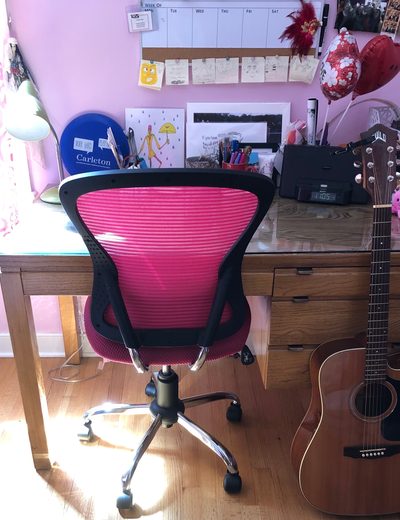 Many students are in the same boat, however, and professors are very understanding. I really appreciate how hard professors and students have worked to make this term possible in an online format. They have also found ways to make themselves available to students in order to maintain the professor-student relationships which are so highly valued at Carleton. Although this term is undeniably different than it would have been on campus, I am proud to be part of such a flexible and resilient community.
Andriana
---
Andriana is a native of Richmond, VA, and is looking forward to starting her freshman year at Carleton. She is especially excited to experience the Minnesotan Tundra first-hand and learn what the phrase "polar vortex" really means. When Andriana isn't busy staying warm, you can find her binge-reading, playing music, or watching a favorite movie or show for the umpteenth time. She is hoping to double major in International Relations and English, while also reminding herself to keep an open mind as she begins her college career. Meet the other bloggers!