First Week as a Freshman
Felix recaps his New Student Week and shares some moments that stood out.
Felix recaps his New Student Week and shares some moments that stood out.
---
As my first week at Carleton comes to a close, I wanted to break down my New Student Week experience and share some of my highlights so far. This post will include everything from cookies to surprisingly non-Minnesotan weather, CarlTalks to tree planting, and even some tips for your first week at Carleton College.
Day One
Move-in day was Tuesday, September 5th, and the weather was absolutely horrible, especially for a day full of lifting boxes and duffel bags. As the heat grew to nearly 100 degrees Fahrenheit, many students questioned whether their planes had dropped them off in the correct state. However, after confirming that we were indeed in Minnesota and drinking huge amounts of cold water (and making a last-minute run to the store to grab a fan), I was ready to settle in.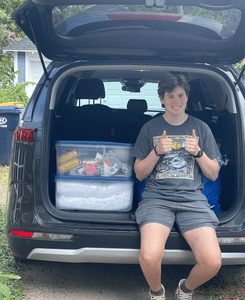 My New Student Week Group
After setting up my side of the dorm room and having a final lunch with my mom, I met my New Student Week group — 14 freshmen and 2 upperclassmen acting as our Peer Leaders. I had so much fun getting to know everyone in my NSW group. We had a mix of international students and students from the US, and many varying interests and personalities, but we all had a great time experiencing our first snippets of campus life together.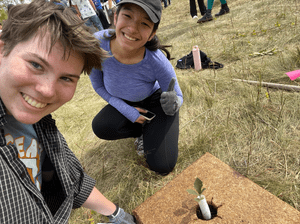 Getting to Know Campus
Throughout the week, I walked around campus (a lot, I got around 15,000 steps every day) both with and without my NSW group. I explored campus dining halls and experienced the many desserts available, with my current favorites being the oatmeal raisin cookies and the apple strudel bites. I walked through the Arb, planting 5 trees with my NSW group. I attended the CarlTalks given to new students about topics such as mental and emotional health, consent, academic growth, and life after Carleton. I took tons and tons of photos of the beautiful nature around campus, particularly on the walks to and from my dorm (Goodhue is very far from other campus buildings, but you do cross some amazing lakes to get there). I walked around town a bit, and found a couple of cool handmade necklaces which I bought! I also did many other things, but I'm going to limit my rambling here.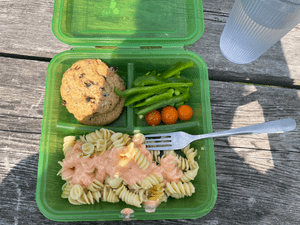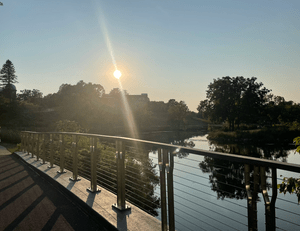 Final Thoughts
As New Student Week comes to a close and Fall Term officially begins, I've realized how glad I am to finally be here. Sure, I'm anxious about classes and friends and many other things, but I've had such an amazing time so far, and I feel excited to take on my first term at Carleton. Some of my big takeaways from this week are that everyone else is nervous too, school orientations can be very fun, and most importantly, bring a fan if it's going to be 90 degrees!