Finals Week
Andriana talks about Carleton's coronavirus response and finals week!
Andriana talks about Carleton's coronavirus response and finals week!
---
Hi everyone!
I hope you all are staying safe and healthy! With the increase in cases of coronavirus in the United States, a lot of colleges and universities have been adjusting plans for the rest of the school year. Carleton has joined this long list of schools and notified students that classes will be moved online, at least until May, for spring term.
I think that Carleton has handled this situation really well. For the past few weeks, the college has been taking initiatives to prevent the spread of illness on campus. This included promoting good hygienic practices and monitoring students who are currently abroad. More recently, school-sponsored travel and study abroad programs were cancelled due to the global impact of coronavirus.
This morning, students received a very thorough email from the administration announcing the changes for next term. While this situation will be challenging and new for everyone involved, Carleton is doing everything possible to provide support for students and faculty. Ultimately, educational institutions all over the country have had to take big steps in an effort to keep people healthy.
Although this has been a stressful situation, Carleton students are working hard to stay focused because… it's finals week! Yes, tenth week has come again, meaning that it is time for students to prepare for the end of the term. You might be wondering what finals week looks like at Carleton and how it compares to high school exams. Here are a few things to know about the end of the term at Carleton:
To start, finals are different for everyone at Carleton. While some people have exams, others have papers or final projects. This term, all of my finals are papers because I am in writing-heavy classes. My roommate, however, has exams and a final project for her French and STEM classes.
During tenth week, classes end on Wednesdays so that students have Thursday and Friday to study and prepare for their finals assignments. Exams are given Saturday through Monday, and students usually leave by Tuesday for break. Also, during tenth week, professors often increase their office hours so that they can be very accessible to students working on final projects.
Finally, tenth week is not all about studying here at Carleton. While studying is, of course, a big part of the week, it is important to not get too stressed and take a break every once in a while. Therefore, many students take time to celebrate the end of the term by hanging out with friends or participating in some of Carleton's best traditions! Maya and I have been going on walks to decompress this week (and to enjoy the beautiful weather). Here is a campus picture from our walk last night: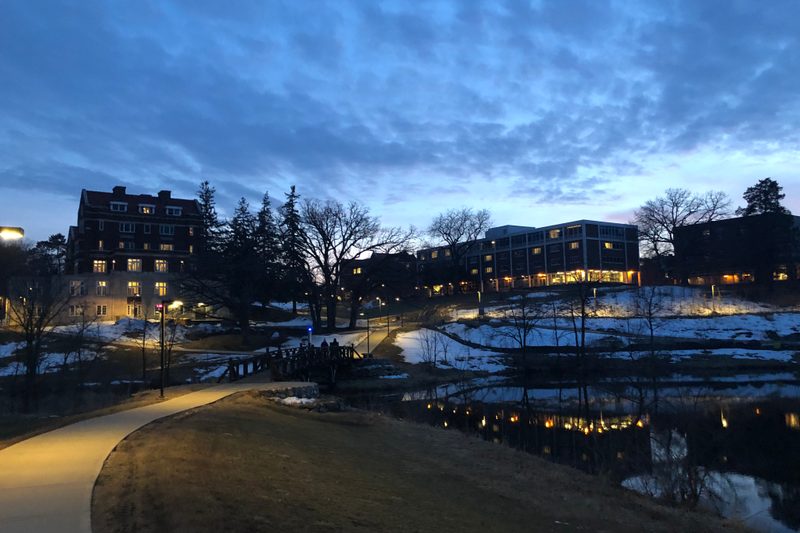 Well, that's all for now. I hope that everyone stays healthy and has a good spring break!
Andriana
---
Andriana is a native of Richmond, VA, and is looking forward to starting her freshman year at Carleton. She is especially excited to experience the Minnesotan Tundra first-hand and learn what the phrase "polar vortex" really means. When Andriana isn't busy staying warm, you can find her binge-reading, playing music, or watching a favorite movie or show for the umpteenth time. She is hoping to double major in International Relations and English, while also reminding herself to keep an open mind as she begins her college career. Meet the other bloggers!