Exclusive Look at Hasenstab Hall
Quinn goes on a grand tour of newly renovated Hasenstab Hall.
Quinn goes on a grand tour of newly renovated Hasenstab Hall.
---
Excitement has been mounting around the "newest" building on campus: Hasenstab Hall. Once known as Old Music Hall, Hasenstab has been totally renovated on the inside while preserving the exterior façade built in 1914. Though renovations are mostly completed, the building remains locked to most students and staff to stave off a wave of curious investigators. However, I am going to be a Student Departmental Adviser for Political Science, so I got to go inside early. While everything might not be fully furnished, I captured some of the first images to be released to the public!
Front Entrance and Lobby
Upon entering the building, it instantly opens up into a spacious and bright area with several areas to meet friends before class (or finish up the last of your homework). I love that they kept a lot of the original wood window frames and the capitals (tops) of the support columns. The area is a blend of old and new—a theme that runs throughout the building.
Classrooms
Like any good academic building, there obviously needs to be some classroom spaces. The main classrooms are on the first floor, with a number of different size options to accommodate different classes and styles. Of course, all of these classrooms have state-of-the-art technology and shiny whiteboards. I can confirm that I tested the chairs, and they will also be comfortable for class time. One of the goals of the architects was to bring more natural light into the spaces, so I appreciate that they made true on that promise, while also keeping the historical window panes. 
Lounge Space
The second and third floors of Hasenstab are mostly office space, but each offers student lounge areas. The second floor features a bookshelf stocked with literature written by Carleton's own political science professors, as well as awards and plaques for some of Carleton's political teams. This space will also feature several of the tables and more comfortable chairs for studying and working. The third floor offers even more collaborative space, with several work tables along with two more private glass-enclosed rooms.
Bonus Room
On the ground floor, there is this really cool "flex space." It is the only room on the floor, allowing it to be very open-concept. The tables allow for lots of different configurations: rows or a U for class, broken into chunks for study spaces, or pushed to the walls for a reception area. The possibilities are endless!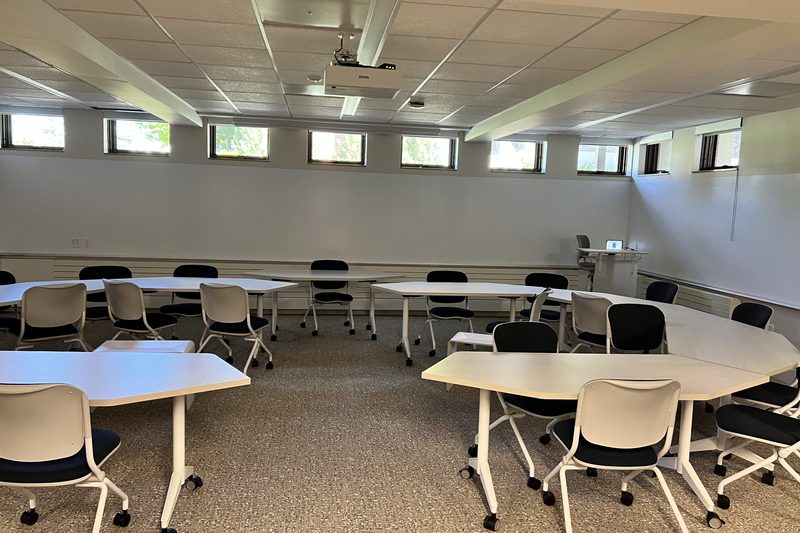 Closing Thoughts
I am so excited to have a brand new space for political science on campus! The facility looks wonderful and I am thrilled to spend my next two years with Hasenstab as my academic home. I can't wait for it to be enjoyed by the rest of the campus this fall.
---
Quinn (he/they) is a junior studying Political Science and International Relations, Environmental Studies, and History. Born and raised in Madison, Wisconsin, they enjoy walking barefoot in the Arb, looking for free snacks in department lounges, and searching for their next favorite book in the library. Outside of work and school, they are the Treasurer of the Carleton Student Association (student government). There, they oversee the budget as well as work with the Student Activities Office to manage clubs on campus. Meet the other Bloggers!