Dances and Caucuses
Andriana talks about her trips to the Twin Cities and Iowa!
Andriana talks about her trips to the Twin Cities and Iowa!
---
Hi everyone!
The past week has been insanely busy, but so fun. It started off with a Synchrony show on Friday night, which I saw with my roommate, Maya. Synchrony is a dance organization on campus, and each term the group puts on a show that is well-attended by Carleton students. It is always fun to attend, because Synchrony is a campus tradition and each show is filled with a lot of energy.
Friday was only the start! On Saturday I got up (relatively) early to go to the Twin Cities! My friend, Eva, is a fellow Greek student at Carleton, and she invited me to go home with her for the weekend to attend an Orthodox dance in Minneapolis. After we left Carleton, we drove to the Twin Cities and went to her house, where her parents had prepared an amazing Greek meal. My parents make really good Greek food, and when I'm at college, I miss having the kind of food I get at home (not to suggest that the dining hall food isn't good, too).
In the afternoon, we went to a really cool event at Lake Harriet in Minneapolis. The lake is frozen over, so artists come and set up shanties on it with exhibits in them. It was so cool to walk on a frozen lake in the first place, and the exhibits were so neat! My favorite part was when we took bikes with big, colorful butterfly wings attached and rode them on the lake. I thought it would be really difficult to ride a bike on top of ice, but it was much easier than I expected and so much fun!
In the evening, we went to the dance at the Orthodox Church in Minneapolis. When I was younger, I used to do Greek dancing in Virginia, and I would dance every year at our local Greek Festival. Although it has been a few years since then, I really enjoyed dancing again and learning new dances. Since it was a pan-Orthodox event, we learned a lot of different kinds of dances, including from Russia and Serbia. A lot of the dances were really fast-paced and difficult to learn, but once I got the hang of it, it was a lot of fun.
The weekend was really nice; I enjoyed spending time with Eva and having a little time away from campus. Once I got back, though, it was very busy because I had to get ready to go on another trip the next day! Carleton's Political Science department sponsored a trip to Iowa on Monday to watch the caucus process and conduct some research there.
I am really interested in politics, and being from Virginia, where we have primaries, I had never experienced a caucus before. Observing the caucus allowed me to learn how the process works, and I enjoyed having the opportunity to talk to voters. I have been following the upcoming election for a long time, and it was a great experience to watch the primary/caucus season kick-off.
I really appreciated having the chance to go to Iowa. Carleton has a lot of really great experiences for students, including chances for them to get involved with professors' research. I am grateful that I had the opportunity to go to Iowa and witness the caucus first-hand, something which I would not have been able to do otherwise.
Andriana
P.S. I don't have any campus pictures from this week, but I will take some for next week's post during the midterm break! For now, here is a picture of the frozen Lake Harriet from this weekend!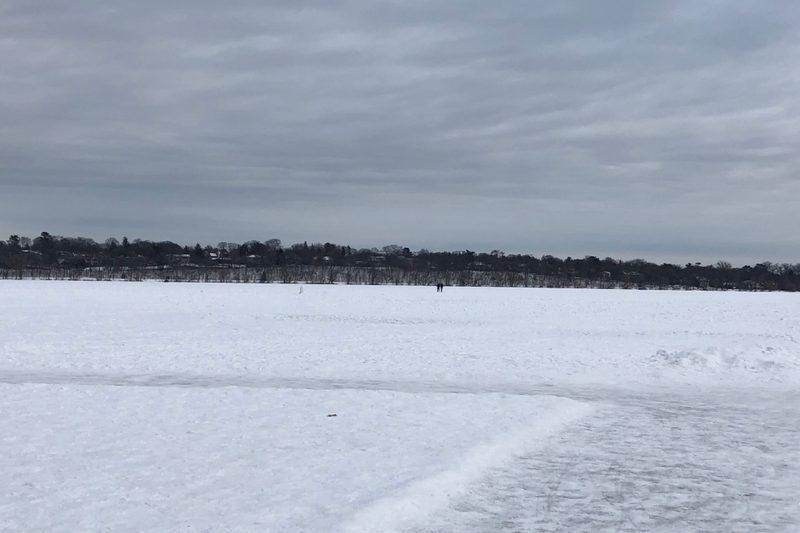 ---
Andriana is a native of Richmond, VA, and is looking forward to starting her freshman year at Carleton. She is especially excited to experience the Minnesotan Tundra first-hand and learn what the phrase "polar vortex" really means. When Andriana isn't busy staying warm, you can find her binge-reading, playing music, or watching a favorite movie or show for the umpteenth time. She is hoping to double major in International Relations and English, while also reminding herself to keep an open mind as she begins her college career. Meet the other bloggers!