Carleton and Your Career
In which Greta reflects on her winter externship, how it's helped her network, and inspired her to explore a new career path: environmental publishing
In which Greta reflects on her winter externship, how it's helped her network, and inspired her to explore a new career path: environmental publishing
---
Welcome, new Carls in the Class of 2025 — and applicants — and anyone who might apply to the Class of 2026. Crazy to think that far in advance, right? Well, I'm sure some of your parents are thinking even further by asking that age-old question:
How is a liberal arts degree going to get you a job?
I started writing about this last term, when I was applying for winter externships. As that website describes,
These one- to three-week experiences allow students to learn more about a particular career field, build and/or cultivate professional connections, and explore the world of work.
In short, they're one of the many wonderful ways the Carleton Career Center helps students prepare for life after Carleton, and have fun on the way!
My Winter Externship
As I described last winter, I applied to five different externships through the career center. I got into two, and accepted one at a great little company called Storey Publishing. Both the lead publisher and one of the editors there are Carleton alums, which is why they hosted the program. You'll hear a lot about the alumni network, and it's no joke. Carleton has prominent alums in every field. Connecting with them is the way to get a leg in the door.
During my externship, I spent two weeks "following" the lead publisher virtually. I attended meetings with the full team, two groups of editors (both the ones who have ideas for books and the ones who finalize them), the designers, and the publicists/marketers. I never knew how many people went into making books!!
Personal Projects
This was the most rewarding part of my externship. I did a research project and wrote a press release in coordination with a publicist, provided feedback on a manuscript with a project editor, and even got to create a concept for some board books with an children's acquisitions editor. It was really great to do meaningful work for a publishing house and form relationships with professionals, all from my bedroom desk in the span of two weeks!
The icing on the cake was getting a shipment of actual physical books. In a non-pandemic year, I would have been at their office in Massachussets, browsing through tons of books. (Honestly my dream work situation.) So instead, they sent me a package! It was full of kids books, and right before the holidays, which meant I had lots of fun reading them all and then distributing them to kids I know.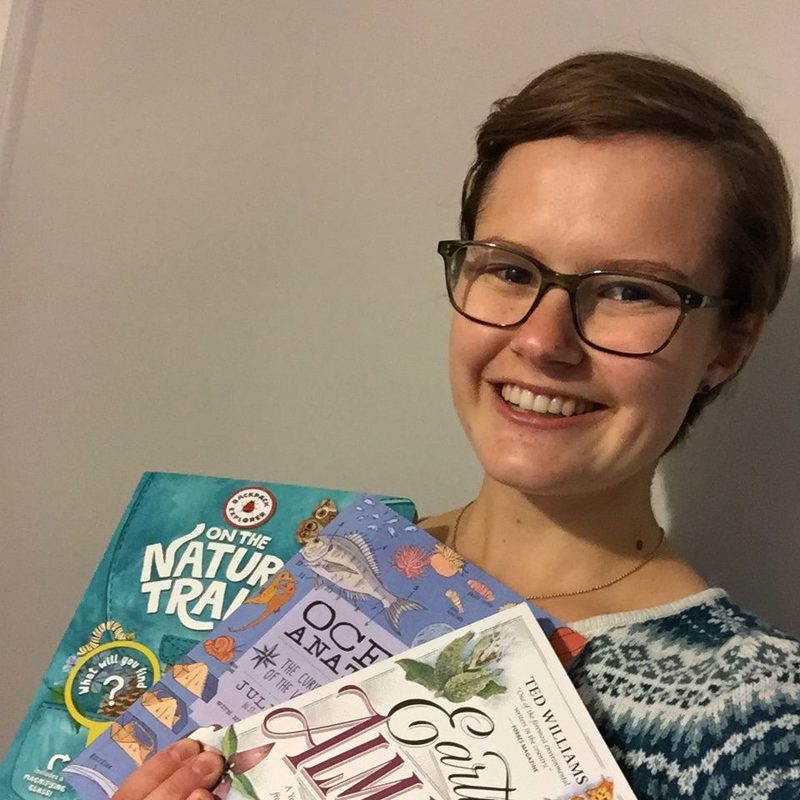 What comes next?
As you may have noticed from that picture, a lot of the books that Storey publishes are nature themed. This was one of my favorite parts about them, and it made me realize: if I want to combine my passion for environmental action with my love of books, publishing might just be the career for me!
Some quick research has revealed that there are tons of environmental and social justice publishers out there. (One of the big ones is in Minneapolis, and they've got a fellowship for people entering the publishing field… post-graduation dreams, anyone?) For now, I've been on the lookout for summer internships, and I've already scheduled a call with one option in my home state of Vermont. The power of an externship!
So, to all of you concerned parents, and skeptical students: never fear.
In my humble opinion, a liberal arts degree is the best entree to a job after graduation. Large universities and Ivy Leagues may have the brand name, but I promise that Carleton alumni are friendlier and more eager to help all students succeed. You will learn so many interdisciplinary skills during your liberal arts education that any employer would be lucky to snatch you up. And if they know their colleges, they'll be pretty impressed by seeing Carleton on your resume, too 😉
---
Greta is a proud Vermonter and Carl who's getting the best of both worlds by doing school from home. She has weathered the pandemic by writing constantly, playing piano, and spending time outdoors. Then eating lots of chocolate. She wants to learn everything, so she might major in Latin American Studies and minor in Creative Writing. Meet the other bloggers!