Campus From Afar: Part 2
In which Greta shows you around her favorite Carleton social spots.
In which Greta shows you around her favorite Carleton social spots.
---
Welcome back! A few weeks ago, I started a virtual tour of my favorite academic buildings at Carleton; today, I'm going to take you to some hang-out spots for when you need a study break (I certainly do right now). Whether you're a prospective student, a new member of the Class of 2024 (congratulations!), or even a current student who's missing campus as much as me, enjoy.
Sayles-Hill Campus Center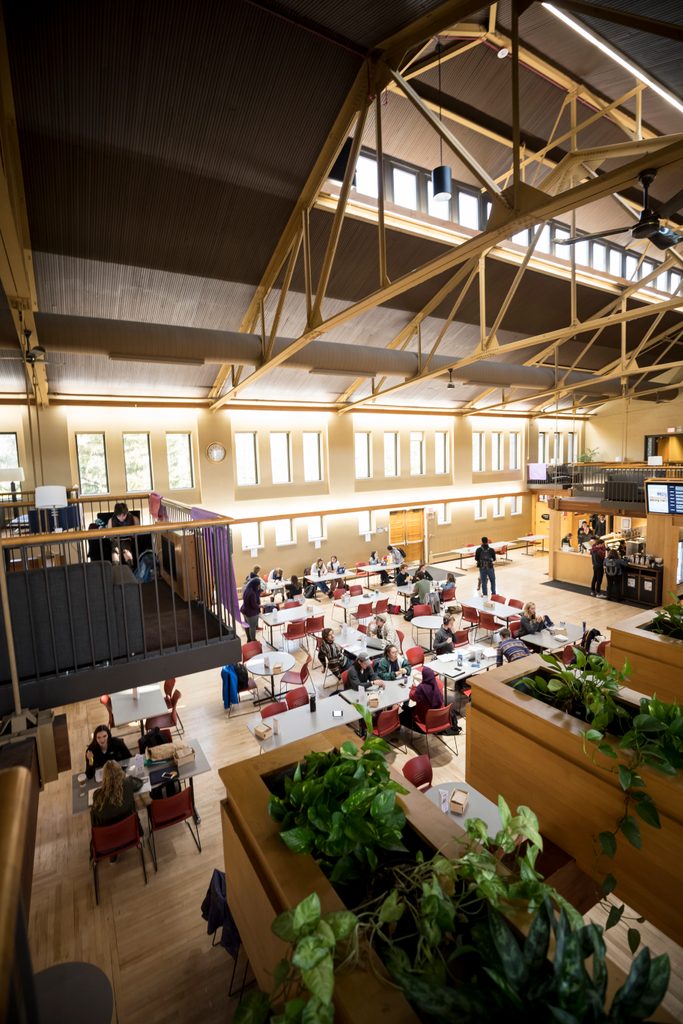 Sayles is one of the central locations on campus and part of the "complex": a conglomerate of buildings connected indoors, super helpful when you don't want to brave the winter weather. It features the biggest café on campus, the mail room (site of the famous Friday Flowers), pool and foosball tables, and plenty of space to socialize. "Upper Sayles" (aka the second floor) holds conference rooms for anything from club meetings to study groups. The basement is home to KRLX, Carleton's student-run radio station. The Great Hall hosts dinners for cultural events from Holi to Passover to Dia de los Muertos. And on special occasions, Sayles is even transformed into a dance floor!
The Bald Spot
Other schools call this the Quad, but Carleton isn't like other schools (or at least, we'd like to think we aren't). On a nice fall or spring day as you cross the Bald Spot, you're bound to see students lounging in the shade, trying their luck at a slackline, or tossing around a frisbee. In fact, the Bald Spot is where the famous first-year frisbee toss takes place! And in the winter, the Bald Spot becomes a skating rink for fun in all weather. That's Carleton!
Dacie Moses House
If you've heard just one thing about Carleton, it's probably that we have a Cookie House open for baking at all hours of the day and night. Dacie Moses was a kind, loving Northfield community member who welcomed students into her house for a taste of home. When she passed away, she donated the building to Carleton — on the condition that it always be stocked with ingredients for chocolate chip cookies. Now, a few students live and work there, and many more visit for baking, Sunday brunch, or games in the living room. Plus, two a cappella groups — the Knights and the Knightingales — practice at Dacie's, so the air is always filled with the sound of music and the smell of cookies. What could be better?
The Cave
Dance parties, concerts, even drag shows — it all happens at the Cave. The oldest student-run entertainment venue in the country, it hosts performers from off campus as well as student bands. Students can even reserve the location for their own special events! Plus, it's open most nights as yet another hang out spot. My roommate works there, making popcorn and giving out free snacks, and she's always excited when someone stops by.
The Superlounge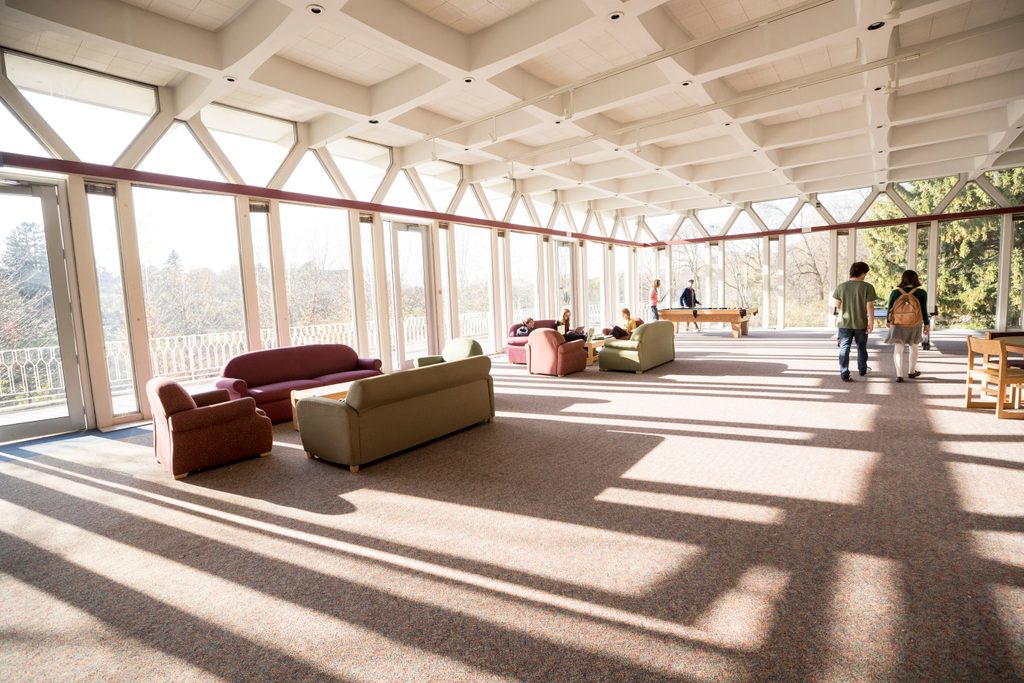 I lived in Goodhue during my first year, and one of the great things about this under-appreciated dorm is the superlounge. It's just about what it sounds like: a giant lounge set right on the Lyman Lakes, with panoramic windows for a full view. Even though Goodhue is a bit out of the way, students from all over campus come here to study, play ping-pong, watch TV, or if you're like my friends, play a rousing game of Cards Against Humanity. The individual floor lounges are great hang-out spots, too, and sites of weekly floor study breaks (think homemade brownies).
The Libe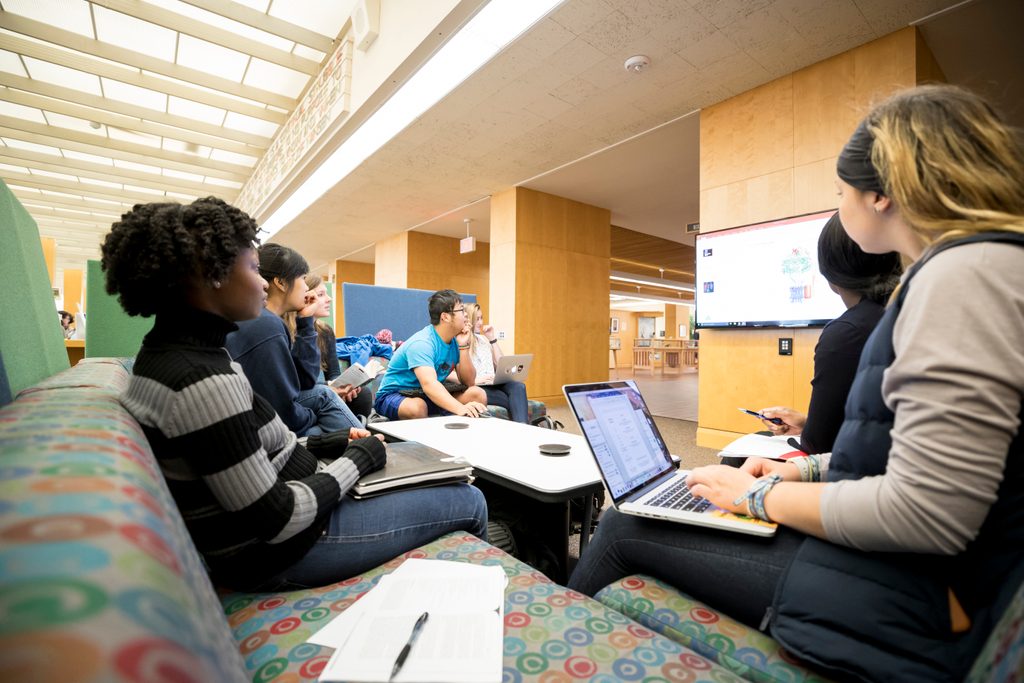 Also known as the Gould Library. You might be a bit confused about why I'm including a library on my list of social spots; allow me to explain. The Libe has four floors, increasing in quietness as you descend. First Libe is "Monastery Quiet"—only go down there if you're prepared to breathe, type, and even think quietly. But Fourth Libe is "Blue Monday Quiet," named after a popular Northfield coffee shop (a hang-out spot in it's own right!). This means that Fourth is almost always filled with talking and laughing, with inside voices, of course. I normally come to study, yes, but it's impossible not to run into friends…
~
Thus concludes my tour for the day. I hope it's been an informative and enjoyable break from daily life. If you have any questions, email me for an exclusive behind-the-scenes tour! I'd be more than happy to chat. And I hope to see you on Carleton's real, actual campus next year.
---
Greta is a proud Vermonter who nevertheless wishes she could be at Carleton instead of sheltering in place. She's making it through the pandemic by writing constantly, playing piano, and spending time outdoors. Then eating lots of ice cream. She wants to learn everything, but is particularly interested in Sociology/Anthropology, American Studies and, of course, English. Meet the other bloggers!