Booking it Across the Bay
In which Greta walks across Lake Superior. Yes, you read that right.
In which Greta walks across Lake Superior. Yes, you read that right.
---
This past weekend marked an exciting event for the Carleton Association of Nature and Outdoors Enthusiasts, or CANOE: Book Across the Bay! CANOE leads outdoor adventures that any Carl can sign up for almost every weekend, ranging from hiking to snow shoeing to rock climbing to even dog sledding. But bringing 100 people to Book Across the Bay (BATB) is their biggest trip of the year.
BATB is an event in Ashland, Wisconsin where thousands of people cross country ski, snow shoe, or walk 10 kilometers — at night — across the frozen bay of Lake Superior. Yes, that's right: last weekend I walked on (frozen) water.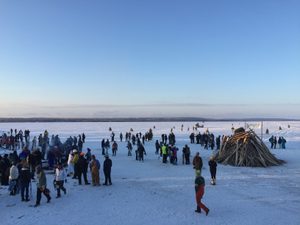 The bus left bright and early on Saturday morning so we could get to Ashland in the mid afternoon. Once we got there, we registered, fueled up on soup and smoothies, and explored the area. A group of us first-years congregated, and we ended up hanging out all night booking together. To commemorate the formation of this new squad, we took some fun pictures: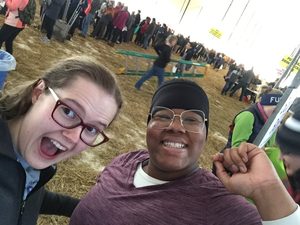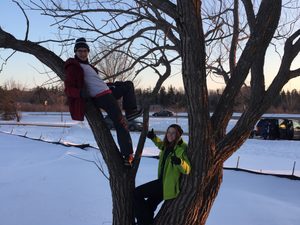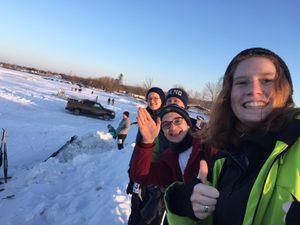 It was cold out there, but at least I had layers: big winter boots, three pairs of fuzzy socks, three pairs of fleece-lined pants, two shirts, a jacket, a winter coat, gloves, and a warm hat. And as the sun went down, things started heating up. Literally! Check out the bonfire, which was so hot it started to melt the ice underneath:
We hung out there while the event got started. Technically it was a race, but there were four waves; the first three were all skiers who were all racing for real, and the fourth was people like me who just wanted to have fun! My group comprised of seven walkers and one skier who was kind enough to go slowly for us. The first wave left at 6:00, and by 6:30, we were off, too.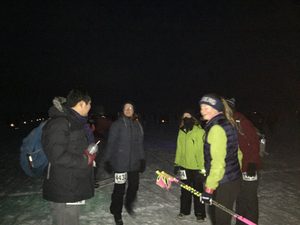 I was a little nervous about the whole walking-on-ice thing, but it was so thick and covered with so much snow that it hardly even felt like I was on a lake, besides looking out over views like this: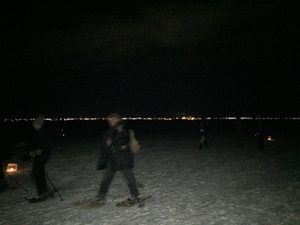 The first few kilometers went by fast, filled with giving each other code names, watching the stars come out, and belting out Hamilton songs. At every kilometer, there was a stop with a campfire and snacks; at the third one we laid down in the snow and looked at the sky and sung Piano Man by Elton John. A nearby group of local skiers even joined in!
Our prolonged walk set us back so that we were walking mostly alone for a while, but by the halfway point, we caught up with the crowds. Good thing, too, because that's when the wind started… Suddenly I was grateful for those three pairs of pants.
After a few kilometers that seemed longer than the rest of the race combined, we finally made it to the 8-kilometer stop, featuring ice sculpture dragons who breathed real fire!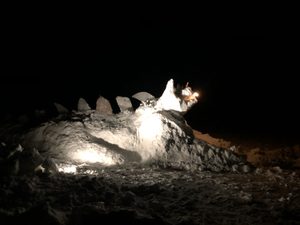 The last two legs were a blur of aching legs and shouts of encouragement from everyone in the group. And then, at last, we made it. We all ran/skied across the finish line together, yelling with sheer joy. My phone got one last photo before it decided it was too cold and died for the night: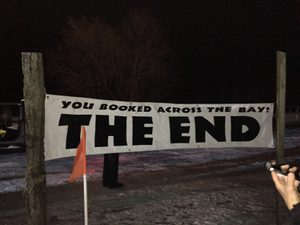 The final tent was supposed to greet us with free chili, but they had run out already (:/). Darn skiers. But there were portapotties and heated spaces and hay bales to sit on — it's the little things. And a live band! We rested and then danced the night away (conga lines were conga-ed) until the buses came at 10:30. Which, in my exhausted state, practically felt like 1:30.
They drove us to a heated pavilion elsewhere on the lake where we all set up our sleeping bags and immediately conked out. Not a bad end to the night. And in the morning, we woke up to this: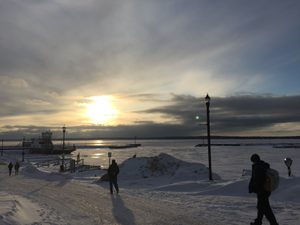 Then it was just a bus ride back and a much-needed salad and shower. Those parts of civilization were nice to come back to, just maybe not the homework part… but going into a busy week, I'll treasure the memories and friends I made at Book Across the Bay.
---
Greta is a proud Vermonter who has fallen hard enough for Carleton that she's choosing to spend the next four years without mountains to hike. Instead, you'll probably find her wandering the Arb with a journal and a pen behind her ear, playing piano in Weitz, or telling another unsuspecting soul about her gap year. And eating dark chocolate. She wants to learn everything, but is particularly interested in Sociology/Anthropology, Geology, and, of course, Creative Writing. Meet the other bloggers!