Becoming an Extern
Andriana writes about her externship experience with the Career Center!
Andriana writes about her externship experience with the Career Center!
---
Hello everybody!
Long time no see (read? write?)! Since my last post, I have completed yet another term of college, enjoyed a wonderful winter break, and returned to campus once again. While there's plenty to say about the on-campus experience, I'm going to focus on a major part of the Carleton off-campus experience: externships.
Externships are very similar to internships, but with two key differences:
Externships are usually much shorter than the average internship. My winter break externship was three weeks long, but others lasted two weeks, one week, or a few days, even.
Externships tend to be unpaid. While plenty of internships offer compensation, most Carleton externships do not. They are intended to introduce students to certain fields or professions, and, as such, are learning experiences more than work experiences.
Externships, which are hosted through the Career Center, are popular and strongly encouraged at Carleton. They're wonderful ways to give students a glimpse into career options and can be great networking opportunities.
The Externship Application Process
At the beginning of Fall Term, students have plenty of time to browse externship options and begin their applications. (Each student can apply to up to four externships.) Most externship opportunities registered through Carleton require a resume and a cover letter, and some will offer an interview.
Application materials are usually due by the end of September, and once they are ready, students can submit them through Handshake. At Carleton, the Career Center offers Handshake as a resource to match students with job and internship opportunities.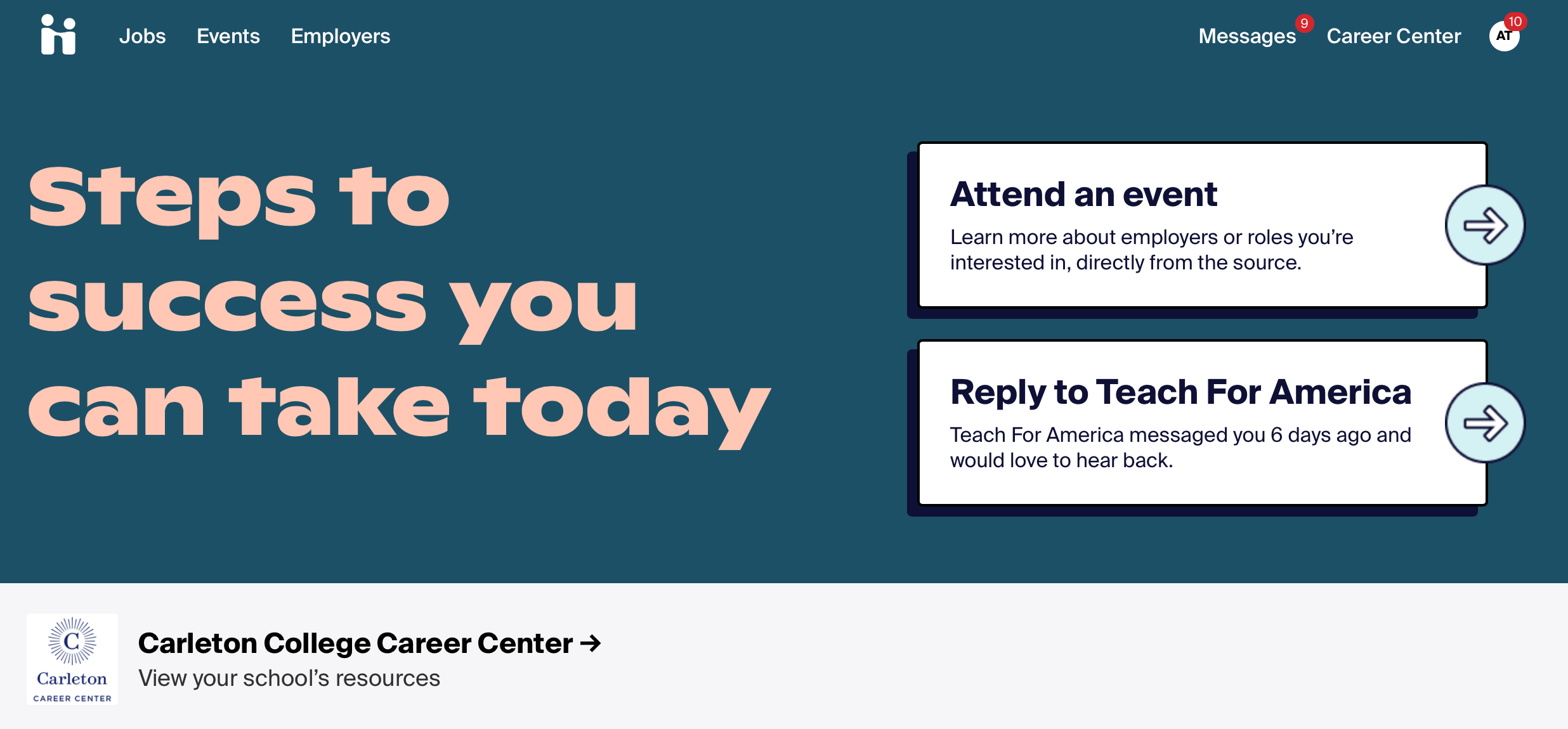 After that, it's a waiting game! Externship hosts have about a week to review the application materials they received and rank candidates accordingly. At the end of the week, the top candidates receive their offers, which is when the fun begins.
The Risk Factor!
Once a student receives an externship offer, she has 24 hours to either accept it or decline it. Because multiple offers probably won't come in at the same time, students must also rank their externship choices. If a student's last choice is the first externship to offer a spot, the student has to decide whether to accept it or decline it in hopes that her first choice will eventually extend an offer. Once an offer has been accepted, any other offers are automatically declined.
So no changing your mind!
My Externship
Since externships are meant to immerse students in potential careers, I looked for opportunities that were relevant to my fields of study: English and Cross-Cultural Studies. Luckily, there were many options for both areas, so I had plenty to choose from.
Because I'm currently interested in publishing, I applied to two externships that would give me experience in the industry. My first choice was to work with a literary agency based in New York City, an externship that would be conducted remotely over the course of three weeks.
What Did I Do?
During my three weeks with Brandt & Hochman, I worked closely with my externship host and another Carleton extern. Because externships are first and foremost learning experiences, we spent a lot of time covering the basics of the industry. I learned how to write a reader's report (and what a reader's report is), how to read a book contract, and the general responsibilities of a literary agent.
Of course, I was also expected to contribute during the externship. My primary responsibility was to read through manuscripts submitted to the agency and write my own reader's reports for the agents. The goal was to help us learn how to evaluate a manuscript and, in return, for us to help the agents read through manuscripts and offer our thoughts on their viability. Needless to say, I read a lot during those three weeks. Like, 400-pages-in-one-day a lot. And I LOVED it!
Final Thoughts
Doing an externship was a very positive experience for me! I made some excellent connections and was able to learn a lot about a field that interests me. Additionally, as someone who gets bored very easily, it was a wonderful way to be productive during the six-week winter break. I would love to do an externship again next year and would 100% recommend it to anyone with some time (six weeks, to be exact) on her hands.
---
Andriana is a native of Richmond, VA, though her love of snow suggests she might be a northerner at heart. She is in her junior year at Carleton, where she is an English major and a Cross-Cultural Studies minor. When Andriana isn't busy staying warm in the Minnesotan tundra, you can find her binge-reading, playing music, or watching a favorite movie or show for the umpteenth time. Meet the other bloggers!