Artist Outing
Lynn recently went on an "Artist Outing" for her Junior Production Workshop for her major to observe life in a coffee shop.
Lynn recently went on an "Artist Outing" for her Junior Production Workshop for her major to observe life in a coffee shop.
---
In my Junior Production Workshop (a sort of seminar class for third-year Cinema and Media Studies students to develop their comps (senior projects), one of our assignments is to go on "Artist Outings" throughout the term and think/write about them. While I am no authority on Artist Outings, I think they can be interpreted pretty liberally as anything that one chooses to do, by oneself, that will enrich them artistically. Our professor suggested seeing a play, going to a museum, or watching a dance show. I ended up doing something a little more interpretive! Here's what I thought: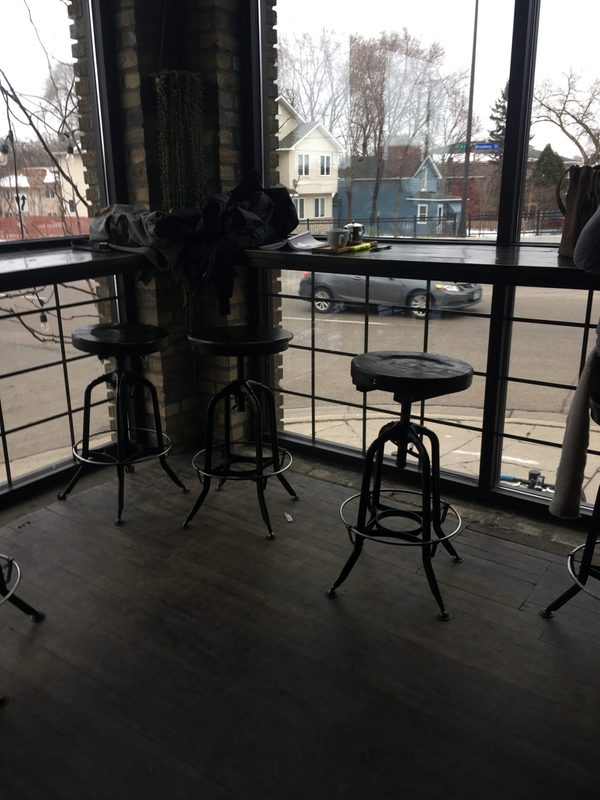 Surprisingly enough, my first Artist Outing seemed to happen upon me while I was en route to my planned outing. I had plans to get my hair cut at a hair studio/gallery, so I thought that I would use the "gallery" part to my advantage — little did I know that arriving in Minneapolis two hours before my appointment would seriously benefit my artistic inclinations!
I parked outside of Spyhouse Coffee in Northeast Minneapolis. A somewhat shabby-looking brick building houses the coffee shop, "SPYHOUSE" painted on its side in white block letters. Inside, I ordered a tea (that they brewed for me in-house!) and took up a stool in the corner of the shop facing a big window. There I sat, drank tea, and read The Marrow of Tradition by Charles Chesnutt for two quiet hours. Actually, I want to describe these hours as quiet for the sake of the picture I am painting, but the hours were not quiet at all, and the noises around me were what, for me, made this time an Artist Outing.
At first, my only counter-partners were a bony man with a laptop to my left  and a mystery being on my right at whom I never actually looked. While I read this 1900 book about black life in the post-slavery time of lynching, the Spyhouse speakers fed me tracks from Beyoncé's Lemonade, a 2016 piece of art about black life and specifically black womanhood in this time. When "Freedom" faded out, I realized that I had new neighbors at my counter — and wow, did they have Midwestern accents. I spent the better part of the next hour listening to their conversation, and this is what I learned:
They seemed to be supervisor/boss and employee at some sort of content-publishing company. The supervisor expressed concern that the employee did not feel passionate about her work at the company — although she was working a full work week, it seemed like the company was only getting ten hours of her effort every week. It was obvious that the novel she was writing was consuming most of her energy. Did she think she could devote more energy to the company, or did she want to end things — amicably? The supervisor really stressed that this ending would be amicable. I had a hard time hearing the employee's replies to all of these concerns, but from the supervisor's parting words, I deduced that things would be ending — amicably.
---
Lynn is a Cinema and Media Studies/Women's and Gender Studies double major. She's from the desert! You can catch her telling jokes with the standup group Queens of Comedy and the improv group Cujokra, or trying to ride her bike without using her hands. She's really into writing for infemous (Carleton's feminist zine), working at Dacie Moses (the cookie house), and eating (food). One time she applied for a job at Cakewalk and didn't get it.