Art at Carleton
In a previous blog, I list my favorite classes and why they're my favorite; in this post, I'll discuss my art classes more in depth. As a double major in…
In a previous blog, I list my favorite classes and why they're my favorite; in this post, I'll discuss my art classes more in depth. As a double major in…
---
In a previous blog, I list my favorite classes and why they're my favorite; in this post, I'll discuss my art classes more in depth. As a double major in Studio Art and Art History, I've taken a lot of studio art classes at Carleton! Here's a look into some of these classes and insight into why I chose to study in this department.
Observational Drawing (ARTS 110)
Affectionally called "Obs," Observational Drawing was the first art class I took at Carleton. It's one of the entry-level classes that most people take for their Arts Practice Requirement, and it's super fun! This class is focused on building your understanding of 2D materials like graphite, charcoal, and watercolor.
My favorite study in this class was of a paper bag. We all had to draw a few studies of one in charcoal! The most tedious was a study of perspective in the Weitz—I spent so many hours staring at and trying to replicate the angle of light fixtures on the ceiling!
Beginning Ceramics (ARTS 130)
Ceramics was the first 3D art class I've ever taken, and it was so much harder than I thought! We worked with clay in two ways: molding it by hand, and throwing it using the wheel. I preferred sculpting it by hand. I made a replica of my shoe and a big pot in the shape of a tree! I really struggled to throw pots on the wheel, but started to get the hang of it during the last few weeks of class. I'm hoping to take another ceramics class soon to improve my pot-making skills! I really want to make a cereal bowl and a candle holder.
Life Drawing (210)
I was finally able to take this class during my sophomore year after looking forward to it for almost a year and a half! Carleton wasn't able to offer the class (and many other art classes) because of the pandemic—only so many people can fit into a studio space at 6 feet apart. So, I was really excited about this course. As the name suggests, it focuses on drawing from life: we had two models come in to pose for us as we worked on gestures and sketches of the human form.
Painting (260)
Painting is one of my current classes and has been my favorite art class at Carleton so far! It's the first time I've ever worked with oil paint, and I've enjoyed it so much. We began working with still-lifes where we practiced different methods of paint application (like using a pallet knife versus a small brush) and just moved on to working on self-portraits.
At the end of projects, our work is evaluated by the class in critiques, which are really just group discussions about the work, like what we like or think could be improved. Below is an example of our first critique in painting!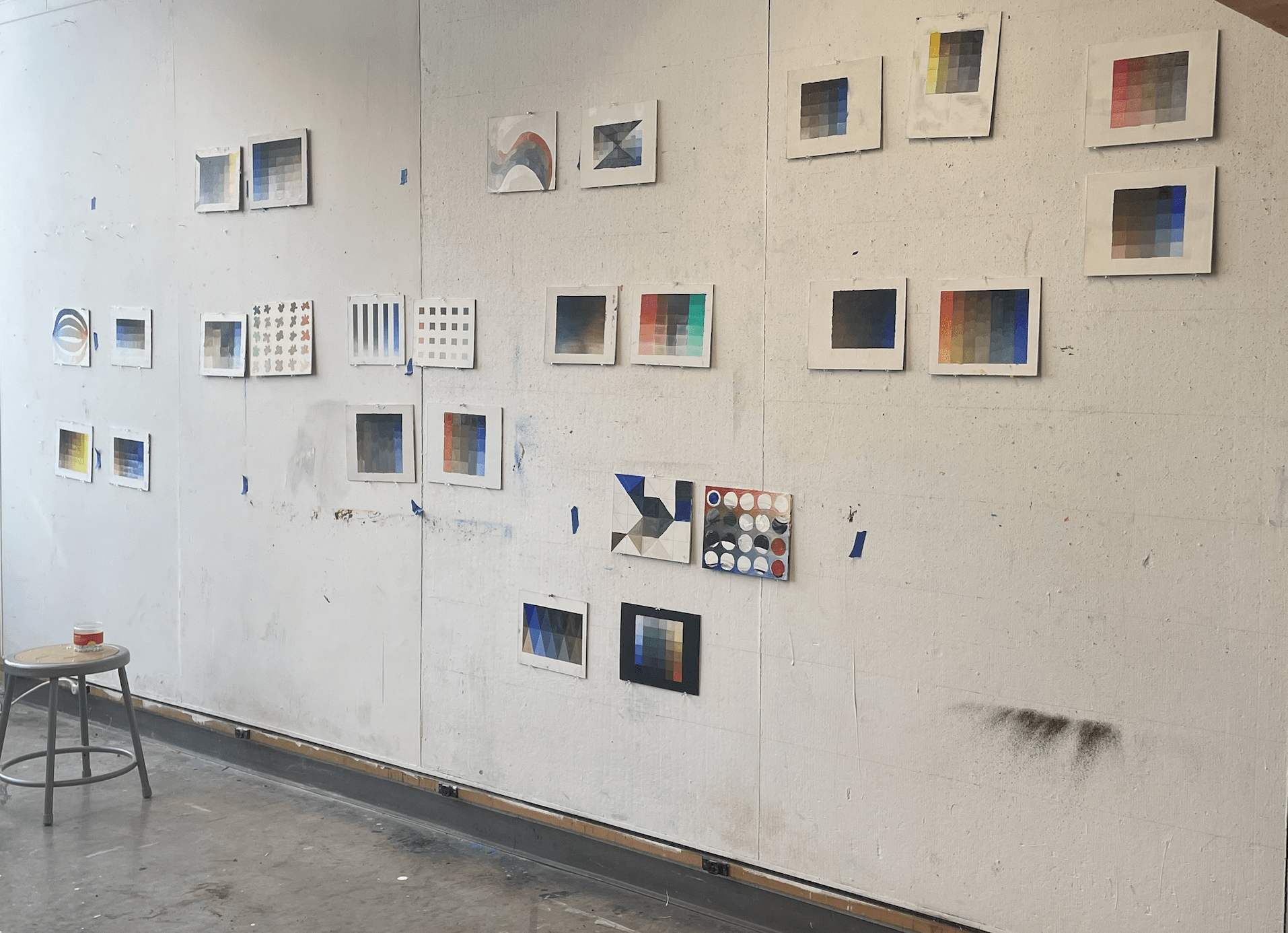 Throughout the years, I've also done a couple of independent studies in studio art including two that focused on identity-based art and studies of marginalization. In the future, I hope to create more art about this, and I'm so lucky to have had the opportunity to start working on them while at Carleton. The professors and staff in the department have really encouraged me to follow my own path in the arts, and I cannot be more thankful for them.
---
Ren (they/them) grew up catching salamanders, recklessly climbing trees, and running around barefoot in the Appalachian Mountains in a small town in North Carolina. They are a junior double major in Art History and Studio Art, and love spending time in the arb, Sayles Hill Campus Center, and the Weitz Center for Creativity. Ren is the co-president of Carleton's QuestBridge chapter, and also works with other equity programs on campus.