An Honest Review of Minnesota's Seasons
Emma gives her take on the much-discussed seasons of the midwest.
Emma gives her take on the much-discussed seasons of the midwest.
---
I'm coming from South Florida, which has only two seasons: a blazing, constant 90 degrees in summer and a soggy, rainy spring. So being exposed to Minnesota's very distinct four seasons has been a wild experience. 
The fall term magic. 
Coming here in fall term, I was amazed at the beauty of all the trees changing into shades of reds and yellows. It was literally like living in a stock photo. The air was a crisp 45 to 60 degrees, and the Bald Spot was always filled with students studying on picnic blankets. I didn't think it could get much better than that (…but spring awaits!!).
If you're coming in as an out-of-state first-year student, here is my fall term advice: make the most of it. Especially if you're coming from a place with no seasons. You only get four of these wonderful fall seasons until you graduate. So go on as many Arb walks as possible. Do your readings outside. Because it will be winter so soon!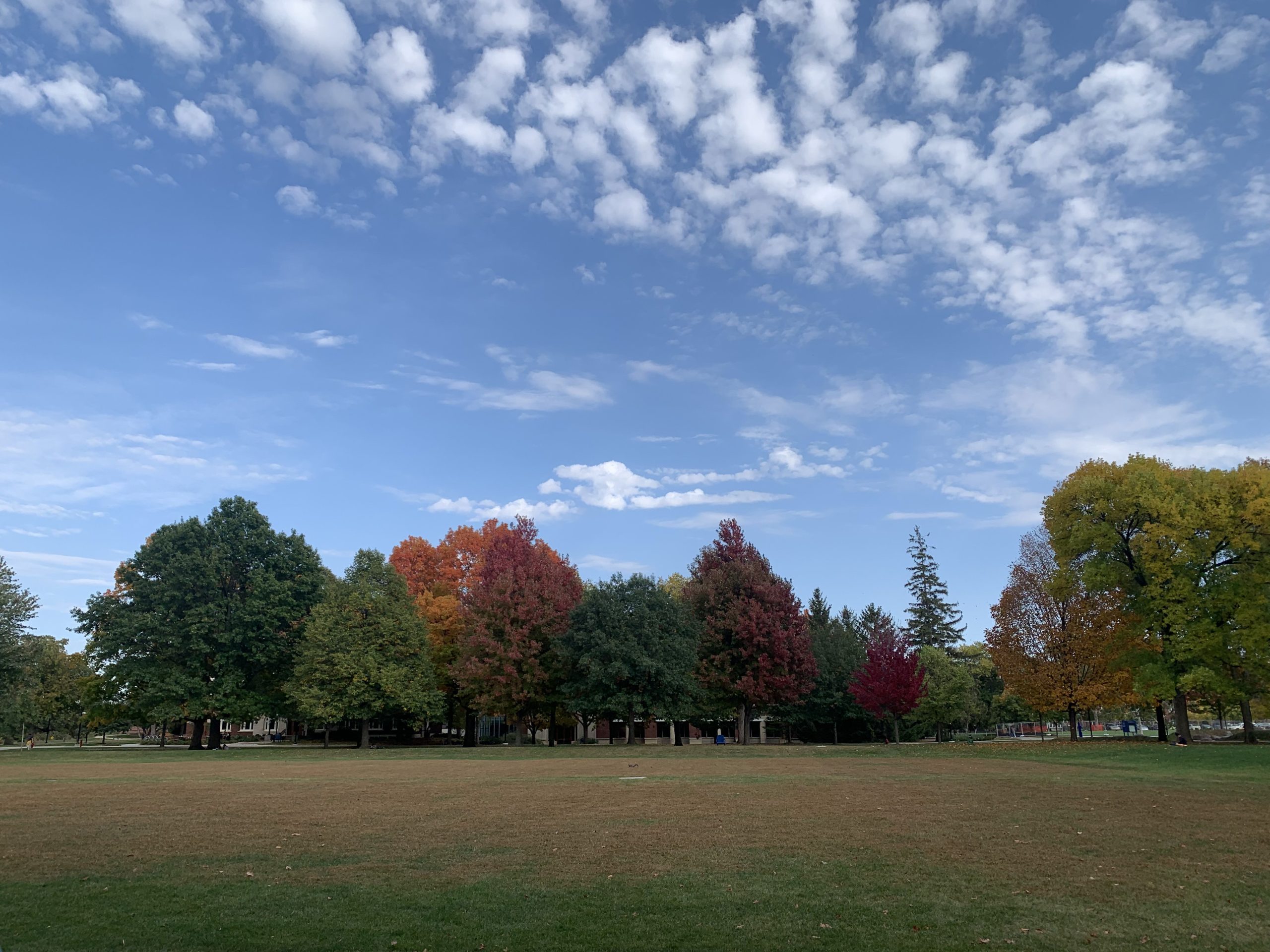 And then winter hits. 
And yes. It's pretty cold. But I can genuinely say (remind you– as someone coming from Florida!!) that it IS manageable. It's not THAT bad. Like yes, there are some days when the wind chill makes you want to cry. But you will adjust quickly. As long as you layer, don't spend too much time outside, and make your way quickly into a warm building, it's totally okay. I mean that.
But the first snowfall had all the out-of-state students freaking out (me included). From what I saw, everyone felt pretty excited to start wearing winter boots and go sledding on Bell Field hill.
However, be warned: there are definitely a few days sprinkled in there with zero sunlight and harsh winds. On these days, as hard as it may be, make sure to be there for yourself. Schedule hangouts with friends in advance! Check out what's going on around campus (there is always a lot, even in the depths of winter)! You can also check out a light box at SHAC (yes this did help me get through those tough times), and OHP has plenty of mental health resources. And when all else fails, studying and sleep are always there to distract you from the cold. Also the pastry selection at Sayles. 
Now it's that weird in-between winter and spring (sprinter, if you will)???
All the once-fluffy snow (the kind that is perfect for a good snowball-making) has turned into sleet and Slurpee. This is the time of the year when everyone gets a good slip or fall in. So beware. 
I have a core memory of me getting a little too excited, walking quickly with a tea in hand from LDC, only to fall on my back in front of a crowd of people. Reflecting on the experience: it's okay. It happens. You won't feel judged because it happens to literally everyone. Carls help Carls. And the important part is that I somehow saved most of the tea. 
Also, remain cautious of rainstorms and giant puddles in this micro-season. My walk through this literal ocean (pictured below) to the Weitz is what made me realize my shoes had holes in the soles. Please learn from my mistakes: I'd recommend waterproof shoes for this season. No one deserves to sit through a lecture with soggy shoes.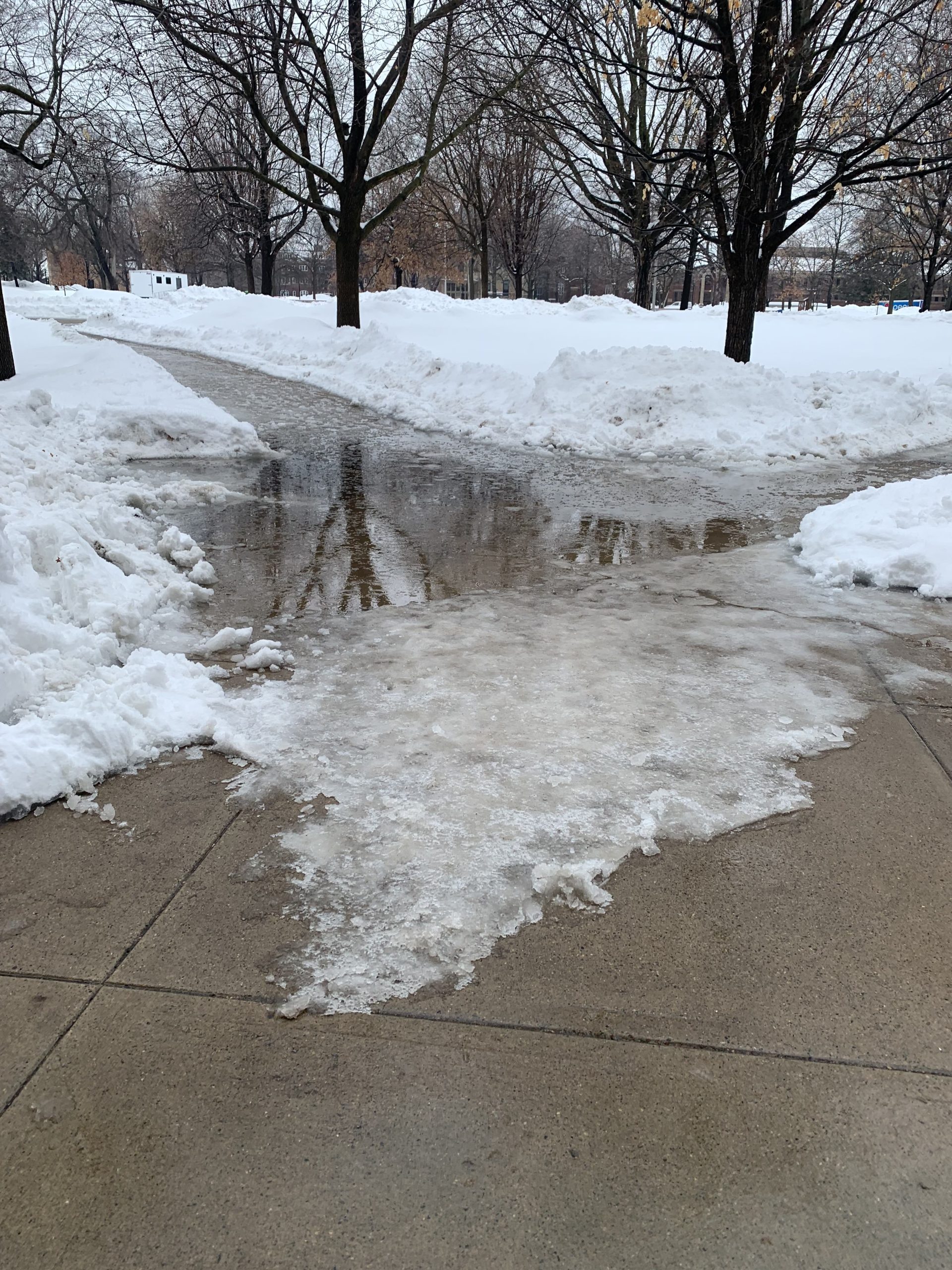 Wait. Spring really
is
euphoric!
I heard it from all the upperclassmen all year. But I thought that there was no way a season could be better than those red trees in fall. However, now that the temperature has started to rise and the clouds have started to dissipate, I can truly say: spring is a fantastic season. 
Wise words from a native Minnesotan that lives on my dorm floor: spring is the best season because you earn it through the tough winter. Nothing beats the feeling of finally being able to dig out a pair of shorts from the back of your dresser drawer. Your sandals probably thought you died. 
My advice for spring term? Soak it all in. Go toss a frisbee (you won't be able to walk four steps outside without seeing a frisbee in use). You can walk downtown now and not feel personally attacked by the wind. Campus feels rejuvenated and lively once again.
---
Emma (she/her) is a first-year student from South Florida. She is interested in Cognitive Science, Psychology, and Gender, Women's, and Sexuality Studies. Emma is a member of TRIO and also works as an Event Manager at the Weitz. When not in class, she enjoys going to the Rec, riding her bike around campus, and drinking coffee.