Advice for Choosing Your Major
Aleia gives advice for choosing your major!
Aleia gives advice for choosing your major!
---
Choosing your major. In some students that sentence invokes a sense of joy and excitement, in others it can send a shiver down their spines. I was definitely the latter, and when it came to choosing a major I felt like a deer in the headlights. Choosing your major can be really difficult, especially when you are interested in many different topics. However, one of the great things about attending Carleton is that you declare your major in the Spring Term of your Sophomore year. This means that you are able to explore all different areas of study before you declare!
How did I decide on my major?
When Spring Term of my Sophomore year arrived, I knew I had to make a decision. I loved Psychology, Political Science, Cinema and Media Studies, Sociology, and Economics. So how did I decide what to major in? Well, I created a pros and cons list, a flow chart, and did deep soul searching. Lucky for you, I have created a flow chart for your own major decision! It features questions I asked myself when I was deciding what I wanted to major in. Please keep in mind that all of this advice is my own opinion, and you should definitely trust your own opinion before you choose your major.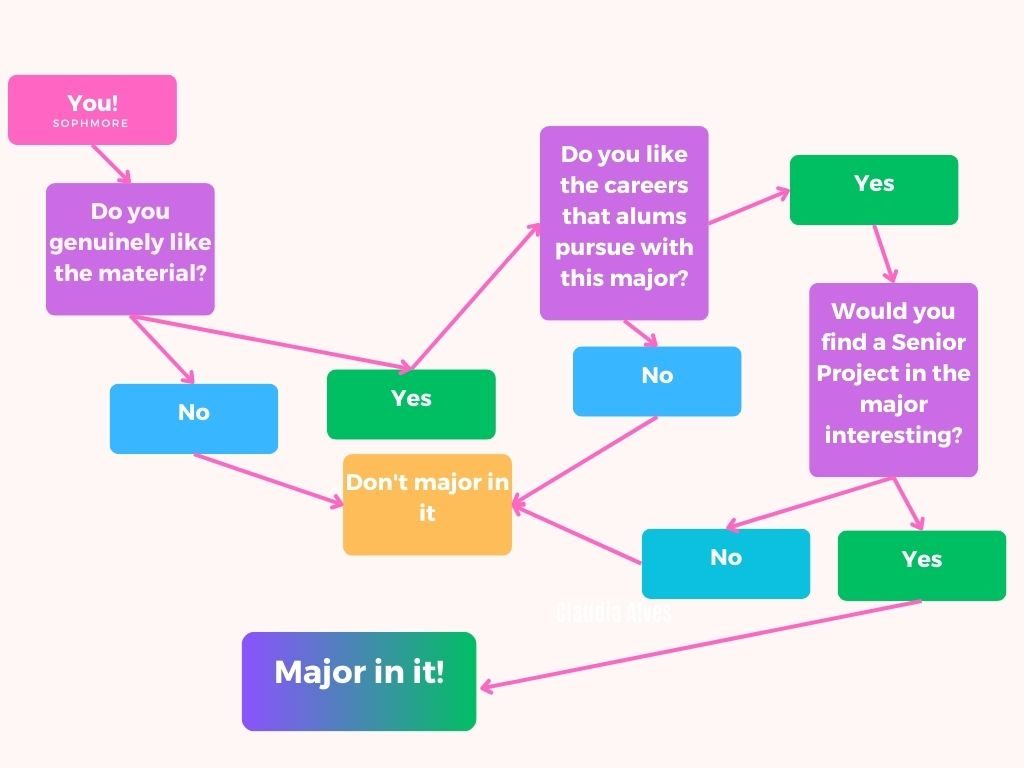 For me, I really liked the material of Psychology, Political Science, Cinema and Media Studies, Sociology, and Economics. This moved me to the next question, "Do you like the careers that alums pursue with this major?" I realized that I really liked the careers of alums who majored in Political Science and Psychology. I then moved to the final question, "Would I find a Senior Project in the major interesting?" I decided that it would be fascinating to do a Political Science Senior Project. This moved me to decide to become a Political Science Major!
Final Piece of Advice
My final piece of advice is to choose to major in what you love to study, not what you're "good" at. Getting good grades is amazing, yet if you aren't achieving the highest grades in a class, you shouldn't let that deter you from majoring a subject if you really love it. Freshman year is a transition time. As you learn more about that subject, you will be able to improve the skills needed to be academically successful. I hope these tips and tricks help you make your decision! Good luck!
---
Around campus you'll find Aleia (she/her/hers) competing on the varsity swim & dive team, dancing in Synchrony II, and crafting (Aleia also up-cycles clothes!). Her favorite spot on campus is the Gould Library (aka "the Libe") – be sure to ask her which floor is her favorite!