Adjusting to In-Person Classes
Chisom talks about her experience with virtual classes and what it's like to return to in-person learning.
Chisom talks about her experience with virtual classes and what it's like to return to in-person learning.
---
Last year was kind of a doozy. A majority of the classes were virtual. For me, all of my classes turned out to be virtual–even PE. I spent an entire year taking Zoom University at Carleton College. Looking back, I feel like I took my classes without establishing a proper relationship with my professors. Why?
Using Zoom for all of my classes led to me having Zoom fatigue. I also used Zoom for other types of meetings (e.g. anime club).

Many of my classes were using the "flipped-classroom" model, where the student studies the material outside of class, and class time is for review and practice.

Because of this last point, it was hard to attend office hours as I had so much to do outside of class.

Towards the beginning of the terms, I would have my camera on during class, but as they progressed, my camera would more likely be off than on.
While these are some of the reasons why I disliked distance learning, I understand why it was done. Safety first.
This Year
The immediate difference between this year and the last is that classes are in-person again. Carleton requires that everyone on campus must be vaccinated, so I definitely feel safer on campus now compared to last year. Below are pictures of what my classrooms look like.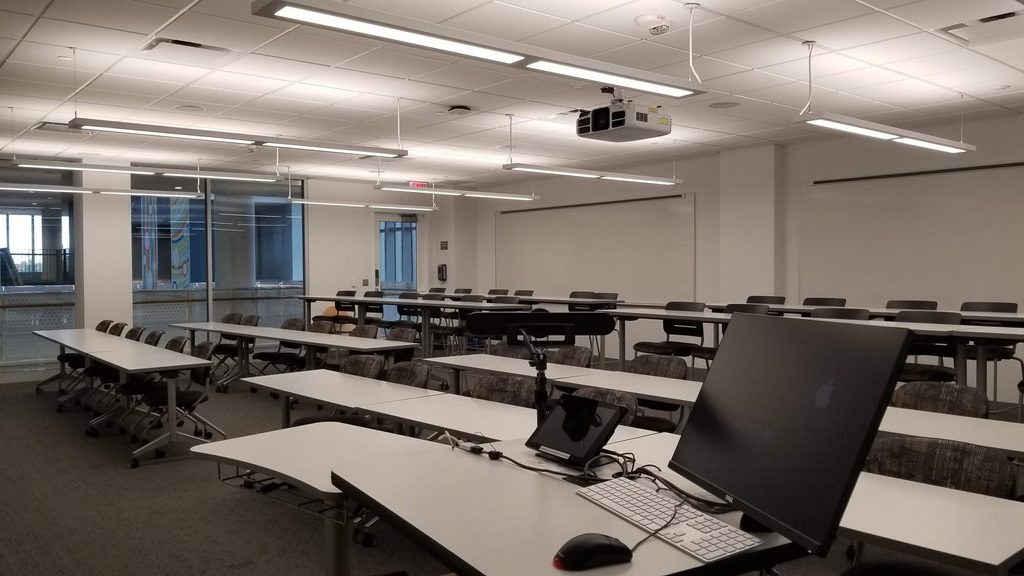 Course: Programming Languages: Design and Implementation
Since the Computer Science (CS) department is on 3rd Olin, a lot of the classes are in the Anderson/Olin building. I typically sit in the back with my class partner, since most of the class is structured around practice with peers. One thing that I can say for sure is that I definitely prefer taking CS classes in person. A lot of the classes are collaborative, so getting to know my partner personally is much easier to do in person than virtually.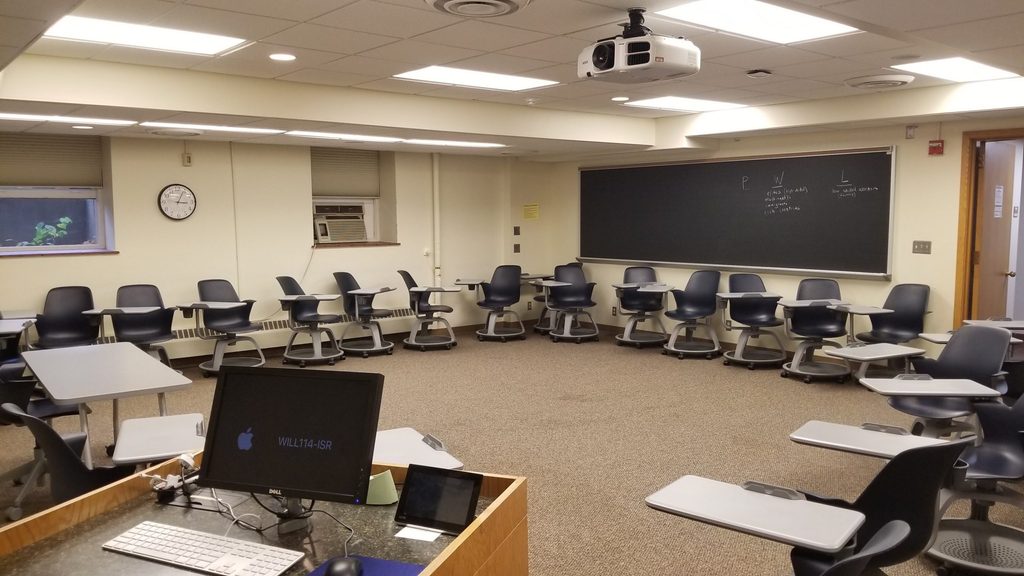 Course(s):
Both of my Educational Studies classes are in the same room! And it's really convenient because Willis Hall is right outside my dorm. Anyway, this classroom is smaller than the Anderson one, so students are more "bunched-up" in the space. It's nice to have seat buddies because I have someone to talk to about the homework (or the reading that frustrated me the night before).
NOTE: Even though everyone is vaccinated, I am required to wear a mask in all of my classes. Each class sent out a survey asking the students if they preferred to keep masks or not, and the majority wanted to keep them on.
Final Thoughts
The beginning of COVID-19
Overall, I'm happy that the situation on and around campus is safe enough for me to be able to attend classes again in person. My freshman Spring Term (Spring 2020) was when cases started to rise at staggering rates in the U.S. Since Winter Term had just ended, a majority of the student body went home for Spring Break.
Carleton was hoping that we could possibly come back if things turned out okay as time went on… and we all know that that didn't happen. Spring Break was extended, those of us who went home were told not to come back for Spring Term, and classes were completely virtual for everyone. Being super excited for my first ever spring at Carleton, I was sad that things turned out that way.
During the pandemic
The past school year (2020-2021) was mostly virtual, but students could decide if they wanted to come back to campus or stay home. I decided that I wanted to continue my learning experience at Carleton because studying at home was just not possible for me. (I have three younger siblings and both of my parents work.)
Also, I wanted to see my friends again. Our freshman year was cut short and we wanted to see each other after being apart for six months. Did I grow tired of online classes as the year went on? Of course. But that's the price I had to pay to get the pandemic version of the "liberal arts experience."
Back to today
Now, as midterm break approaches (finally!), I think back to a time when preparing for class meant getting out of bed a few minutes beforehand so I could log into Zoom. Now, I actually have to plan when I leave my dorm so that I won't be late for class. I do miss some of the flexibility that came with the virtual classes, but I am glad that I can now  form proper relationships with my classmates. I get to learn and remember their names. I get to see and recognize their faces. I get to realize how tall they actually are. I am excited to see how the rest of this year goes.
---
Chisom is a junior Computer Science major, prospective Japanese and Educational Studies minor from Houston, TX, and Little Rock, AR. While struggling through classes, Chisom sends out weekly emails to the Anime Club (since she's the president), listens to KPOP, and takes pictures around campus (especially during the fall). Chisom enjoys hanging out with her friends, learning about other cultures, and crafting. Meet the other bloggers!