A Week of Democracy
SO MUCH DEMOCRACY! Read about how Greta participates in the democratic process at the state- and school-levels!
SO MUCH DEMOCRACY! Read about how Greta participates in the democratic process at the state- and school-levels!
---
You've caught me at the end of a very long week. As I wrote before, this term I have been working on Davin Sokup's campaign for Minnesota state senate, and yesterday was the biggest night of the campaign yet: precinct caucuses.
Let me explain. Minnesota has a presidential primary starting this year — if you're from MN and you're reading this, go vote! But all other party business happens at caucuses: electing party officials, passing resolutions about important issues, and electing delegates to the district convention. Those delegates will then vote on which candidates they want to get the party endorsement. That's why it was important to get lots of Davin supporters at caucus, running to be delegates.
So since I last wrote, I've been telling people about caucus nonstop, both in my role with Davin's campaign and as Deputy Communications Director at CarlDems: knocking on doors, making calls, sending emails, posting on social media, and texting my friends. I've gotta be honest, it's that last one that was my favorite–because lots of them showed up!! Here we are at caucus: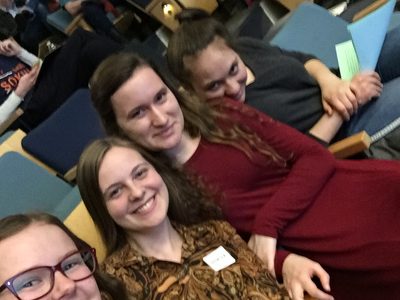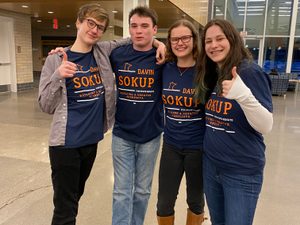 The whole process was actually really fun. Our precinct is mostly Carleton students, so it was an awesome way to have our voices really matter. We elected two Carleton students as party vice-chairs for the precinct, and lots of students introduced resolutions ranging from LGBTQ rights to environmental goals to prison reform. And, most importantly for the campaign, lots of students became delegates — including me!! I'm so excited to go to the senate district convention in April.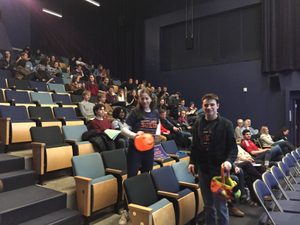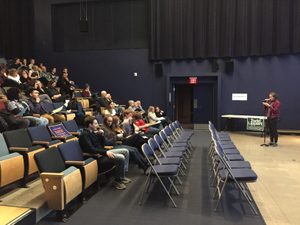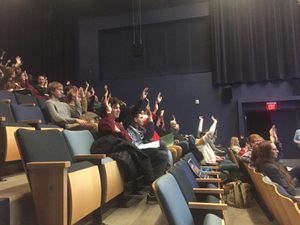 As you can see, Northfield is a great place to get involved with local and state politics. But that's not all — this week I also voted in two on-campus elections.
~
The Carleton Student Association (CSA) is our student government, which represents students, charters and funds student organizations, and supports student causes. Last week, they held elections for their new president, vice president, treasurer, public relations officer, and class representatives. (Read all the candidates' platforms here!) We also voted on an amendment to the CSA constitution, which is part of an ongoing shift in the role of CSA on campus.
Almost 50% of students voted in this contested election!! The amendment passed, and the new officers are as follows:
Andrew Farias – President
Brittany Dominguez – Vice President
Polycarpe Bagereka – Treasurer
Leander Cohen – Public Relations Officer
And the new representatives for my class of 2023 are Jancyn Appel and Daniel Garza.
I'm so excited to see what this new CSA accomplishes, and to get more involved as a citizen of Carleton!
~
And finally, I voted in elections for the board of Carleton Association of Nature and Outdoors Enthusiasts (CANOE). I love this club and the awesome outdoors trips it runs (which are free and open to all Carls!), but a big issue is that CANOE leadership has generally been overwhelmingly white, middle class, cisgender people who have grown up steeped in outdoor culture — and consequently, that the club hasn't felt open to anyone, regardless of background or previous outdoor experience.
So I was SUPER excited to elect a number of first-years to the board who are not white, middle class, and/or cisgender, and who have just started doing outdoors activities at Carleton. I'm confident that they'll help expand outreach to new people and and push this club in the right direction – and also, they're my friends, so I'm so proud 🙂
What a week it's been for using my voice and making change! And it's not over yet — I still get to vote in the presidential primary!!! Democracy is so tiring but so wonderful.
---
Greta is a proud Vermonter who has fallen hard enough for Carleton that she's choosing to spend the next four years without mountains to hike. Instead, you'll probably find her wandering the Arb with a journal and a pen behind her ear, playing piano in Weitz, or telling another unsuspecting soul about her gap year. And eating dark chocolate. She wants to learn everything, but is particularly interested in Sociology/Anthropology, Geology, and, of course, Creative Writing. Meet the other bloggers!