A Very Exercising Day
In which Greta skates, walks, and climbs her way through weekend one :)
In which Greta skates, walks, and climbs her way through weekend one :)
---
Whew! What a week this first one has been! But I won't bore you with the details — instead, let's skip to the fun stuff. Skating, to start!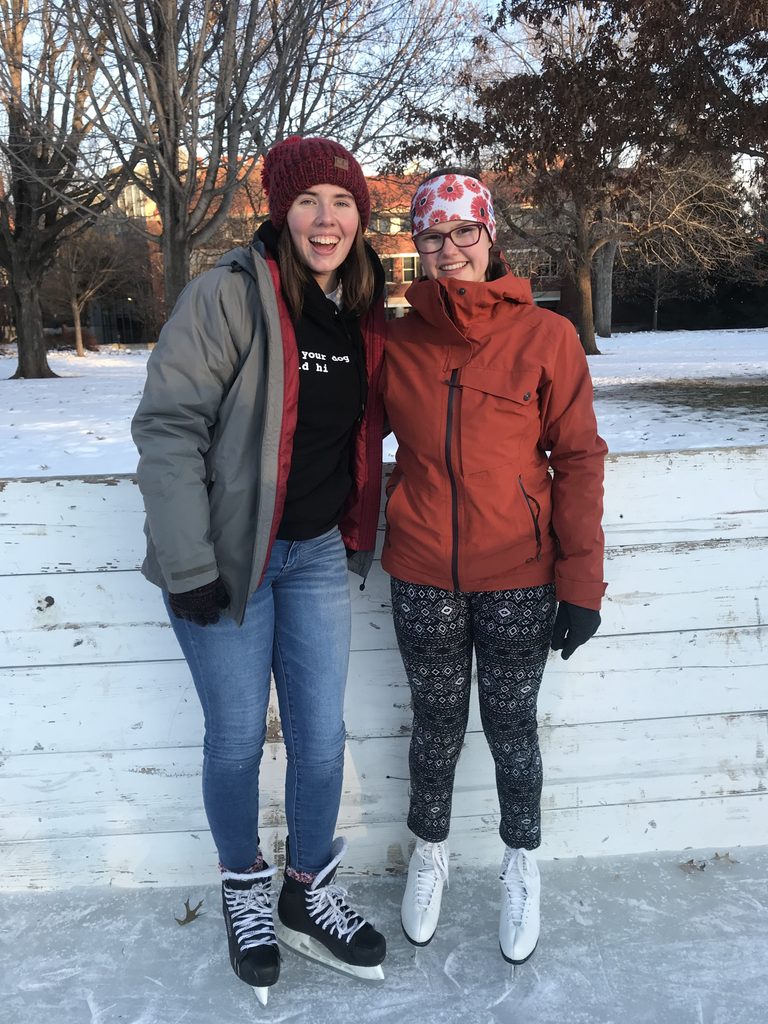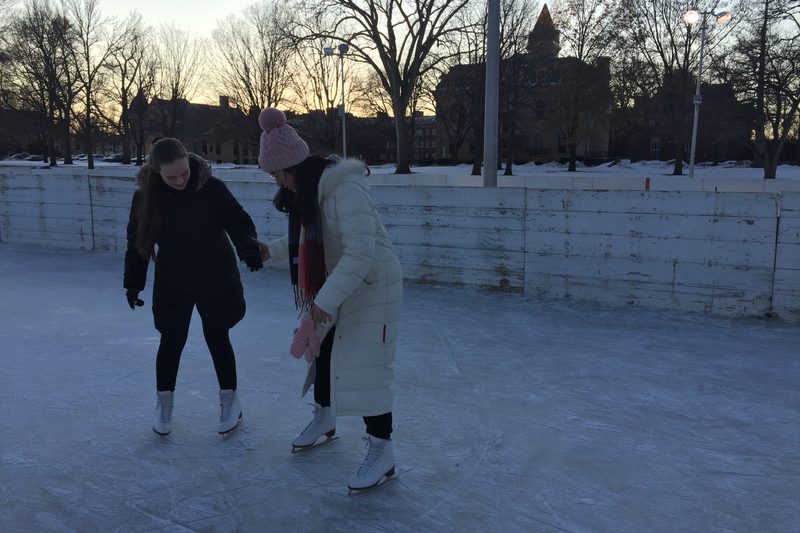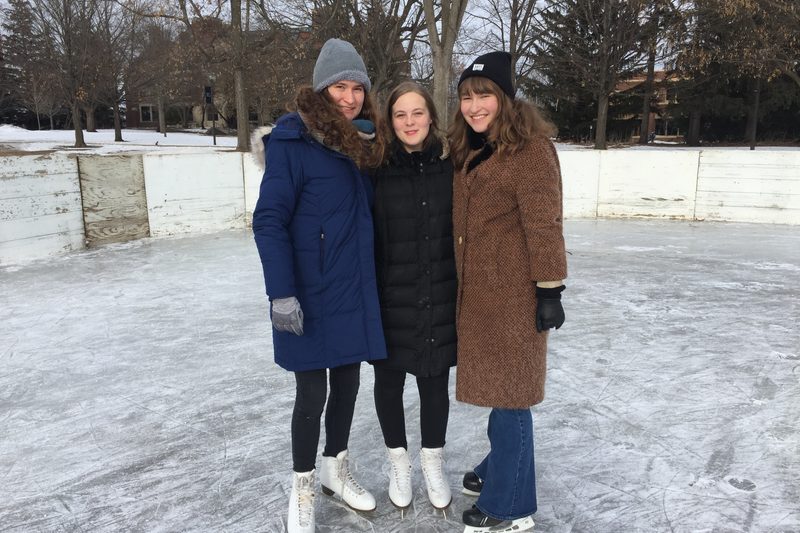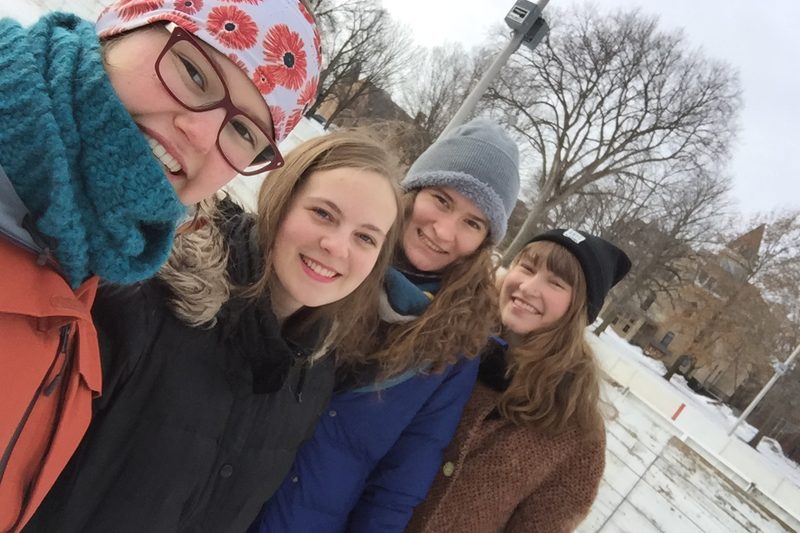 Every winter, the college sets up ice rinks on our main quad (called "the Bald Spot"). As someone who grew up taking figure skating lessons, I was so excited to get back to campus and find ice I can use any time! And I was equally excited that my friends either skated, too, or wanted to learn how. I spent Saturday evening and Sunday morning teaching them the basics and watching them learn. Such a proud teacher 🙂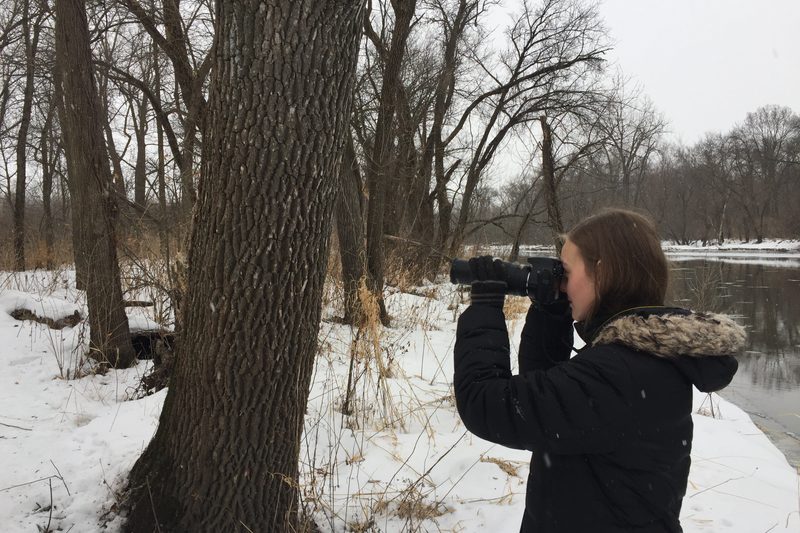 Later that afternoon, my friend Ava and I went on a long walk in the Arb. We both love bird watching, and she got a new camera for Christmas that she was excited to try out (that's her taking pictures above!). We saw lots of Eastern Bluebirds, as well as a bunch of other beautiful but harder-to-identify birds, and some cute little empty nests. It also started SNOWING!!
And for the last activity of what I later called "a very exercising day," I went to the term kick-off event for Figure Four, Carleton's female- and non-binary-identifying climbing club. I visited the bouldering cave a couple of times last term, but I'm trying to make it a more regular occurrence from now on. And playing fun climbing games with a wonderful group of ladies-and-otherwise was a great place to begin!
Sneak Preview

This past weekend I also started on one of my most exciting projects for the term: volunteering for state senate candidate Davin Sokup's campaign. I'm his Director of Volunteer Activities (title in progress), which means I coordinate events like door knocks and phone banks, and urge people to volunteer for him (if you're reading this and you happen to live in Minnesota State Senate District 20, that means you!). This coming weekend I'll also be marching with him at Northfield's Women's March. Stay tuned next week for pictures of the rally and more about my super-fun work with Davin…
---
Greta is a proud Vermonter who has fallen hard enough for Carleton that she's choosing to spend the next four years without mountains to hike. Instead, you'll probably find her wandering the Arb with a journal and a pen behind her ear, playing piano in Weitz, or telling another unsuspecting soul about her gap year. And eating dark chocolate. She wants to learn everything, but is particularly interested in Environmental Studies, Geology, and, of course, Creative Writing.