A Sense of Community: Life at a Small College
Coming from a high school with even more students than Carleton, Chase discusses the positives of attending a small college.
Coming from a high school with even more students than Carleton, Chase discusses the positives of attending a small college.
---
When I started at Carleton in Fall 2015, there were a little less than 2,000 students, of which only around 1,800 were actually on campus (the rest were participating in some form of off-campus program). For comparison, my high school had a larger student body than that of Carleton. So, yes, Carleton is quite the small school! This has translated into a number of positive aspects of my social life, in particular.
At Carleton, virtually everyone knows each other. Perhaps not on a first name basis, or one in which you'd regularly say hello to them in passing, but enough to know their name if you saw them from afar. Walking through campus on my way to class, I'll see tons of people I know. If there were one word to describe this, I'd definitely say it would be community. Community in the sense that you can feel safe on campus at all times knowing there are so many people you can turn to and rely on, sometimes even in the case you don't know them that well.
When you walk into either of the dining halls or into the Sayles student center, you're bound to run into a familiar face. However, the library is perhaps the most likely spot you'll run into friends. There have definitely been times when I was feeling a bit isolated just staying in my room, so I headed to one of those places and within a few minutes found someone I knew, or I at least put my stuff down and surrounded myself with somewhat familiar faces.
Aside from the public spaces, your dorm will definitely become your home away from home. I am still close friends with nearly half of my floor from freshman year (shoutout to 2nd Watson 2015-16!!!). And in each dorm you'll live in, you're bound to make more than a few friends — it doesn't just stop after freshman year, as evidenced by some of the people I've met this year as a junior (consult photo below, feat. Maddy '21, Vanna '21, and Eve '20)!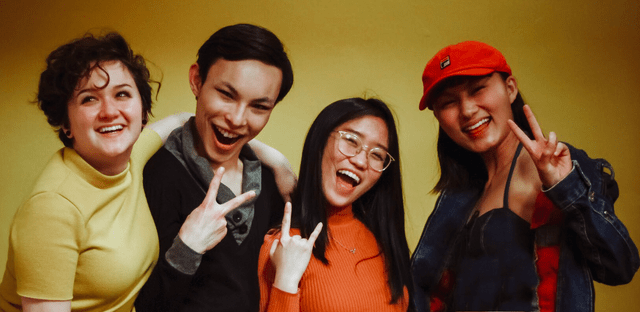 Looking back at when I was going into the college selection process, l can definitively say that choosing a small school was the right choice. There are just so many small things about living in the Carleton community that I take for granted, but realistically, I'm very lucky to have.
---
Chase is a junior linguistics major and is more than glad to exchange the year-round California heat for some Minnesota seasonality. In his free time, he enjoys learning and teaching urban dance choreography, playing guzheng, and cycling around Northfield. When Chase doesn't have free time, which is often, he'll be in the libe or Sayles with a cup (or cups) of chai tea in hand.