A friend's experience sledding
avery interviews her friend about getting injured while sledding...
avery interviews her friend about getting injured while sledding...
---
My friend Gatewood is such a sweetheart! They are very small, very styling, and very sweet. It was such a shock to see them with a cast on recently, and I wanted to hear more about their experience!
Sledding at Carleton is a rite of passage, but sometimes people go a little too hard… Here's Gatewood's experience with sledding and their reflections on the care they received…
Tell us a little about yourself, Gatewood: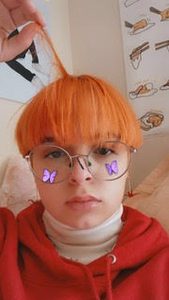 Hey, I'm Grace, I'm a first-year living on campus for Winter 2021 term. I am from Indiana and I came to Carleton to be able
to explore a wide range of my interests
, including but not limited to:
Art
,
Dance
,
Physics,
Calculus,
and
Japanese
! I love spending time with friends and family as well as reading webtoons and listening to music in my free time. I'm not sure what I'll major in yet, but I'm currently just enjoying taking a wide range of classes.
So far I'm loving the Carleton community
even in Covid times and though my first two terms have been rigorous academically, I've had a great start to my first year at Carleton!!
How did you hurt your leg? 
I hurt my leg when I was sledding on the hill by
Evans
and
Cowling
on a Sunday night with some friends. It was pretty icy which made for some very fast and fun sledding, but there were also some chunks of ice that we did not initially see in the dark. The last time I went down the hill my sled headed straight for a block of ice and my foot hit it straight on. As my friend Rosemary described it, I "boinked" off the ice when I hit. My friends realized I was hurt and called an ambulance.
When the paramedics arrived the hill was so icy that they fell and slid down when coming down to reach me. The fire department was called to help get me up the hill due to all the ice. I was taken to the hospital and there they x-rayed my left leg and saw that I had not only sprained my ankle but also fractured my tibia.
How has this affected your view of handicap accessibility on campus? 
With a broken leg that I'm not meant to bear any weight on, it's been a different experience getting myself around campus. I was almost immediately contacted by the Class Dean about my injury and asked how I was doing. I mentioned I was having a hard time traveling very far from my dorm in the snowy conditions with crutches, and I was connected with d
isability services
.
They were able to loan me an electric scooter named Hagrid, which has been very helpful so far. Though with a rather large electric scooter I can get around campus faster, I have found that I have had to become aware of what buildings have ramps and handicapped door buttons.
The campus has been generally very accessible for me (covid-restrictions have made some things a little hard, such as the entrance to the Burton Dining Hall only being accessible from the front where you must be able to use stairs), but it has made me grateful that this broken leg is only temporary. It is something to always keep in mind what a privilege it is to not be constantly worried about whether a building is accessible or not.
I think there are always places to improve, but from what I have experienced it seems that Carleton is accessible and accommodating to those who cannot use typical modes of transporting themselves throughout campus and its buildings.
Sledding…! 
"I may have broken my leg sledding, but I still had a great time sledding before my accident occurred. Sledding is a great activity to do on campus in the winter months, but I would caution people to be careful when sledding at night and beware of when the snow freezes over. I think everyone should go sledding if they want, just don't put yourself or anyone else in any unnecessary danger". 🙂
---
After taking a gap year and exploring the world outside of the classroom, Avery is ready to start her freshman year at Carleton! You can find her out in the Arb trying to identify plant species or in the Libe reading about abolitionist education theory and working-class movements of the 20th and 21st centuries. Her passions and interests align most with American Studies, Education Studies, and History. Meet the other bloggers!