A Day in the Life of a Carleton Student
Chase gives us a preview into a "typical" day in his life as a busy Carleton student.
Chase gives us a preview into a "typical" day in his life as a busy Carleton student.
---
To start, there is no truly "typical" day for a Carleton student, myself included. What does typify all of my days at Carleton is one word: busy! From around 7:30am in the morning to around midnight, I constantly have some work to do (of course, I make some time each day to relax a little bit!).
Despite my initial apprehension in doing so, here's a so-called "average" day in my life:
7:30am – Wake up (or at least try to)
Waking up, especially after a less than perfect sleep, can be difficult so realistically I actually get out of bed at 7:50am and quickly rush to get out of my dorm and to the dining hall before class.

8:00am – Breakfast
Breakfast is usually the standards eggs, hash browns, sliced cantaloupe, and – perhaps most importantly of all – coffee.

8:30am – Class
That breakfast coffee sure comes in handy for an early morning class. Mon/Wed/Fri classes are 70 minutes long (60 on Fri).

10:00am – Linguistics department work
I'm an office assistant for the linguistics department, and it's nice to help out my adviser and other linguistics profs with the miscellaneous assignments they have for me.

12:00pm – Lunch
I typically like to change up locations for lunch and dinner so I'll eat at one dining hall for lunch and a different one for dinner.

12:30pm – Class
Another 70 minute class for the day.

2:00pm – Admissions work
In addition to blogging for admissions, I work as an office assistant doing a lot of data entry, site editing, and other tasks to help out.

4:00pm – PE class
To graduate, you have to take four PE classes throughout your four years. This term, I'm in hip-hop dance!

6:00pm – Dinner
To keep up my social life (and keep from going crazy) I usually meet up with a friend or group for dinner at one of the two dining halls or occasionally at a Northfield restaurant.

8:00pm – Karl-Pop dance rehearsal
Rehearsal times vary by dance, but typically I devote an hour a day to go to the rec center and teach or learn a dance for our term performance. Rehearsals go something like this: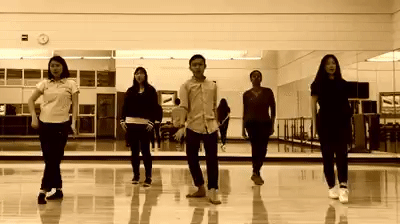 12:30am – Sleep (or at least try to)
By now, I've been in my dorm for a while finishing up some homework or chatting with friends in the lounge and then off for a hopefully restful sleep.
Does this schedule seem busy? Probably, but it's manageable and once I became a student here, I was able to acclimate to the pace and occasional hectic life of a college student!
---
Chase is a junior linguistics major and is more than glad to exchange the year-round California heat for some Minnesota seasonality. In his free time, he enjoys directing K-pop dances for Karl-Pop, playing guzheng, and cycling around Northfield. When Chase doesn't have free time, which is often, he'll be in the libe or Sayles with a cup (or cups) of chai tea in hand.