A Cappella at Carleton
Joe describes their experience as a member of Exit 69 a cappella, rehearsing and performing during COVID, and finding community through the arts at Carleton.
Joe describes their experience as a member of Exit 69 a cappella, rehearsing and performing during COVID, and finding community through the arts at Carleton.
---
A Cappella on Campus
Since the advent of the movie Pitch Perfect, many people have become familiar with the presence of a cappella on college campuses. A cappella groups perform songs with only their voices—they create music arrangements using different voice parts without additional instruments.
Carleton is no exception to this vocal phenomenon. We have numerous a cappella groups on campus which perform every term. These groups include Exit 69 (all-gender group), the Knightingales and the Accidentals (all female and non-binary group), the Knights (all male and masculine-identifying group), and the Flash Mobsters.
I am a member of Exit 69, the oldest all-gender a cappella group at Carleton. Exit 69 is named after the highway exit you take when driving to Carleton, and we have a YouTube channel where you can watch all of our performances as well as an Instagram page. As an incoming student, you can check out these groups at "Stairwell Singing" (in which the a capella groups serenade students in dormitory stairwells) and sign up for auditions at the Student Involvement Fair. 
Joining Exit 69
I joined Exit 69 at the beginning of my sophomore year. Even though the pandemic was in full swing, we did auditions over Zoom and had in-person callbacks with COVID precautions in place. I was thrilled when I was accepted into the group, and looked forward to making music in this unique style. 
Despite my excitement, my nerves were running high when I arrived at the first rehearsal. I was afraid that I didn't know what I was doing, that they had made a mistake accepting me. But as soon as I entered the room, I felt immediately welcomed. Right off the bat, everyone celebrated the talent of every member of the group, and we all expressed genuine care for each other. We checked in about how the first couple weeks of classes were going, and then began brainstorming songs. 
Rehearsals and Concerts during COVID
While some of our early rehearsals took place over Zoom, thanks to Carleton's reopening we were able to meet in person for most of the year. Our early rehearsals were spent coming up with songs to perform. Some returning members had already prepared arrangements, and everyone could suggest songs. This year, we worked on 4-5 songs per term, although in a non-pandemic year that number would be higher. In Exit, every member (new or returning) has equal say when voting on what songs to rehearse. 
My experience in Exit has been equal parts work and fun, with the scale often tipping towards the fun side. We start every rehearsal with a check-in and warm ups, then go into sectionals and come back to work on songs as a whole group. I sing bass, so I spent a lot of time with my section buddy, Reed. These rehearsals are a blast. It is cathartic to let go of external stressors for an hour and a half to sing with people whom you love. No matter how I was feeling entering rehearsal, I always left feeling joyful, and I grew very close to my fellow members. 
Exit typically has 3 concerts per year – 1 every term. While COVID decreased our performance opportunities, we were lucky enough to have an end-of-year concert with the Carleton Choir, 3 other a cappella groups, and the Scattitudes, a vocal jazz group. This was an outdoor concert with 200 people in attendance, all masked and socially distanced. I was overjoyed that we could showcase the songs we had been preparing all year! We performed 5 songs, including a senior solo from Yuting, our graduating member. It was my first concert, and while I was TERRIFIED, I couldn't have asked for a better experience.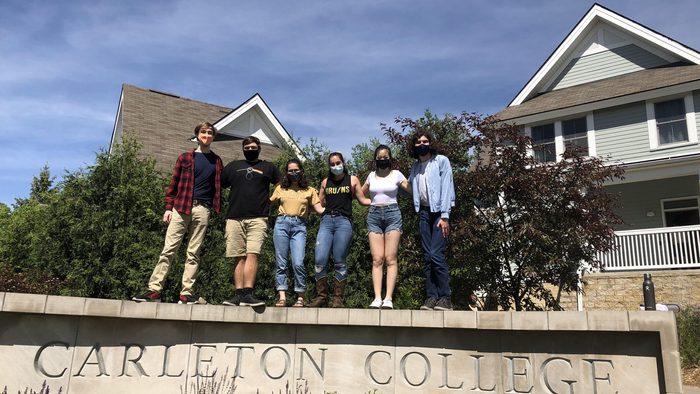 Reflections on A Cappella
I am overjoyed to be part of Exit 69. In just one year, this group has shaped my Carleton experience, and I am so grateful to do what I love with people who are loving, excited, and passionate about singing. I arranged music for the first time and had the group learn my song, and now I have about 3 arrangements going on at any given time. To all prospective students, you should definitely audition for one or many of the groups. A cappella is a great way to find community, learn new skills, and stay connected to the arts at Carleton. I could not recommend it enough!
---
Joe is a rising junior at Carleton from Chicago, IL. They plan on majoring in either Sociology/Anthropology or Computer Science, and enjoys studying public health, Spanish, and gender and sexuality. Outside of class, Joe is an RA on campus, and you can find them singing in Exit 69 A Cappella, doing makeup in their room, or drinking excessive amounts of coffee in Sayles. Meet the other Bloggers!