The Class in Numbers
6,465 applicants, 545 enrolled
From 46 states, 433 schools and 29 countries (12% international)
39% Black, Indigenous, People of Color
16% are among the first generation of their families to attend college
65% graduated in the top 10% of their class
51 languages spoken
Three Members of the Class of 2027
These 3 highlighted students provided a glimpse into the varied talents and interests the class of 2027 will bring to Carleton's student body.

MASON MOSES
Minneapolis, MN
Robotics is an important part of Mason's life, as it has allowed him to surround himself with supportive people while offering a challenge. His time in robotics has led to many learning moments that strengthened his bond with his teammates. Mason has also kept busy by participating in internships, including working for U.S. Bank in fraud operations and as a software engineer intern at JAMF.

HELEN STONE
Bronx, NY
Helen's passion for figure skating led her to compete at the national and international level, representing Team USA. She also enjoys playing on her high school soccer team, backpacking, and sea kayaking. Helen finds time to stay close to home in New York City, where she contributes to her community by serving as an editor of her school's newspaper and literary magazine, organizing climate justice actions, and advocating for free speech in the press.

ZARAYA JORDAN
Santa Monica, CA
Zaraya advocates for identity and gender expression through their leadership with the Human Rights Watch Student Task Force, Feministas, and the Multiracial Student Union. Their work focuses on how identities are complex, layered, and don't always fall into normal societal expectations. They also serve as captain of their soccer team, which was SOCAL National Cup Champion for three years.
This is Carleton
A private, residential liberal arts college located in Northfield, Minnesota
#1 Teaching Faculty
Our students learn from the best.
U.S. News & World Report ranks Carleton professors first in the nation for their commitment to undergraduate teaching.
With our small classes and exceptional professors, Carleton offers a rigorous, yet highly supportive academic environment.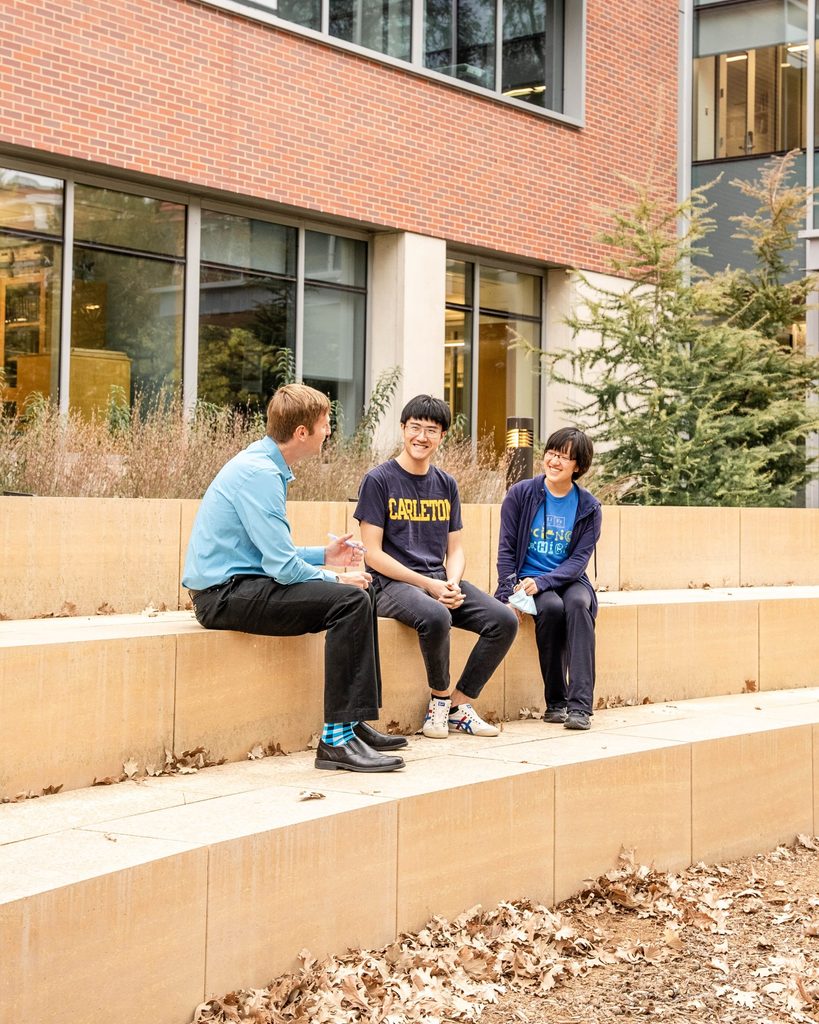 At a Glance
2,007 Students
50 states + 56 countries
11% international
50% female // 50% male
35% people of color
70% study abroad
95% of first-year students who entered in fall 2021 returned for their sophomore year
in the fall of 2022
33 majors
8:1 student/faculty ratio
17: average class size
3: 10-week terms
87% graduate within four years
92% of 2022 graduates were employed or attending graduate or professional school within six months of graduation, of those reporting
#9 Liberal Arts College
U.S. News & World Report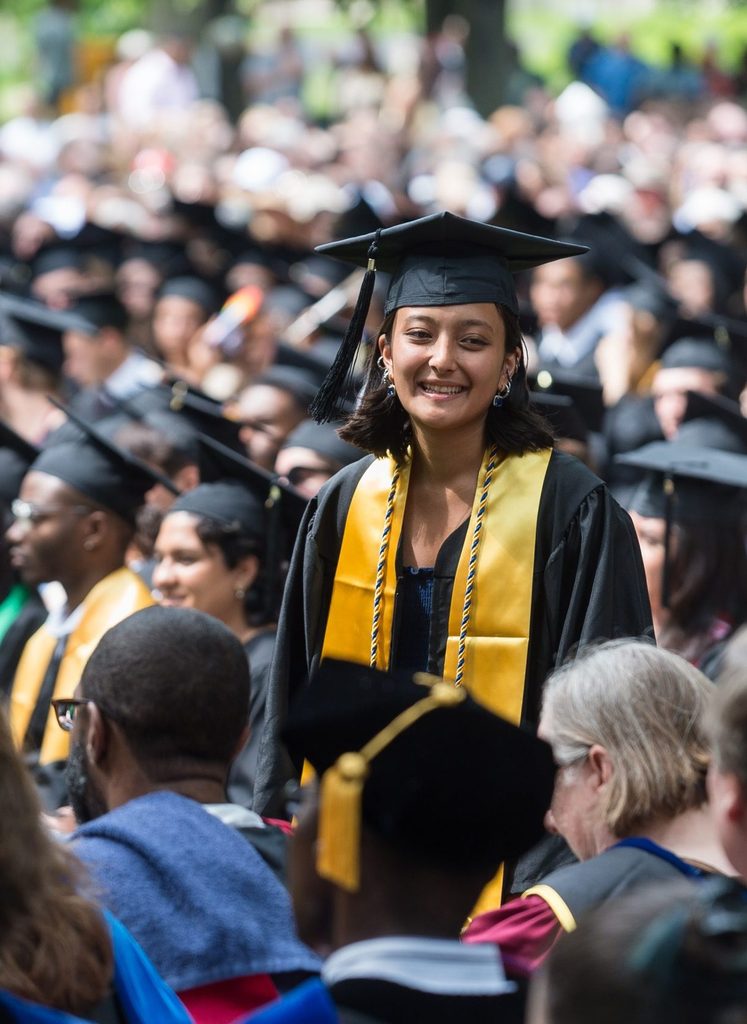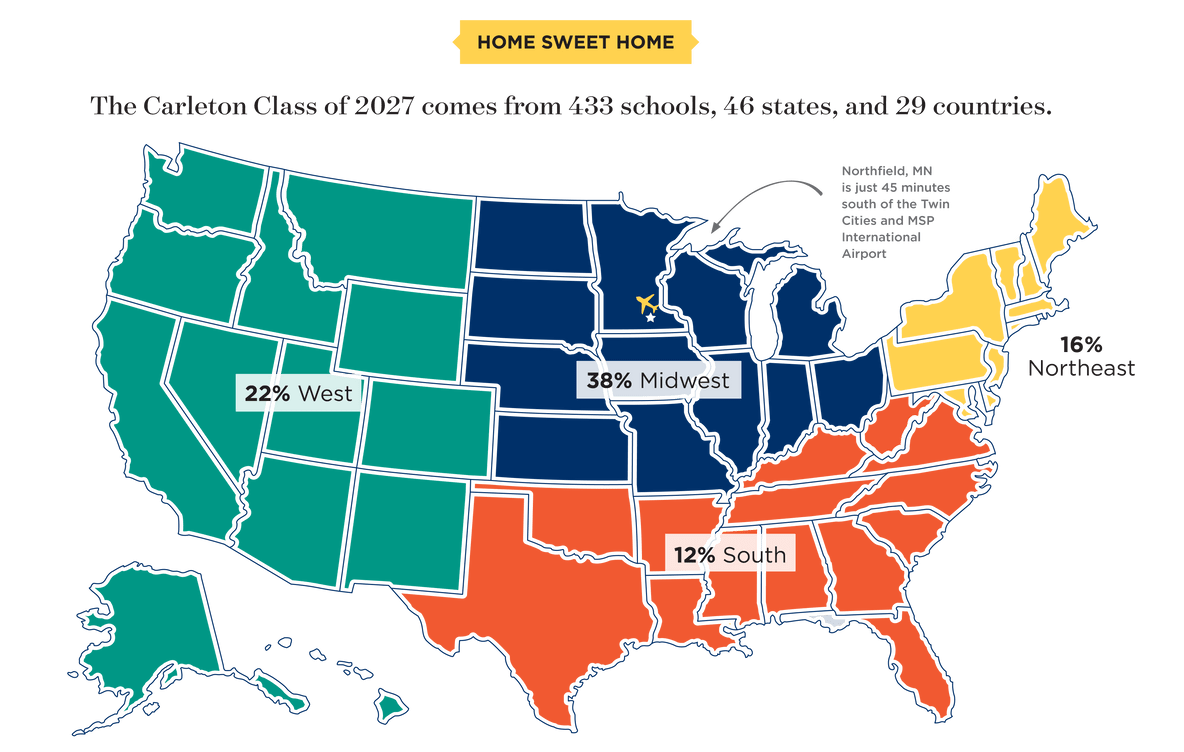 Global Reach
Argentina
1
Bangladesh
1
Bolivia
1
Brazil
1
Cameroon
1
Canada
2
China
32
Egypt
1
Ghana
1
Hong Kong S.A.R.
1
India
3
Israel
1
Japan
3
Kenya
1
Malaysia
1
New Zealand
1
Pakistan
1
Rwanda
1
Singapore
1
South Korea
3
Spain
1
Syria
1
Taiwan
3
Thailand
1
Turkey
1
Ukraine
2
United Kingdom
1
Uraguay
1
Zambia
1
Racial Diversity
39% Black, Indigenous, People of Color
9% report two or more races
Asian 22%
Black or African American 10%
Hispanic or Latino 12%
American Indian or Alaska Native 0.8%
Native Hawaiian or Pacific Islander 0.4%
Fields of Study
79% A large majority of students are interested in multiple academic divisions.
Science & Math 51%
Social Science 25%
Arts & Humanities 24%
Extracurricular Activities
The Class of 2027 stayed busy in high school.
Community Service 75%
Academic Club 72%
STEM 42%
Music 40%
Visual Art 15%
Theater/Drama 17%
Dance 5%
Paying Job 49%
Research/Internship 33%
Varsity Sport Captain 26%
Eagle Scout or Gold or Silver Award in Girl Scouts 3%
Social Activism 25%
Tour Guide/Ambassador 6%
Popular Majors
60% of juniors and seniors are STEM majors.
Computer Science
Biology
Political Science/International Relations
Economics
Chemistry
Mathematics
Psychology
All About Aid
Carleton met the full financial need of all students in the Class of 2027
305 students (56% of the class) are receiving more than $17 million in need-based Carleton grants
The average need-based grant is $55,873
The average need-based financial aid award is $66,566, including grants, scholarships, work study, and loans

Generous Support Makes it Possible
---
Once students subtract their grants, scholarships, loans, and student employment earnings, they're left with yearly net cost—the amount their family is expected to contribute.
Every case is different, but here are examples of average net cost for members of the Class of 2027 who are eligible for federal aid:
Family Income
Average Financial
Aid Award
Average Net Cost
Less than $40,000
$81,150
$1,164
$40,000–$80,000
$79,865
$4,173
$80,000–$120,000
$71,596
$12,453
$120,000–$160,000
$63,028
$22,917
$160,000–$200,000
$52,900
$31,784
For the Class of 2023, the average student's debt at graduation was $20,881, well below the national average of $33,000. To get an approximation of how much financial aid your family might qualify for, use one of our financial aid estimators.

Financial Snapshot
---
$82,167
The 2023–24 comprehensive fee, including tuition, housing, food, and an activity fee
---
100%
We meet the full demonstrated need of every student. We don't assume students will need to take out private loans or find outside scholarships.
---
8
We limit first-year students' jobs to 8 hours per week so they have plenty of time for academics and extracurricular activities.
---
0.8%
The student loan default rate among Carleton alumni is nearly zero.