The Class in Numbers
8,583 applicants, 535 enrolled
From 46 states and 24 countries (10% international)
40% Black, Indigenous, People of Color
16% are among the first generation of their families to attend college
75% graduated in the top 10% of their class
38 are National Merit Scholars and 4 are National Hispanic Recognition Scholars
Six Members of the Class of 2026
These 6 highlighted students provided a glimpse into the varied talents and interests the class of 2026 will bring to Carleton's student body.

GABRIEL VIRUET-QUINTERO
New York City, NY: Roslyn High School
Gabe revived his varsity football team, leading his teammates to victory as captain of both the football team and wrestling team. Off the field (and mat), Gabe confronts racial issues as the president of his school's diversity club, while supporting his community as a Tourette Syndrome Youth Ambassador. He also volunteers his skills as a counselor in a variety of youth education and enrichment programs and helps clean up local parks and nature trails.

ROCIO AVILA
Villa Elisa, Paraguay: Colegio Experimental Paraguay-Brasil
Rocio devotes her time to bettering her community. She facilitates discussions about gender inequality, founded a group that helps girls pursue STEM, and encourages community members to get the Covid-19 vaccine. Outside of volunteering, Rocio expresses her interest in biochemistry by working at the only lab focusing on human reproduction in Paraguay, plays competitive handball, and is a member of her Model UN team.

TRINITY HANIF
Elk River, MN: Saint Michael-Albertville High School
Passionate about equity, civil rights, and gender issues, Trinity has dedicated herself to policy. During her high school career, you could see her serving on a Minnesota State Representative Campaign, serving on the governor's young women's initiative cabinet, or protesting police violence. Trinity also established her high school's Advocacy Club and was selected to serve on her congressional district's Youth Council.

MADELYN (MAX) KINGSTON
Santa Fe, NM: New Mexico School for the Arts
While Max might be most recognized for their violin skills — whether through their Santa Fe Pro Musica apprenticeship or their Concertmaster position with Santa Fe Youth Symphony Orchestra — they're busy beyond the stage. Max garnered awards in the New Mexico Supercomputing Challenge, plays varsity lacrosse and soccer, and is an avid astronomer, researching the Lunar Occultation Explorer and the Drake Equation as part of two separate internships.

CHARCARI FREEMAN
Chicago, IL: Noble Street Charter School
Charcari's passion for writing allows him to express himself in a variety of ways. From writing books to being a screenwriter and director of an episode of Civic Studio's "Peace and Love Show," Charcari's enthusiasm for writing knows no bounds. As a member of the basketball team and co-captain of the track and field team, he is an accomplished athlete, making his own story on the court and field.

TIM ABBOTT
San Francisco, CA: Saint Ignatius College Prep School
You can find Tim all over San Francisco: shredding nearby mountain bike trails, working at the local bike shop, editing a new podcast, planning activities for the Junior Classical League, and running on varsity track and field team. Caring for the place he calls home, Tim is involved in volunteer work by helping to restore native plantings. He even created a nature trail signage system during the pandemic to help others enjoy the natural beauty he works hard to maintain.
This is Carleton
A private, residential liberal arts college located in Northfield, Minnesota
#1 Teaching Faculty
Our students learn from the best.
U.S. News & World Report ranks Carleton professors first in the nation for their commitment to undergraduate teaching.
With our small classes and exceptional professors, Carleton offers a rigorous, yet highly supportive academic environment.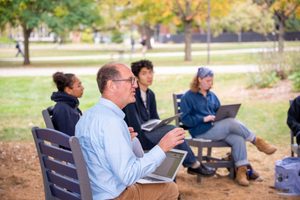 At a Glance
2,044 Students
50 states + 46 countries
10% international
51% female // 49% male
32% people of color
70% study abroad
94% of first-year students who entered in fall 2020 returned for their sophomore year
in the fall of 2021
33 majors
8:1 student/faculty ratio
15: average class size
3: 10-week terms
87% graduate within four years
92% of 2021 graduates were employed or attending graduate or professional school within six months of graduation, of those reporting
#9 Liberal Arts College
U.S. News & World Report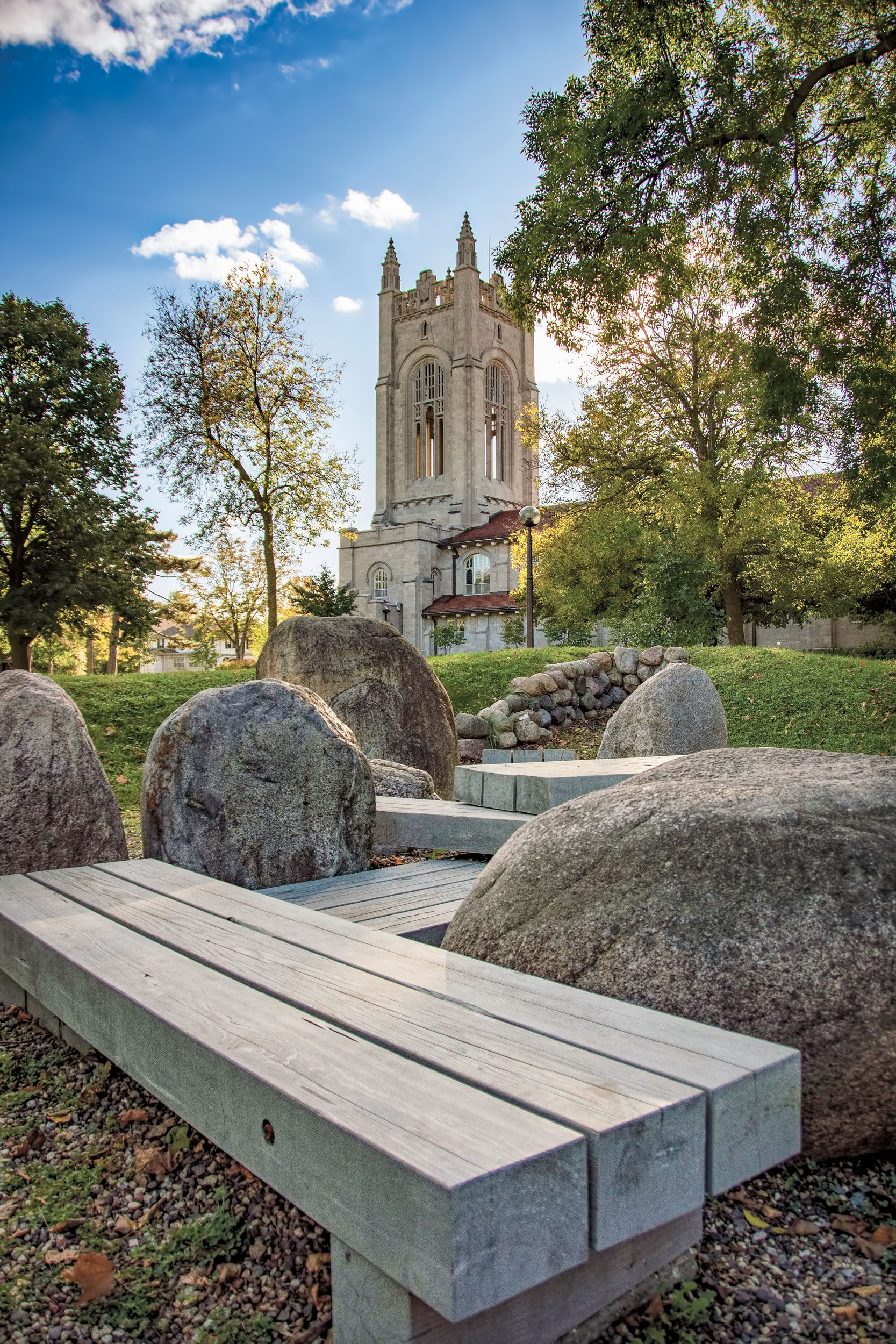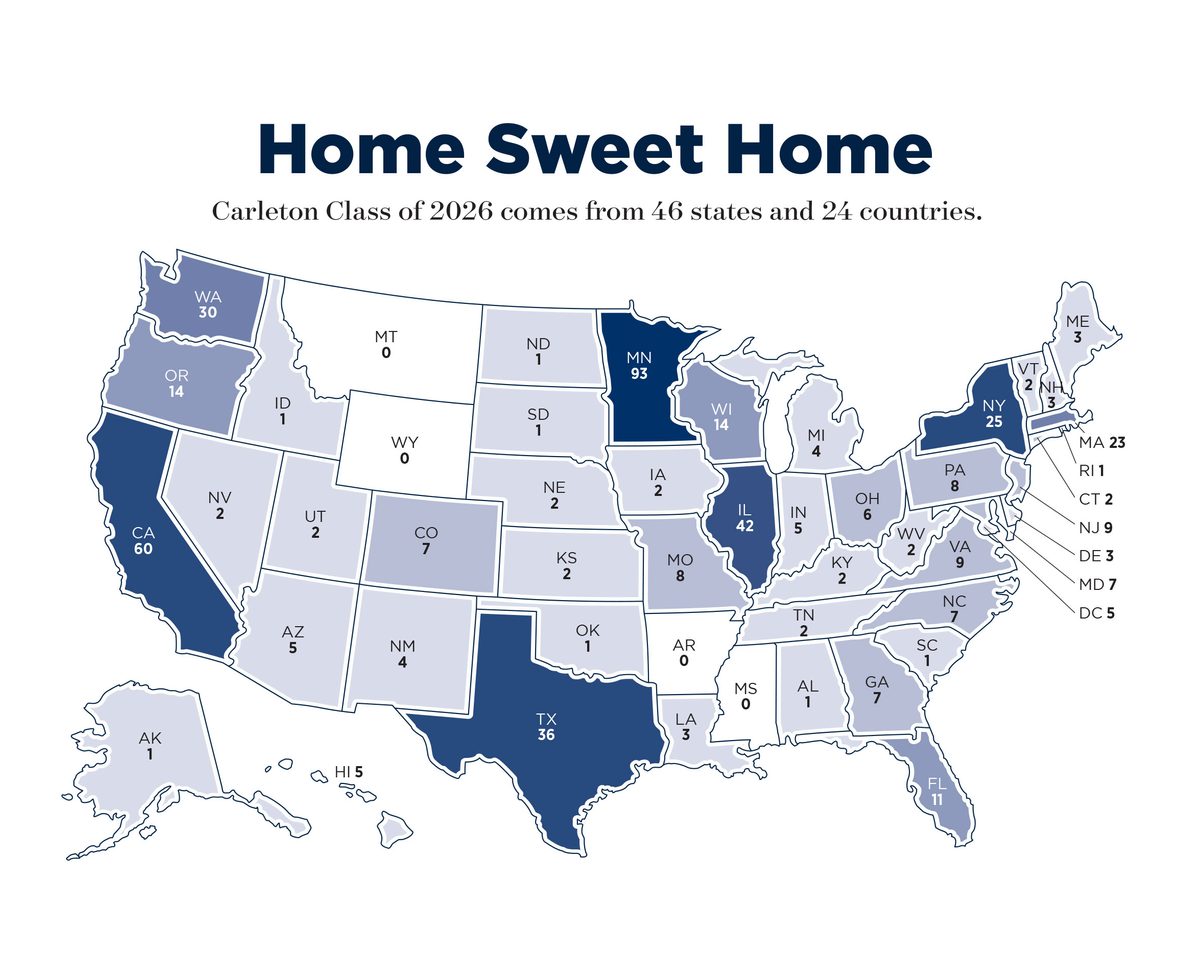 Global Reach
Bangladesh
1
Bolivia
1
Brazil
1
Burundi
1
Canada
2
China
21
Indonesia
1
Japan
1
Kenya
2
Kuwait
1
Mozambique
1
Nepal
1
Pakistan
1
Paraguay
1
Rwanda
1
St. Lucia
1
Singapore
1
South Africa
1
South Korea
2
Taiwan
3
Trinidad and Tobago
1
Vietnam
2
Zambia
1
Zimbabwe
1
Racial Diversity
40% Black, Indigenous, People of Color
21% report two or more races
Asian 16%
Black or African American 12%
Hispanic or Latino 12%
American Indian or Alaska Native 1%
Native Hawaiian or Pacific Islander 1%
Fields of Study
79% A large majority of students are interested in multiple academic divisions.
Science & Math 51%
Social Science 25%
Arts & Humanities 24%
Extracurricular Activities
The Class of 2026 stayed busy in high school.
Community service 80%
Internship/research 24%
Music 41%
Paid job 49%
Social activism 25%
STEM 40%
Theater 14%
Varsity athletics 57%
Popular Majors
60% of juniors and seniors are STEM majors.
Computer Science
Biology
Political Science/International Relations
Economics
Chemistry
Mathematics
Psychology
All About Aid
Carleton met the full financial need of all students in the Class of 2026
286 students (52% of the class) are receiving more than $15.1 million in need-based Carleton grants
The average need-based grant is $52,933
The average need-based financial aid award is $62,000, including grants, scholarships, work study, and loans

Generous Support Makes it Possible
---
Once students subtract their grants, scholarships, loans, and student employment earnings, they're left with yearly net cost—the amount their family is expected to contribute.
Every case is different, but here are examples of average net cost for members of the Class of 2026 who qualified for financial aid:
Family Income
Average Financial
Aid Award
Average Net Cost
Less than $40,000
$78,098
$2,682
$40,000–$80,000
$75,862
$6,664
$80,000–$120,000
$66,488
$16,940
$120,000–$160,000
$60,564
$23,718
For the Class of 2022, the average student's debt at graduation was $18,677, well below the national average of $33,600. To get an approximation of how much financial aid your family might qualify for, use one of our financial aid estimators.

Financial Snapshot
---
$78,624
The 2022–23 comprehensive fee, including tuition, room and board, and an activity fee
---
100%
We meet the full demonstrated need of every student. We don't assume students will need to take out private loans or find outside scholarships.
---
8
We limit first-year students' jobs to 8 hours per week so they have plenty of time for academics and extracurricular activities.
---
0.8%
The student loan default rate among Carleton alumni is nearly zero.