The Class in Numbers
6,892 applicants, 459 enrolled
From 45 states and 20 countries (8% international)
38% Black, Indigenous, People of Color
14% are among the first generation of their families to attend college
69% graduated in the top 10% of their class
31 are National Merit Scholars and 13 are National Hispanic Recognition Scholars
Six Members of the Class of 2024
These 6 highlighted students provided a glimpse into the varied talents and interests the class of 2024 will bring to Carleton's student body.

EWAN MILLER
Burlington, VT: Burlington High School
Ewan aspires to join the field of pediatrics, and he has plenty of experience to build on. He spends his time outside school and many extracurricular activities babysitting, caring for his own sister, and connecting with her through their shared love of music (Ewan is an accomplished cellist!), volunteering with two youth-focused nonprofits. 

FRANK THEODORE SHEFFIELD
Washington, D.C.: Sandy Spring Friends School
Frank has a keen passion for medicine and loves helping others, be it through assisting a doctor by diagnosing and suggesting treatment for a one-year-old girl in Nigeria using virtual reality technology or building houses through Habitat for Humanity. In addition to his leadership of his school's Black Student Union, Frank plays basketball, competes with the robotics team, and writes for the school paper.

VALENTINA GUERRERO CHALA
Bogotá, Colombia: United World College Japan
Fighting for justice helps Valentina find hope. She's worked with local officials and leaders in Karuizawa, Japan, to implement same-gender marriage licenses and to modify anti-bullying legislation, organized a student peace conference in Hiroshima, and led peace-building workshops in Colombia.

MARY BLANCHARD
Grinnell, IA: Grinnell High School
It's a good thing Mary runs — in fact she's the captain of her cross country and soccer teams — as it surely serves her in making it from one thing to another! Mary is also the president of her school's thespian troupe, and part of student council, concert band, and concert choir.

OWEN LOWE-ROGSTAD
Portland, OR.: Cleveland High School
Owen started a book group in second grade that remains active. In collaboration with the group, he co-authored a book appropriately titled The Book Group Project: Starting a Parent-Child Book Group, which is currently in the process of being published. When he's not reading, writing, or discussing books, Owen loves taking photos–he was a finalist for a photography context in The Oregonian!

PALOMA BRAVO
Lexington, KY: Paul Laurence Dunbar High School
A talented cellist, Paloma is also the youngest member of her professional aerial dance company! In addition to performance, she conducts genetic research on fly spermatogenesis at the University of Kentucky and finds time to support her community by teaching cello, volunteering in a hospital, and more.
This is Carleton
A private, residential liberal arts college located in Northfield, Minnesota
#1 Teaching Faculty
Our students learn from the best.
U.S. News & World Report ranks Carleton professors first in the nation for their commitment to undergraduate teaching.
With our small classes and exceptional professors, Carleton offers a rigorous, yet highly supportive academic environment.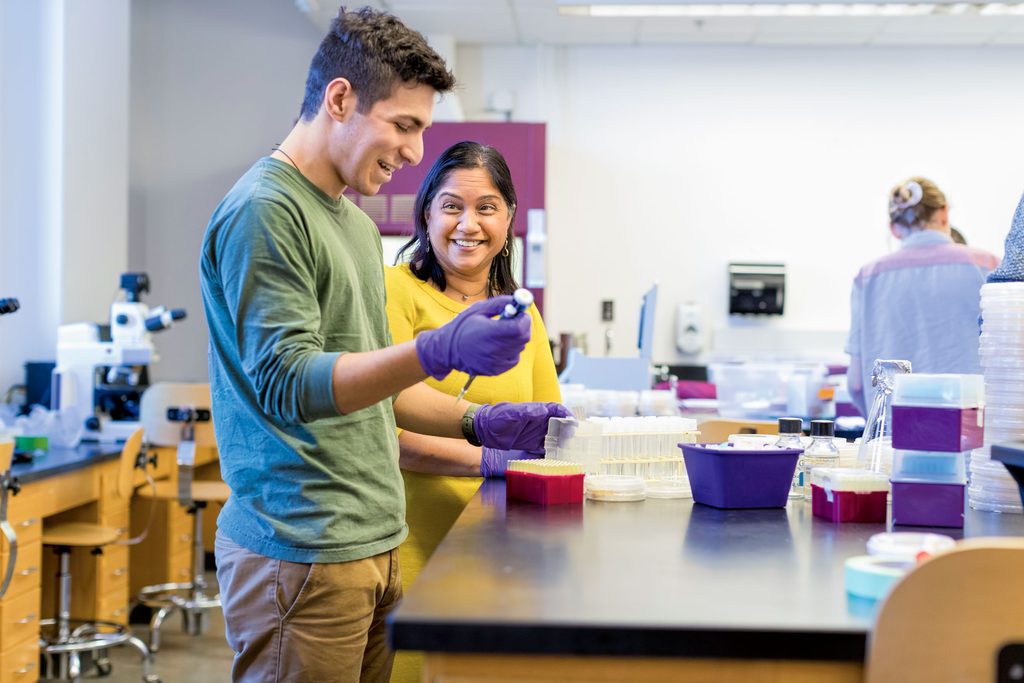 #9 Liberal Arts College
U.S. News & World Report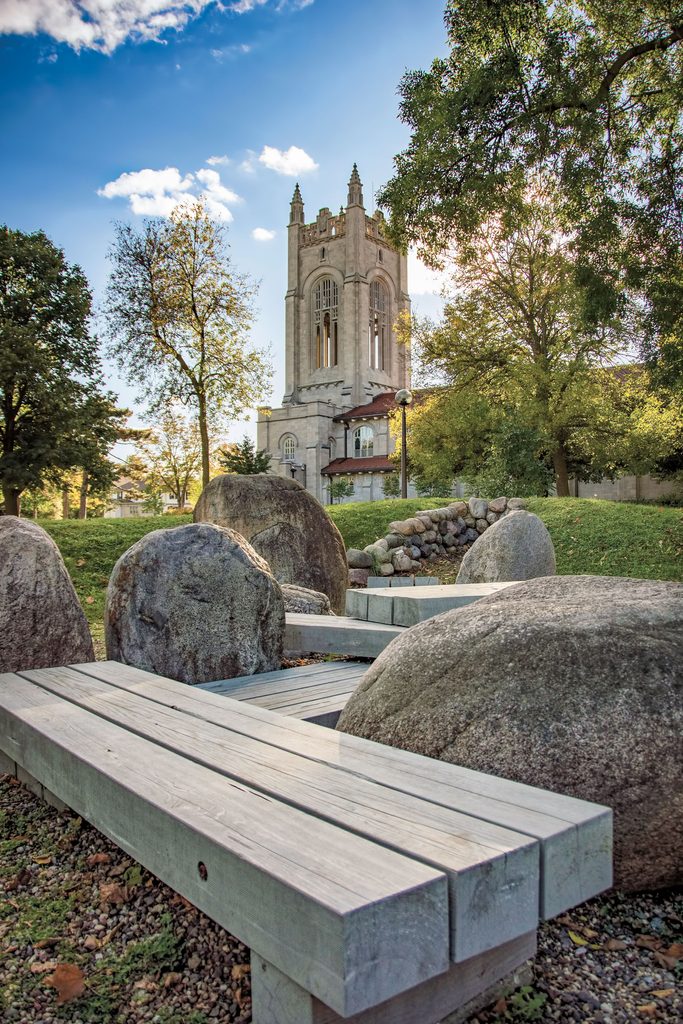 At a Glance
2,069 Students
50 states + 36 countries
11% international
51% female // 49% male
31% people of color
70% study abroad
95% of first-year students who entered in fall 2018 returned for their sophomore year
in the fall of 2019
33 majors
9:1 student/faculty ratio
16: average class size
3: 10-week terms
88% graduate within four years
97% of 2019 graduates were employed, volunteering, or attending graduate or professional school within six months of graduation, of those reporting
Home Sweet Home
The 459 members of the Class of 2024 come from 45 states and 20 countries.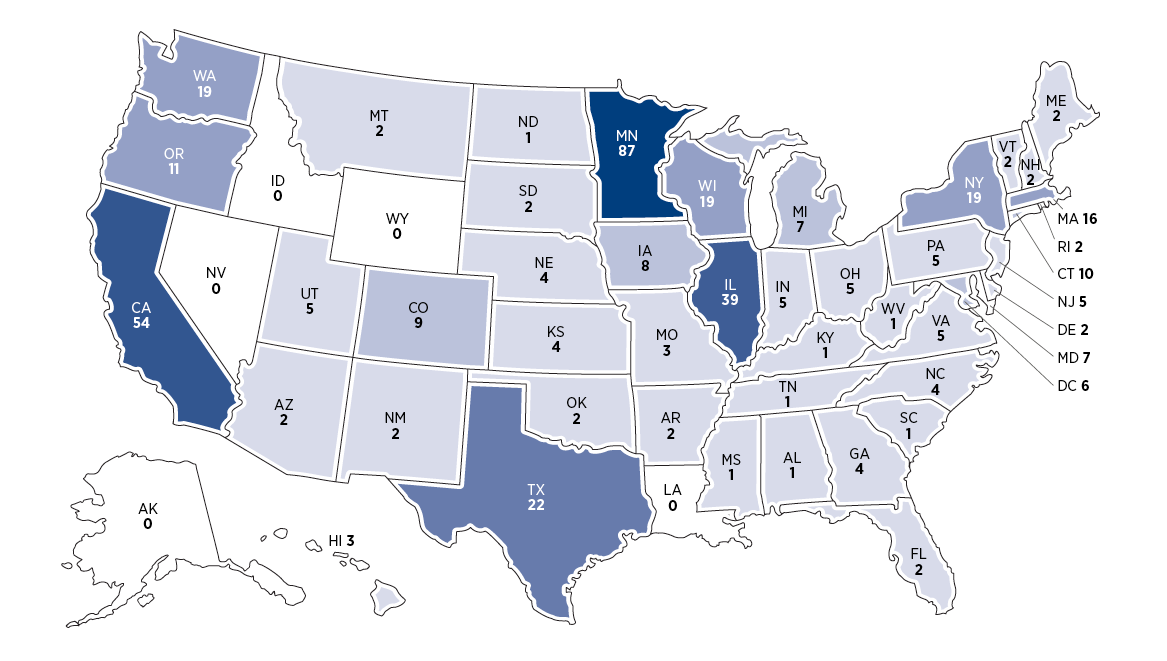 Global Reach
Australia

1

Japan

2

Bermuda

1

Kazakhstan

1

China 20
Kenya 1
Colombia

1

Mongolia

1

Egypt

1

Nigeria

1

Germany 1
Pakistan

1

Iceland 1
Singapore

 2

India 3
South Korea

1

Indonesia

1

Vietnam

1

Israel

1

Zimbabwe 1
Racial Diversity
38% Black, Indigenous, People of Color
17% report two or more races
Asian 18%
Black or African American 12%
Hispanic or Latino 9%
American Indian or Alaska Native 1%
Fields of Study
Science & Math 52%
Social Science 24%
Arts & Humanities 24%
88% A large majority of students are interested in multiple academic divisions, like sciences and the arts.
Extracurricular Activities
The Class of 2024 stayed busy in high school.
Community service 85%
Internship/research 24%
Music 44%
Paid job 48%
Social activism 21%
STEM 38%
Theater 16%
Varsity athletics 61%
Test Scores
TEST
MIDDLE
50%
FULL
RANGE
SAT Math
670-780
530–800
SAT Reading and Writing
660–750
490–800
ACT Composite
30–34
20–36
All About Aid
Carleton met the full financial need of all students in the Class of 2024
284 students (62% of the class) are receiving more than $12.9 million in need-based Carleton grants
The average need-based grant is $45,696
The average need-based financial aid award is $55,159, including grants, scholarships, work study, and loans

Generous Support Makes it Possible
Once students subtract their grants, scholarships, loans, and student employment earnings, they're left with yearly net cost—the amount their family is expected to contribute.
Every case is different, but here are examples of average net cost for members of the Class of 2024 who qualified for financial aid:
| Family Income | Average Financial Aid Award | Average Net Cost |
| --- | --- | --- |
| Less than $40,000 | $70,369 | $2,395 |
| $40,000–$80,000 | $67,965 | $7,505 |
| $80,000–$120,000 | $53,934 | $18,151 |
| $120,000–$160,000 | $47,387 | $25,934 |
Carleton is committed to meeting 100 percent of each family's demonstrated need for all four years. To get an approximation of how much financial aid your family might qualify for, use our financial aid estimator.

Financial Snapshot
---
$74,499
The 2020–21 comprehensive fee, including tuition, room and board, and an activity fee
---
100%
We meet the full demonstrated need of every student. We don't assume students will need to take out private loans or find outside scholarships.
---
8
We limit first-year students' jobs to 8 hours per week so they have plenty of time for academics and extracurricular activities.
---
$20,025
The average Carleton student's debt at graduation is well below the national average ($33,500).
---
< 1%
The student loan default rate among Carleton alumni is nearly zero.